As most of you know, I am constantly on a quest to find the best "sleep well at night" REITs on the planet. Accordingly, I am always looking for the true gems that are differentiated by the best cash flow metrics - or in REIT terms - the most sustainable Funds from Operations (or FFO). Some of the best REITs today are not known as much by their S&P 500 status bit more so by their S&P derived "dividend artistocrat" status.
In other words, the so-called "aristocrats" are known for not only their consistency in paying out dividends but also for their ability to increase them. In terms of investing, there is no better way to separate the "wheat from the chaff" than to examine the track record of a dividend paying stock. The legendary value investor and author, Ben Graham, said it best:
It is the consistency in the products that creates consistency in a company's profit. Consistency and durability are attributes for competitive advantage.
With the recent launch of the Affordable Care Act the Health Care REITs have all been in the spotlight. A few weeks ago I wrote an article on Healthcare Trust of America (NYSE:HTA) where I explained that the tailwinds for the Medical Office Building (or MOB) sector (primarily aging demographics and strong healthcare employment growth) should optimize performance in the long run. Also, I wrote a series of articles on the three large-cap Health Care REITs - HCP, Inc. (NYSE:HCP), Health Care REIT (NYSE:HCN), and Ventas, Inc. (NYSE:VTR) - where I examined the portfolios and operating fundamentals, concluding that Ventas was my favored REIT (of the three).
I now own Ventas and Healthcare Trust of America and I'm hoping to round out my Health Care exposure by adding another name or two. I am comfortable with my positions in the two I already own; however, I feel as though I could get more "juice" by adding another "pure play" REIT.
In my latest article (on HCN) I put together a list of the Health care REITs based on market capitalization:
(click to enlarge)

In reviewing the list of candidates, I see that Omega Healthcare Investors (NYSE:OHI) appears to be a likely candidate to add to my holdings. The $4.032 billion (market cap) REIT is currently trading at $33.75 a share with a Price to Funds from Operations multiple of 13.4x.

Omega's dividend yield is 5.69%, much higher than the other two Health Care REITs that I currently own.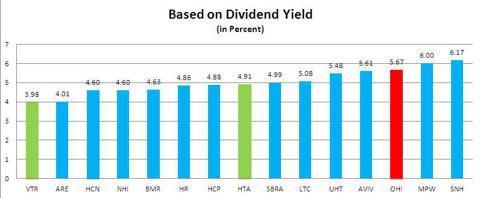 As mentioned, I have written several articles on Omega Healthcare so I won't go into great detail to examine the REIT now. In addition, Omega announces earnings in a few days (October 31st) so I will write a more lengthy article once I read over the earning transcript. Here is a snapshot that illustrates the dates of my previous articles and the prices at the time.
(click to enlarge)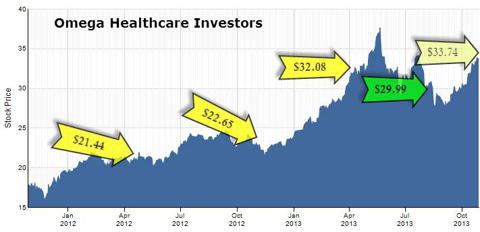 Starting from the date of my original article (April 30, 2012) I have always liked Omega. In review of the last two years, we can see that Mr. Market also favors the company as total shareholder return (for 2-Years) was 112%.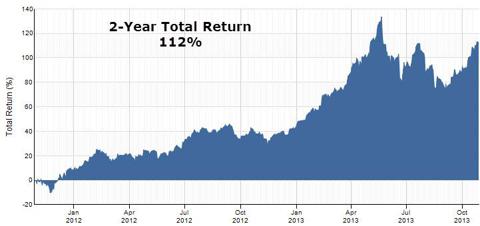 Of course, I regret not purchasing Omega over the last two years as the dividend yield has compressed considerably. I believe Omega's current dividend yield of 5.69% has become much less attractive, especially when comparing the dividend to some other Triple Net REITs like Realty Income (NYSE:O) or American Realty Capital Properties (ARCP).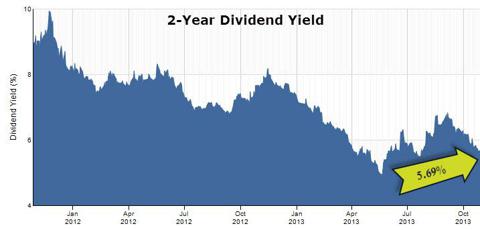 In review of Omega's historical earnings and dividend history, we can see that Omega has never become a very expensive stock and there has always been a moderately cheap value proposition. Clearly the older properties leased to non-investment grade operators have been a big part of the overall market valuation. However, many investors have gravitated to the strong earnings history in which Omega has paid and increased dividends for 11 years in a row.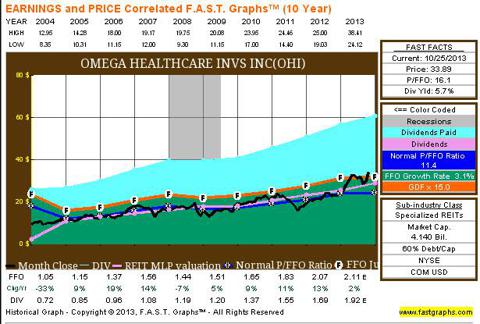 The FAST Graph "close up" below however tells me that Omega is not a screaming buy. In fact, I am feeling a little bit anxious to see the dividend yield compress when Mr. Market has also been telling me that REITs have needed an adjustment of sorts. We know that Omega does not investment in trophy healthcare assets (like Ventas and HCP) and that means that the REIT acquires properties at higher cap rates. There is a case to be made that the market has begun to mis-price Omega shares and that the 5.69% dividend yield has become less attractive.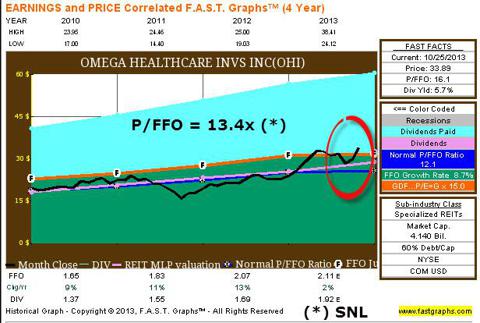 I know I told you just a few months ago that Omega was a "sleep well at night" REIT and I still think it is. I'm simply pointing out that today there is more valuation risk and the margin of safety has become narrower. Omega appears to be trading at fair value meaning that the risk is neutral. The property-level risk has always been there and when interest rates rise, there could be pressure related to the risk of diversification. Unlike Ventas, Omega is a "pure play" REIT and its business model is tied to one sector - skilled nursing facilities. In the unlikely event of a major policy change, Omega could suffer a greater loss.
Before concluding, I want to examine the dividend history of Omega and the three large-cap Health Care REITs. Notably, the diversified REITs have a better long-term record of dividend performance:

Now, let's compare Omega to the peer group. Note that National Health Investors (NYSE:NHI) - see my recent article here - is a formidable competitor with very healthy debt levels. Both REITs have excelled at paying and increasing dividends:
(click to enlarge)

In summary, I still like Omega. Nothing has changed, except the price. I do not see an adequate "margin of safety" today and given the explosive growth of the overall Triple Net sector, I see a greater opportunity to capitalize on the wave of consolidation (in that sector). Omega's current dividend (5.69%) is not compelling and, as noted above, I don't believe the risk and return fundamentals merit an entry price at $33.74 a share.
Some have asked me to take a dive into Senior Housing Property (NYSE:SNH) and I plan to add that to my research work this week. In regards to Omega, I will wait patiently knowing that a sunnier and more plentiful time is bound, as a law of nature, to resume in due course. My Omega Target Price is $29.99.
(click to enlarge)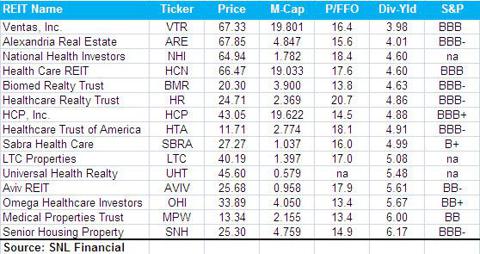 Check out my monthly REIT newsletter, The Intelligent REIT Investor.
Other REITs mentioned: (NYSE:ARE), (NYSE:BMR), (NYSE:HR), (NASDAQ:SBRA), (NYSE:LTC), (NYSE:UHT), (NYSE:AVIV), and (NYSE:MPW).
Source: SNL Financial and FAST Graphs.
Disclaimer: This article is intended to provide information to interested parties. As I have no knowledge of individual investor circumstances, goals, and/or portfolio concentration or diversification, readers are expected to complete their own due diligence before purchasing any stocks mentioned or recommended.
Disclosure: I am long O, ARCP, HTA, VTR, CSG, STAG, GPT, ROIC, UMH, DLR. I wrote this article myself, and it expresses my own opinions. I am not receiving compensation for it (other than from Seeking Alpha). I have no business relationship with any company whose stock is mentioned in this article.