When commodity prices began their five-year ascension to record highs back in 2003, integrated oilfield product and service suppliers were dealt one of the more fortuitous hands ever in the industry. Yet Halliburton (HAL), one of the largest players in the space, held a couple of wild cards that made it difficult for management, and we suspect the company's rank and file, to fully execute on these unfolding opportunities. To be sure, über-intense scrutiny in the press and in Washington D.C. regarding its Kellogg-Brown & Root's (KBR) unit's contracts with the U.S. government, combined with mounting pressure to resolve asbestos-related liabilities inherited as part of its 1998 acquisition of Dresser Industries, were clear and present distractions for the then 84 year-old organization.
Coincidentally, EnergyPoint Research began collecting its independent customer satisfaction ratings data in late 2003, just as these twin issues at Halliburton began rearing their heads in full. In the spring of 2004, we published results from our first-ever oilfield services survey. In that survey, Halliburton ranked in the third quartile overall and fifth among the industry's six largest integrated suppliers -- Baker Hughes (BHI), BJ Services (BJS), Halliburton, Schlumberger (SLB), Smith International (SII) and Weatherford (WFT). In our comments regarding the survey results, we wondered out loud whether Halliburton was missing opportunities in the marketplace and suggested the consistency of its services could be improved.
In the second half of 2004, Halliburton disclosed its plan to divest of its troublesome KBR unit (KBR became a separately listed entity in 2007). In retrospect, this appears to have been a major turning point for Halliburton, as a renewed sense of purpose and focus purportedly took hold throughout the organization.
As the chart below depicts, the company began a four-year period of outperformance in EnergyPoint's customer satisfaction surveys. During this period, Halliburton significantly outpaced its peers in health, safety and environmental (HSE) and overall corporate capabilities. Customer ratings also sprung to life in markets outside the U.S. & Canada. Among the "big six" integrated players, the company trailed only Smith International in total customer satisfaction during the period.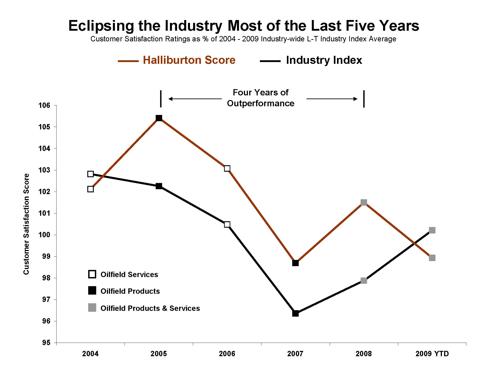 Below are comments from satisfied customers that utilized Halliburton from 2005 though 2008. Note the role the company's personnel appear to have played in respondents' affirming evaluations. This is particularly noteworthy given that during this period Halliburton and its peers were struggling to hire and train thousands of additional staff on a world-wide basis:
Halliburton is one of only a handful of companies that has the latest technology, the latest equipment, and is open to trying new things while using quality, knowledgeable and reliable personnel.

[Engineer at supermajor]

Halliburton products are of high-quality and reliable at very competitive prices. It is one of the best reputed international companies, having a wide range of products and services with highly qualified and experienced personnel. Halliburton is on the forefront in bringing the state-of-the-art technology and equipment keeping in view future requirements in the industry, backed up by competent personnel.

[Engineer at national oil company]
Of course, after the Great Recession hit in late 2008, the industry went into a severe downturn, forcing Halliburton and its oilfield peers into multiple downsizings. Such retrenching can be a disruptive process, and we suspect the size and scope of Halliburton's operations only added to the challenge. Accordingly, if a fly is to be found in Halliburton's ointment, it might be in the satisfaction ratings the company has recorded so far in 2009 –- which have drifted below the broader industry index for the first time since 2004 (the company's ratings still remain above the average of its largest peers, however). Deterioration internationally appears to be the primary culprit. The next few quarters should reveal whether the decline is transitory in nature or something more.
Click on the following links to read more from EnergyPoint regarding Halliburton and other companies mentioned in this note: Baker Hughes, BJ Services, Halliburton, Schlumberger, Smith International and Weatherford.
This report is derived from over 10,000 in-depth customer evaluations of suppliers of oilfield products and services, including more than 1,200 evaluations of Halliburton, via EnergyPoint's 2004 – 09 independent surveys.
Disclosure: No Positions