With a lot of the attention shifting from those internet names which are listed to those which may be having initial public offerings soon, we think that investors are shifting their focus too much towards the hype and not enough upon the fundamentals of the underlying businesses and industry. With some of the news which came out at the start of this week that might be a troubling shift, although we will know more after the close today as more quarterly reports are due out and from that we will be able to gain further insights. This week has quite a few earnings reports coming out, so readers should focus in on the news today rather than potential over the next few months.
Chart of the Day:
The Nasdaq and Seoul Stock Exchange have tended to trade in step with each other over the year, but after trading in lock step for about a year the Nasdaq is vastly outperforming recently. This just shows how strong the tech market is here in America, and we think it has further to run.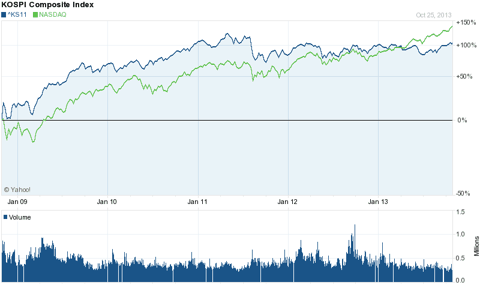 Click to enlarge
(Click to enlarge)
Source: Yahoo Finance
We have economic news today and it is as follows:
Retail Sales (8:30 a.m. EST): Est: -0.2% Actual: -0.1%
Retail Sales-Ex Auto (8:30 a.m. EST): Est: 0.2% Actual: 0.4%
PPI (8:30 a.m. EST): Est: 0.2% Actual: -0.1%
Core PPI (8:30 a.m. EST): Est: 0.1% Actual: 0.1%
Case-Shiller 20-City Index (9:00 a.m. EST): Est: 12.5% Actual: 12.8%
Business Inventories (10:00 a.m. EST): Est: 0.3% Actual: 0.3%
Consumer Confidence (10:00 a.m. EST): Est: 72.0 Actual: 71.2%
Asian markets finished lower today:
All Ordinaries -- down 0.49%
Shanghai Composite -- down 0.23%
Nikkei 225 -- down 0.49%
NZSE 50 -- down 0.22%
Seoul Composite -- up 0.18%
In Europe, markets are trading higher this morning:
CAC 40 -- up 0.50%
DAX -- up 0.22%
FTSE 100 -- up 0.54%
OSE -- up 0.48%
Facebook Puts Video Ads On Hold ... ?
The social media giant will put on hold the popular auto play video ads that you see on many of the top sites on the web, delaying a rollout many expected to occur in late 2013. The reason is that Facebook's (NASDAQ:FB) CEO, Mark Zuckerberg, is worried that a rollout in the newsfeed now would simply alienate users and potentially cause another rift between the company and its end users. Our view is that this is probably pretty smart at this point because Facebook is knocking the ball out of the park with their other ads and would not want to jeopardize that ahead of the all important holiday marketing season. The targeted ads that Facebook offers are very successful, more so that Google's Adsense, and it is that success which will enable the company to get a pass from Wall Street in this delayed rollout.
With Facebook's recent move higher we believe that management has built up enough goodwill with both the market and Wall Street that they will not be punished for the delay in the rollout of auto play video ads.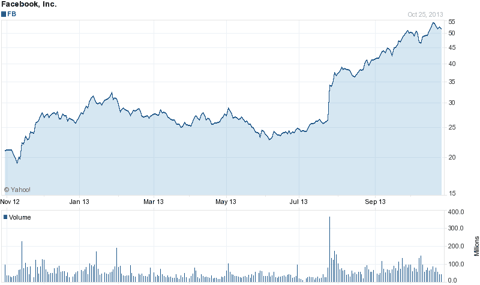 Click to enlarge
(Click to enlarge)
Source: Yahoo Finance
We would expect the topic to come up during tomorrow's earnings announcement and the subsequent conference call, but doubt much detail will be given about where they stand on the initiative or what exactly needs to be fixed in their view. Also expect to hear about this news story circulating regarding the company and some of its competitors disabling cookies that track web users' habits. This could be a long-term bullish event for the company and drive more advertisers to its ad platform if it becomes a popular practice.
Chinese Internet Stocks Wavering ...
One of the biggest bull markets this year has been the Chinese internet stocks, which has seen many of the companies within the sector either double or nearly double their share prices. We may be seeing a stock pickers' market develop within this sector as both Sohu.com (NASDAQ:SOHU) and Changyou.com (NASDAQ:CYOU) issued warnings yesterday. Sohu.com shares ended down $13.31 (16.35%) to close at $68.11/share while Changyou.com also saw its shares deflate by double digit percentage points. The fourth quarter profit projections were below expectations and paint a bleak picture for the sector moving forward.
Also falling were Baidu (NASDAQ:BIDU) and Sina (NASDAQ:SINA) which saw their shares fall 3.29% and 1.72% respectively. Readers are aware that our favorite name in the space has been Baidu. That bullishness was increased after the most recent quarterly announcement where we learned that Baidu appeared to have cracked the mobile market in China before competitors making them the Facebook of China in our opinion. The weak Q4 numbers provided by Sohu.com and Changyou.com have U.S. less bullish on the entire sector, but we do think that letting what portion of the initial position in Baidu that readers should still have ride out is the correct play at this time. Earnings are due out after the close for Baidu, so we will know soon enough whether this is an industry issue or more company specific.
Disclosure: I have no positions in any stocks mentioned, and no plans to initiate any positions within the next 72 hours. I wrote this article myself, and it expresses my own opinions. I am not receiving compensation for it (other than from Seeking Alpha). I have no business relationship with any company whose stock is mentioned in this article.