My articles from the past two months have not all come to fruition. Facebook (NASDAQ:FB) is up .75 since I wrote a negative piece about it's long-term future, though I also argued that current holders could risk holding as long as they hedged themselves. Leapfrog (NYSE:LF) also moved in the "wrong" direction, down to $8.78 since I wrote that I liked it long at $9.50. On the flip side, Questcor (QCOR) has bounced from $55 to $67.75 since I wrote about it, and Kodiak Oil & Gas (NYSE:KOG) bounced to $13 since mentioning it at $11.24. It's only been one month, so nothing has changed my opinions on those stocks. The short-term lesson is that you win some and lose some, even if only temporarily, and you hope that your wins outweigh your losses in the long run. Despite what you hear on Twitter or CNBC, everyone has losses.
Speaking of losses, Skullcandy (NASDAQ:SKUL) was a loss for many investors that bought it in 2012. Last year it traded to a high of $17.80 per share, but it had steep declines in September and November that it did not bounce back from. It bottomed down at $4.84 this May and has slowly risen since then.
In chart lingo, Skullcandy has put in a double bottom, with a higher second low. This often indicates that investors were eager to buy at that bottom level, seeing value. Since the second bottom, the stock has risen along a moderately sloping trend line. There is no major resistance directly above current prices, so there seems to be more room to run. However, if it gets there, $12 should prove a tough barrier to breach. But that is so far out of the way (it would take a 90% move to get there!) that it's not worth thinking about down here.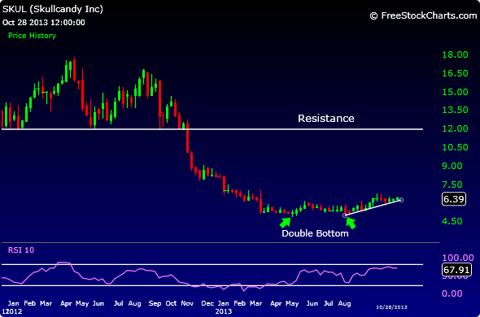 Click to enlarge
The double bottom roughly aligned with news this Summer that the CFO resigned to go work in Southern California after the company announced it would close a California location and relocate those operations to it's HQ in Utah. That relocation decision came on the heels of the arrival of a new CEO in the first quarter. It has taken some time to affect the changes that the new CEO (from Nike) planned. These moves increased short term costs, resulting in worse EPS, but in the long run they will lower costs and help improve profitability.
The company announces earnings on Wednesday October 30, and analysts expect .02 EPS. Revenues are expected to come in at $51.7M. Both of these are less than last year's numbers and are mainly due to the restructuring charges, but the basing out on the chart reflects the view of investors that the worst may soon be over. I don't know if this quarter will result in a surprise, but I do think the next few quarters should begin showing improved results in the company.
Additionally, the company is in a growing industry so if it can retain market share (not an easy task with all of its competitors) it shouldn't see large declines from these levels. As the number of people in the world carrying smart phones and tablets holding music and games increase, the need for headphones should grow proportionally. It's largest competitor is private company Beats Electronics (Dr. Dre's creation) which controls 60% of the headphone market. There are very many headphone makers in the market now, but I expect consolidation and extinction in that market over the next two years. Because of the restructure, I think that Skullcandy can survive and gain market share while other smaller companies die off. Alternatively, I think that because of the company's brand strength, if it stabilizes EPS it can also be a takeover target.
Legit Concerns
A major concern is the declining revenue that the company has seen. Its revenue growth (YoY) last quarter was -29%. Improving revenue is dependent on what the new management does to market and innovate over Beats and other companies in the space. Additionally, the revenue numbers should be helped by the company's entry into the gaming headphone market. Because of this presumption of revenue growth due to gaming headphone sales, it would be wise to wait and review sales in that area when earnings come out Wednesday.
Analysts also aren't expecting any earnings growth the next five years. In fact, they expect -3% EPS growth. This is mostly due to expectations for revenue declines. I think this could be "an edge." If you believe in management's ability, then you might argue that the company now has the capability and leadership to steal market share back from all of its rivals, increasing revenues and margins, and subsequently, EPS.
Metrics & Valuation
Skullcandy's P/E is 17.27 and it has a forward P/E of 29.86. With EPS growth this year of 16.5%, a 17.27 P/E is reasonable. I wouldn't say that those are cheap multiples, but for a small-cap company that has the potential for growth, they are close to being cheap. If I see a P/E lower than the growth rate, I
The company has a price-to-sales ratio of .68, which is in the top half of electronics equipment companies. Its price-to-cash ratio sits at 5.96 which is quite good. It throws off significant free cash flow too, giving it a price-to-free-cash-flow ratio of 7.11. Despite having entered into a $50M credit facility, the solid free cash flow is crucial because in order to gain market share and expand revenues, research and development and/or acquisitions may have to occur.
The company has no debt. This is important because it allows flexibility for management to take the steps that it believes will produce the most growth to top and bottom line growth. This goes hand in hand with free cash flow, and is valuable for a company looking to make moves.
Despite operating margins of 6.7% (net margins are 3.9%), the company has gross margins of 45%. I believe that this allows room to tighten costs and improve operating margins in the not too distant future. I believe the lack of pricing power will get better as some of the other small players in the market fall by the wayside, as mentioned above. [It seems like every rapper/DJ has a line of earphones now].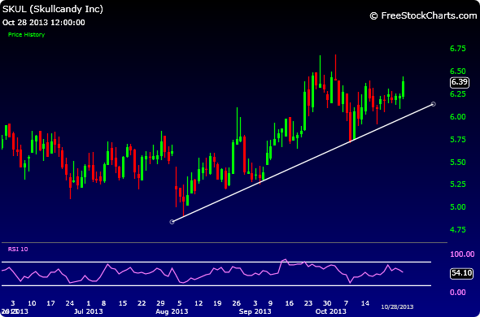 Click to enlarge
Insider Transactions
While insiders only own 2% of the company, their purchases are up over 300% this year. While this could simply say something about previous management's lack of faith in their own performance, it is just as reasonable to see it as insiders that believe they can increase value. That is usually a positive sign.
Institutional Ownership
Partly due to its size and partly due to its poor performance, institutional ownership sits at just 30%. I like this statistic because there is plenty of room for them to start buying it and driving the price up further.
The Play
I like Skullcandy going forward. Buying right before earnings is generally not a good idea in my opinion. A true fervent believer in the company may be well served to buy a little before and a little after earnings, just in case it misses estimates and gaps down. And because the restructuring is relatively recent, earnings could prove uneven the next few quarters.
Also, I think there is an overdue pullback coming to the overall market though I have come tired of focusing on it. I don't know if it is worth waiting for, but if you believe it is coming, that may be a good time to look into shares of Skullcandy.
Disclaimer: We do not know your personal financial situation, so the information contained in this article represents an opinion, and should not be construed as personalized investment advice. Past performance is no guarantee of future results. Do your own research on individual issues.
Disclosure: I have no positions in any stocks mentioned, and no plans to initiate any positions within the next 72 hours. I wrote this article myself, and it expresses my own opinions. I am not receiving compensation for it (other than from Seeking Alpha). I have no business relationship with any company whose stock is mentioned in this article.