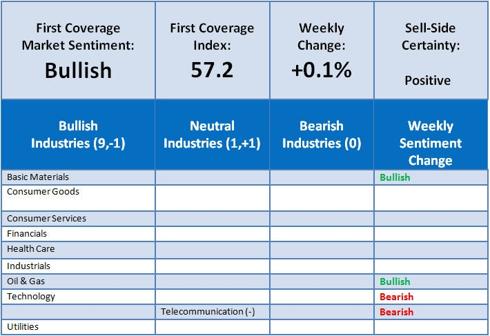 Sell-Side suggests 2010 to be nothing like 2009.
When is a bull not a bull?
If it quacks like a duck and walks like a duck, then it usually is a duck. However, as we close in on the last couple of weeks of 2009, we're learning that if it walks like a bull and roars like a bull, there's a chance it might just be a bear dressed up to look like a bull.
Sure, sentiment rose 0.1% and, sure we still have the sell-side in love with nine of the ten industries. However, if we take a closer look at both of those so-called positive indicators, we find that what's below the surface might matter more than either of those data points.
Sentiment is up...isn't that good?
As Einstein once said, and I am probably paraphrasing here for the sake of brevity, "Everything's relative!"
While it's true that in most situations "up" is good, with sentiment direction is a funny thing and not nearly as important as momentum. Watching sentiment lose momentum is similar to watching air leak out of a punctured balloon. By observation you can't really pinpoint where the leak started nor the moment at which the balloon passed from "inflated" to "deflated," but you're clearly aware that it's happening and what the inevitable conclusion will be.
Over the last three weeks, sentiment has increased by a total of 0.7%. Compare that to the previous two weeks where sentiment increased by over 2.5%. While neither number is enough to write home about, the last three weeks have seen a significant deceleration of upside anticipation by the sell-side.
It's clear that these marginal increases in sentiment aren't so much bullish as indicative that the sell-side is no longer eagerly embracing a bull market in the future. If anything, these numbers demonstrate that, in their conversations with their buy-side clients, the sell-side professionals are tentative and cautious and simply confused.
Sell-Side still loves 90% of the Industries...Isn't that Good?
If you're an eternal optimist, there are certain things that you never want to understand:
1) How hotdogs are made;
2) What they put inside Twinkies to make them last 100 years; and
3) Which industries have been driving sentiment higher during the last few weeks of 2009?
On the face of it, up is up. But, digging deeper, it's clear that the sell-side is encouraging the buy-side to allocate assets mainly to the industries of Basic Materials and Oil & Gas. These suggestions are not exactly ringing endorsements of a better-than-expected holiday season or the belief that we are all in the embrace of a healthy economic recovery.
Outside of a two-week period in the middle of the summer, the sell-side has refused to budge from what at the time was considered self-interested optimism but, in hindsight, can now be just called "correct."' Many times during the last year everyone from the media, the public and even the market itself swooned in the face of ambiguous data. People sweated as the media and the public worried we had gone too far too fast. Yet, in every single one of those situations during 2009, the sell-side refused to bend and seemed possessed of an almost eerie calm. The sell-side went through the last nine months of 2009 convinced that based on their knowledge of how the markets worked we would get to the end of 2009 near the market highs…and they were right.
But now things are different. Their confidence is gone. Their swagger is absent. And the sell-side is nervous. None of this bodes well for the start of 2010. While sentiment has yet to signal a "bearish" turn, the building blocks have been laid.
Most importantly, the eternal optimist of 2009, the sell-side professional that was comfortable as they looked at ambiguous data and was confident with his advice to stay long is gone. The nervous, confused individuals who are ready to enter 2010 are likely to look at that same ambiguous information and feel a burning desire to be the first one to the sidelines.
Congratulations sell-side, you made great calls over the last 12 months…you told the buy-side to be short in January and February and be long for the rest of the year. Enjoy those calls during the holiday season to come because it seems like 2010 is going to be a year where we've all got our work cut out for us.
Stocks to Watch
Over the last week the following stocks had the largest bullish and bearish sentiment shifts amongst the sell-side:
Bearish: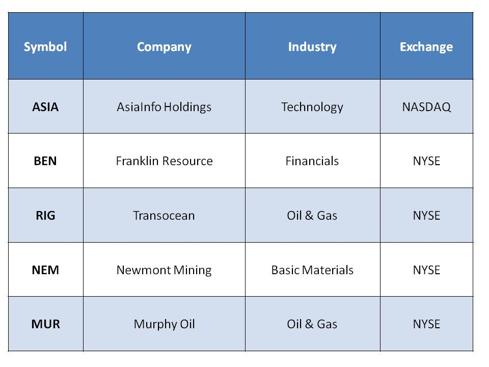 This is our last weekly sentiment of 2009.
Have a happy, healthy and safe holiday season, and we'll be back the first Tuesday of 2010.

Disclosure: NO POSITIONS