Would you be happy if your company reported a 32% increase in revenues, a 44% increase in profit (both above analyst estimates) and guided full year sales growth to the high end of projections?
I bet you would. Unfortunately for Biogen Idec (NASDAQ:BIIB), such high expectations appear to be baked into the stock price. The response by investors to this earnings information has been erratic: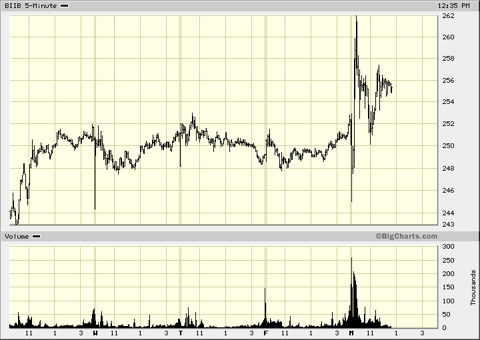 Click to enlarge
source: Bigcharts.com
Volatility is likely to be a continuing feature of these shares for the foreseeable future. Why? The company boasts a stellar (and stable) record of earnings growth in recent years. Unfortunately this has caught the eye of investors and the trailing PE ratio has been pushed up to levels not seen since just before the bear market crash.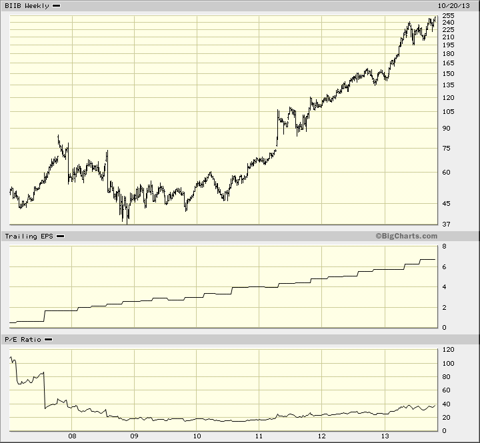 Click to enlarge
Look closely at the trailing PE graph on the lower part of the chart. While it is normal to expect a higher-than-the-market multiple for such a steady performer, the surge in the trailing PE earlier this year suggests buyers have drastically increased the expectations for these shares. Tecdifera, the company's oral treatment for multiple sclerosis, has blown sales estimates out of the water.
The question now becomes whether the lofty PE means the shares are fully valued. There has been expansion in PEs for other biotech shares as well: Amgen (NASDAQ:AMGN) for example. But Amgen boast a PE of only 20x, even though their earnings have grown smartly as well in recent years. Oddly enough, even though Amgen boasts far more debt (53% of long term capitalization vs under 10% for Biogen) Amgen is far less risky a holding (beta of .51, vs .92 for Biogen, according to E*TRADE).
Keep in mind, betas for individual shares can be volatile; nonetheless, Amgen has a much lower beta over the numerous time periods I examined. For investors attracted to both of these shares, they can be found in ETFs such as the SPDR Select Heath Care (NYSEARCA:XLV). XLV's low beta (.61 or so) has been far more stable over the years.
While we should never make too much of one day's trading, Monday's price action is informative. It is most likely telling us the shares are fully valued compared to peers, and fully reflect strong growth prospects for Tecdifera. Avoid chasing these shares until the PE ratio returns to levels in the low 30s.
Disclosure: I am long XLV. I wrote this article myself, and it expresses my own opinions. I am not receiving compensation for it (other than from Seeking Alpha). I have no business relationship with any company whose stock is mentioned in this article.