In September, two of the largest application software companies, Salesforce (CRM) and Workday (WDAY), joined hands to form a strategic alliance to provide customers with an extended range of cloud-based products. The companies will offer each other's services to their respective customers. Salesforce, which is known for sales and marketing solutions, will also provide its customers with Workday's Human Capital Management, or H.C.M, software, which is known for its human resource and financial capabilities.
Workday will be utilizing Salesforce's applications and platform for its customers, which will complement its existing H.C.M solutions. Though the financial details regarding this deal haven't been disclosed, we expect it to be a perfect fit for both companies. This deal will prove beneficial for both Salesforce and Workday, enabling each to attract customers, based on the added product list, leading to growth in their respective markets. The combination of products and solutions from these two companies will provide customers with a complete SaaS application suite that they will be able to run their entire business on.
Along with the solutions from Workday, Salesforce also provides solutions and dataset from Rypple, or work.com. This company is known for its cloud based social performance management platform, which Salesforce acquired last year. Salesforce will now be able to dabble in the HCM market too. On the other end, Workday will gain immense benefit from this alliance, given the strong customer base Salesforce holds. Additionally, Workday's focus towards financial management applications and enterprise resource planning applications makes its solutions unique in this market, reflecting a good growth opportunity through this alliance.
Enhancement doesn't end here
Moving beyond the HCM market, last month Salesforce released a new file sharing service called Salesforce Files. This is similar to its previous file sharing service, Chatterbox. It was an offering provided to all Salesforce customers, where they could easily share files on Salesforce Chatter. With Salesforce Files, the company improved its functionality by providing further access to files, which exist in the third-party applications, like Microsoft's SharePoint and Google Drive. This service is available to all Salesforce customers, who are using its sales and marketing tools or applications.
In order to provide more of connectivity-oriented functionality in its marketing business, Salesforce acquired ExactTarget last month for about $2.5 billion. This company is known for email marketing and interactive marketing products and solutions. Through this acquisition, Salesforce aims to provide its customers with sales and marketing services through platforms like social network, email, mobile applications, and the web. This will help Salesforce provide a complete marketing solution offering once it is able to access ExactTarget's social marketing capabilities, leading to further improvement in its solutions' offerings.
Overall, in the past two months, Salesforce has totally changed the level of the products and solutions it offers to its customers. To hasten the transition, Salesforce executed strategies that would help the company attain cost synergies; it lay off 200 employees from its marketing cloud in order to integrate ExactTarget. These deals and alliances will help Salesforce grow its customer base, which will indirectly lead to growth in its market share in the software as a service market. On financial terms, Salesforce has shown over 7% growth in revenue consistently in the quarter results this year, generating $957 million in the second quarter of this fiscal. Looking at this growth rate, we feel Salesforce's target of generating $4 billion as total revenue in 2014 is an achievable target, based on the support of this enhanced list of products and solutions.
Valuation standpoint
With positive fundamentals to support future growth, we will consider the valuation standpoint of Salesforce by comparing it with its peer, Workday, and its competitor, SAP. We considered price to book ratio to find the valuation attributes of these companies. The industry ratio stood at 5 times, while Salesforce, Workday, and SAP posted a price to book ratio of 11.5 times, 21.5 times and 4.6 times, respectively. To get a clearer picture, we will add the return assets ratio, or ROA, and return on equity ratio, or ROE. In case the stock is overvalued, then the ROE of these companies will be rising, while the ROA would display comparatively low figures.
The ROE of Salesforce, Workday and SAP are -9.86%, -67.80% and 22.02%, respectively, on the trailing 12-month basis. Given the overvalued attributes of Salesforce and Workday, both companies have posted very low ROE, especially when compared with SAP's great results. Additionally, the ROE of Salesforce has risen from its previous fiscal level of -13.85%, which proves it as an overvalued growth stock. In the case of Workday, the ROE worsened in the previous fiscal year, it posted -57.49%. This is mainly due to the fall in its net income in the past four quarters. Overall, we do not expect any drastic positive change in the ROE of these two companies, in the coming quarters. For SAP, the ROE has increased from 21.02% in fiscal 2012, which is a good sign. The company is presently undervalued based on its low price to book compared to the industry standards.
The ROA of Salesforce, Workday, and SAP are -3.74%, -15.95% and 11.98%, respectively, on the trailing 12-month basis. The ROA of all three companies have increased from their previous fiscal years. The companies had posted -5.58%, -20.10% and 11.28%. Despite some improvement, Salesforce and Workday haven't been able to post good results in the past four quarters. On the other side, SAP has been able to improve through its rising income, which grew from $2.8 billion in fiscal 2012 to $3.1 billion on the trailing 12-month basis. Henceforth, this proves that on the basis of price to book ratio, Salesforce and Workday are highly overvalued stocks, while SAP is an undervalued stock. Still, the above discussed fundamentals provide enough confidence regarding improvement in the valuation figures of Salesforce in the long run.
Worth a small portion of your portfolio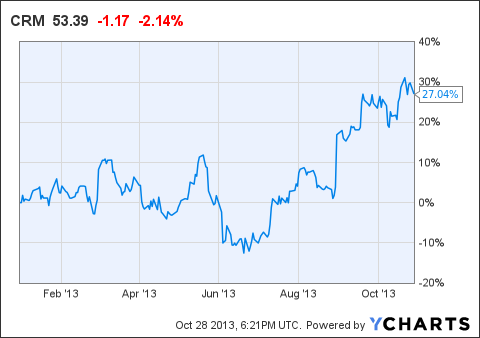 Year-to-date period shows that Salesforce posted over 27% growth in its stock price. Also, in the second quarter this year, the net income of the company rose to $77 million, from the net loss of $68 million in the first quarter of this fiscal year. The fundamentals described above show the improved range of solutions that Salesforce aims to offer. This will help its business to grow significantly in the coming years. With the aim of penetrating the entire back office work of an enterprise, Salesforce displays enough growth prospects to attract investors also.
Disclosure: I have no positions in any stocks mentioned, and no plans to initiate any positions within the next 72 hours. I wrote this article myself, and it expresses my own opinions. I am not receiving compensation for it (other than from Seeking Alpha). I have no business relationship with any company whose stock is mentioned in this article.
Additional disclosure: Fusion Research is a team of equity analysts. This article was written by Rohit Gupta, one of our research analysts. We did not receive compensation for this article (other than from Seeking Alpha), and we have no business relationship with any company whose stock is mentioned in this article.