Another part of the balanced growth path would involve an expansion in some of the trade-exposed sectors that have been squeezed by the high exchange rate. The foreign exchange market is perhaps another area in which investors should take care. While the direction of the exchange rate's response to some recent events might be understandable, that was from levels that were already unusually high. These levels of the exchange rate are not supported by Australia's relative levels of costs and productivity. Moreover, the terms of trade are likely to fall, not rise, from here. So it seems quite likely that at some point in the future the Australian dollar will be materially lower than it is today.

- Reserve Bank o Australia (RBA) Governor Glenn Stevens in "Remarks to Citi's 5th Annual Australian & New Zealand Investment Conference", October 29, 2013.
And with that Governor Stevens went back on "attack" on the Australian dollar (NYSEARCA:FXA). This is the exact jawboning I had been expecting earlier to replace the RBA's surprising omission that inflation gives the RBA scope to cut rates further. He could not be any more clear or direct on projecting the ultimate (medium-term) direction of the Australian dollar and why it should go much lower.
I was clearly a bit pre-mature a few days ago in calling the recent dip in the Australian dollar a buying opportunity. My nascent and budding confidence came from a firm inflation (CPI) print last week and the lack of jawboning in Stevens' prior speaking appearance (at the Australian British Chamber of Commerce) on October 18th. (It turns out that Stevens did mention his preference for a lower currency in response to a question AFTER the talk. It was brief, seemingly off the cuff, and had little to no impact on the currency, so I think I can be excused for missing it?).
It is exactly this kind of jawboning I was expecting the RBA to use as a tool for driving the currency lower after it surprisingly dropped language from its statement on monetary policy indicating inflation gave it scope to lower interest rates. The return of Stevens to the bully pulpit puts a sell-off of the Australian dollar right back in play. Here are intra-day and daily charts to show the impact as of the time of writing: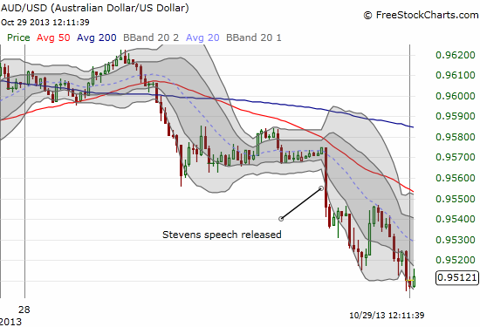 Stevens greases the skids for the Australian dollar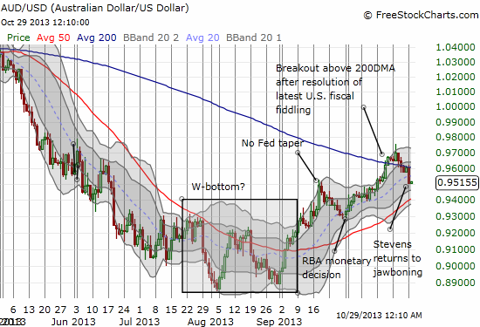 Stevens adds momentum to the Australian dollar's pullback - uptrend from W-bottom remains intact for now…
Source: FreeStockCharts.com
Stevens added pressure to the Australian dollar by reminding investors and traders that tapering by the Federal Reserve will eventually come…and its impact will likely be similar to the last episode of taper fears.
…it would be a mistake to relax for very long in the face of this delay. Surely the 'taper' will come. We should hope it will, since it will signal that the US economy is well established on a recovery track, and it will start to lessen some of the uncomfortable spillover effects unavoidably associated with the present set of policies. For some countries, including Australia, the beginning of a return to something resembling more normal conditions, in at least one major advanced country, would lessen some of the difficulties we face in our own policy choices.
Stevens did not get specific about these "policy choices," but surely he was referring at least in part to the pressure the RBA must have felt earlier to drop interest rates to compete with the devaluation of the U.S. dollar (and other major currencies) relative to the Australian dollar.
The devaluation playbook for the RBA seems clearer now: 1) hope the Fed's tapering comes sooner rather than later; 2) restart a campaign to remind markets that the Australian dollar has no business trading as high as it is. The markets are often stubborn, forcing financial authorities to move from words to action. It will be interesting to see whether the current trigger response sustains itself, especially if the Federal Reserve indicates/suggests/implies this week that tapering will likely get delayed even further into 2014. I am not sure what policy choices the RBA can implement if the Federal Reserve, forex traders, and inflation numbers refuse to cooperate.
In the meantime, I will wait out the follow-through while clinging to my small long Australian dollar position (my earlier wariness was indeed justified!). A "logical" stop for this position would be a breakdown of AUD/USD below its 50-day moving average (DMA) and an end to the current uptrend. Note in the chart above that the currency pair has now broken down cleanly below its 200DMA.
Be careful out there!
Disclosure: I have no positions in any stocks mentioned, and no plans to initiate any positions within the next 72 hours. I wrote this article myself, and it expresses my own opinions. I am not receiving compensation for it (other than from Seeking Alpha). I have no business relationship with any company whose stock is mentioned in this article.
Additional disclosure: In forex, I am long the Australian dollar.