Due to the increasing inclination toward wireless technology in the U.S., telecom companies are forced to upgrade and increase their network capacity. Verizon Communications (VZ), the largest U.S. cellphone carrier, has been emphasizing on improving its wireless service and is generating higher revenue from the offering. In the third quarter of 2013, it posted net income of $2.23 billion, which was $1.59 billion in the same quarter of 2012, and it observed a 4% year-over-year rise in revenue to $30.28 billion. One of the driving factors was the addition of 1.1 million net retail wireless connections during the quarter, out of which 927,000 were monthly service contracts.
Considering the stock price for Verizon, investors reacted positively to the results; the stock has been up around 10% since the results announcement. Also, the company was able to provide a considerable return of approximately 15% this year. The $130 billion deal with Vodafone, where Verizon agreed to buy out Vodafone's 45% share of Verizon wireless, was also one of the major factors that drove the stock this year.
It's not only iPhone, but Samsung too
In addition to the rise in wireless connections, Verizon sold 7.6 million smartphones during the third quarter of 2013, out of which 51% were Apple iPhones. We believe the new announcement from Samsung (OTC:SSNLF) regarding the launch of the new Galaxy S4 Mini on the Verizon network may further increase the total number of smartphones sold by Verizon. The new version will hit the U.S. market next month. It will have a 1.7GHz dual-core processor, 1.5GB of RAM, 16GB of internal storage, and an 8 megapixel rear camera. This 4.3 inch qHD device will also have Samsung's unique features, which include S Beam, Group Play, S Voice, WatchON and the Samsung Hub.
Samsung will roll out a software update that will make the S4 Mini compatible with its new Galaxy Gear smartwatch, which will benefit Verizon's smartphone sales. The price of the S4 Mini is yet to be announced, but it is expected to be around $100 with a two-year agreement. Its flagship smartphone, the Galaxy S4, was the highest selling smartphone for Verizon in the month of August. With the lower price and the success of Galaxy S4, we expect that the S4 mini will be successful for Verizon when it debuts in the U.S. market.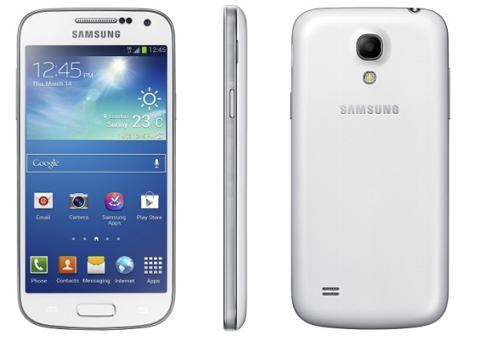 Source: phandroid.com
We base our expectations on the strengthening presence of Samsung in the U.S. market. According to a Consumer Intelligence Research Partners' report, Samsung overtook the iPhone in the U.S in terms of sales. In the quarter ending September 30, 2013, Samsung was responsible for 38% of U.S. mobile phone sales compared with 34% for iPhone. Samsung recently announced that Galaxy S4 global sales have reached 40 million after six months since its launch. In contrast, the Galaxy S3 took 7 months to hit 40 million in global sales.
Going forward, the much awaited Galaxy S5 is rumored to be launched during the second quarter of 2014. The Galaxy S5 is anticipated to be waterproof, dustproof and will have a 13 Megapixel camera with Optical Image Stabilization. Additionally, Samsung may use metal in the Galaxy S5 and it could run on Tizen, its own operating system, as well as on Android. We believe the Galaxy S5 with its new features and with new operating system could possibly surpass the Galaxy S4 sales numbers after its launch next year.
New tablet increase revenue share
In line with the growth in smartphone sales, Verizon will also benefit from the upcoming launch of Nokia's (NOK) first tablet, the Lumia 2520, in the fourth quarter of 2013. This new tablet from Nokia was unveiled at the Nokia World event held in Abu Dhabi on October 22, 2013, and will be sold through Verizon in the U.S. The Nokia Lumia 2520 tablet features a 10.1-inch screen display with 1080p resolution, runs on the Windows 8.1 RT, and has 4G LTE connectivity. It also includes a 6.7 Megapixel camera that has low light technology and a fast charge feature that can provide around 80% charge in an hour. There is no official announcement on the pricing, but it is expected to be priced at $499 before taxes.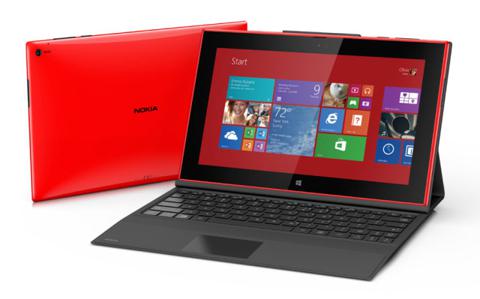 Source: ubergizmo.com
We believe this will help Verizon increase the total number of internet devices sold in coming quarters. The company managed to add 370,000 new Internet devices including tablets in the third quarter of 2013. This number should rise even further based on the customer satisfaction Verizon customers report from Nokia smartphones. According to the Smartphone Satisfaction Study by JD Power, Verizon rated Nokia in second place with a score of 840 points out of 1000 points, followed by Samsung with 839 points. This indicates that Nokia smartphones are well accepted among the U.S. population, and we expect this smartphone growth story to mirror its performance in the upcoming new tablet. Also, with Verizon's market share of 37.1% in the U.S., it has a good chance of enticing its customers to buy the new tablet, which will strengthen its customer base and eventually its revenue.
On the other hand, Verizon will face tough competition from T-Mobile US (TMUS) to increase its tablet sales numbers. T-Mobile recently announced a new plan to provide all users with 200MB of free 4G LTE data each month from November 1, 2013, onwards. After the new iPad Air launch, which is scheduled to go on sale in November, T-Mobile will become the only major U.S. carrier to offer a free data plan to users of the new iPad. Additionally, after users consume 200MB of free data, T-Mobile will offer higher-limit packages that are priced at 2.5GB a month for $30 and 4.5GB a month for $40.
The company also plans to include other tablets, including the Google Nexus 7 and the Samsung Galaxy Tab 2 10.1, under the plan. Nearly 90% of tablets in the U.S. are Wifi only, so T-Mobile is looking forward to give customers constant access to the internet when Wifi isn't available. We believe T-Mobile has potential to take customers who are interested in buying new tablets and are looking for cheaper options away from Verizon. In contrast to this, we are also confident that Verizon, which is offering iPad data services at $20 per month, will come up with new plans to draw customers toward Verizon stores.
Bottom line
Verizon is well positioned for growth in the coming quarters, and we believe that the new smartphone and tablet launch will secure revenue growth for the company. These new launches coupled with the success of its predecessors could increase the subscriber base and drive the stock price higher than its current trading level.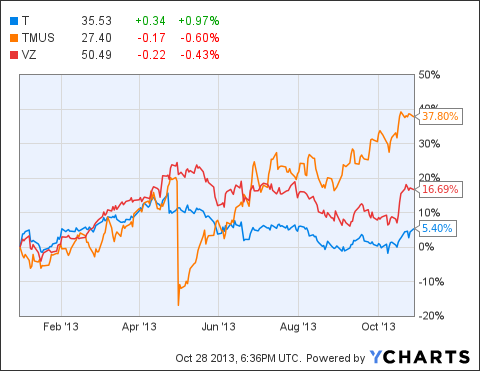 In terms of providing returns to its shareholders this year, Verizon's 16.69% is well above AT&T's 5.4%, but it isn't as quite as impressive in comparison to T-Mobile's return of around 38%. When compared to the telecom industry's P/E ratio of 31.6 times, Verizon seems to be highly overvalued with a P/E ratio of 65.65 times. In our view, this situation won't persist for long since the upcoming opportunities will bring in revenue and aid the company to provide healthier returns.
Disclosure: I have no positions in any stocks mentioned, and no plans to initiate any positions within the next 72 hours. I wrote this article myself, and it expresses my own opinions. I am not receiving compensation for it (other than from Seeking Alpha). I have no business relationship with any company whose stock is mentioned in this article.
Additional disclosure: Fusion Research is a team of equity analysts. This article was written by Shweta Dubey, one of our research analysts. We did not receive compensation for this article (other than from Seeking Alpha), and we have no business relationship with any company whose stock is mentioned in this article.