Ampco-Pittsburgh Corp. (NYSE:AP) manufactures and sells custom designed engineering products in the US and abroad. It was incorporated in Pennsylvania in 1929 and has 2 business segments: one is forged and cast rolls and the other is liquid processing. The company has 5 divisions; Union Electric Steel Corporation, Union Electric Steel UK Ltd., Aerofin Division, Buffalo Air Handling Division and Buffalo Pumps Division. Most of these divisions are located in the US except for the UK division of Union Electric.

Union Electric Steel produces forged hardened steel rolls used in cold rolling by producers of steel, aluminum and other metals throughout the world. It has several competitors throughout the world. The UK division of the company is a 25% partner in a Chinese joint venture which produces steel rolls in China.
Aerofin, located in Lynchburg, Virginia, produces custom-engineered finned tube heat exchange coils for a variety of industries such as HVAC, power generation and automotive functions.

Buffalo Air Handling Division of Air & Liquid Systems produces large custom air handling systems used in commercial, institutional and industrial buildings and is located in Amherst, Virginia.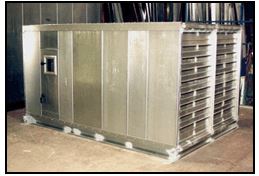 Buffalo Pumps Division of Air & Liquid Systems manufactures centrifugal pumps for the refrigeration, power generation and marine defense industries and is located in North Tonawanda, New York.

The products from all divisions of the company are engineered and most are custom designed for commercial and industrial users worldwide. The forged and cast rolls segment of the business has 2 international customers that represent about 23% of sales. Loss of both of these customers would adversely affect the sales and profits of this business.
AP has been facing lower demand especially in its forged and cast rolls segment of the business. The company has seen lower sales and profits over the past several quarters. One can see the huge impact this downturn has on the company below: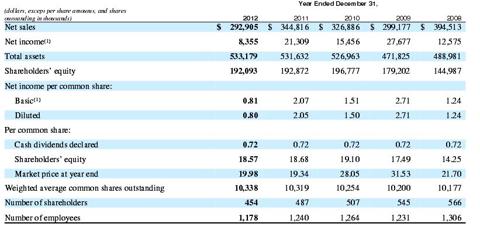 Sales dropped over $50 million and income per share slid from $2.07 in 2011 to $0.80 in 2012.
While sales have continued to drop this year, the drop in sales is not as steep as last year's drop. Margins have continued to weaken as the company reduces prices to maintain market share. For the 2nd quarter ending July 30, net margins had dropped 60 basis points from the same quarter last year. EPS came in at $0.11 per share. Third quarter EPS was $1.23 per share because of an insurance settlement of $1.03 per share. The forged and cast rolls segment of the company continued to see a decline in sales and earnings over the same period last year. The air and liquid processing group had lower sales compared to the prior year, but increased earnings because of insurance settlements and changes in product mix.
As a dividend investor, the low earnings represent a major concern. The company may lower its dividend due to harsh business conditions with a dividend that is larger than its true operating earnings. However AP has a strong balance sheet that should see it through this downturn. It carries $82 million in cash with only $13 million in debt. Since the company does have just under $8.00 per share in cash, it has the ability to continue the dividend through a downturn that does not last more than 2 or 3 more years. This downturn is the very reason that the price of the shares have declined so that the $0.72 dividend offers a yield of a little over 4%.
Some have speculated that AP might be a buyout target because it is now selling below book value. Corporations often attempt to consolidate when times are tough and AP would be a good buyout target for several steel companies. Since the family members that own a large proportion of the shares have begun to sell, there is an opportunity for another steel company to accumulate shares to take over the company.
Conclusion:
I consider this company a buy at a price below $18.00 per share. The company has continued the quarterly $0.18 dividend despite its lower EPS numbers. It is a conservatively managed company where the price should rebound as business in its key areas recover. At that time AP should easily grow sales and profits back to levels it was achieving in 2011. In the meantime one collects the 4% dividend and might become involved in a buyout scenario where the price of the company shares would likely soar.
Disclosure: I have no positions in any stocks mentioned, but may initiate a long position in AP over the next 72 hours. I wrote this article myself, and it expresses my own opinions. I am not receiving compensation for it (other than from Seeking Alpha). I have no business relationship with any company whose stock is mentioned in this article.