A few days ago, shares in Spanish builder Fomento de Construciones Y Contratas (OTCPK:FMOCY), usually referred as FCC, surged following the announcement that Bill Gates, co-founder of Microsoft (NASDAQ:MSFT), had become its second-largest shareholder. Gates has bought 6% of the company for about $155 million from treasury shares, making it the second largest shareholder after chairwoman Esther Koplowitz which has a stake of 54%. Gates is not particularly known for its investing skills, but this share purchase was unexpected and is clearly a resurgence signal of interest in Spain. For those willing to play the European recovery theme, may Bill Gates have discovered a good way to play it through FCC?
FCC was founded in 1992 following the merger of two companies, Construcciones y Contratas and Fomento de Obras y Construcciones. The company's core business is construction, but over the years it has diversified its operations to other areas, such as infrastructures or renewable energy. It has nowadays more than 80,000 employees and is present in 56 countries.
FCC is a small-cap company, given that it has a market capitalization of only $2.1 billion. Its primary listing is in Madrid, but its also traded in the U.S. in the over-the-counter market but has very low liquidity. Spain have faced financial troubles and a downturn in construction activity since 2007 when its real estate bubble burst, leading FCC's share price to a huge fall. Since its peak in 2007, FCC's stock price in Madrid is still about 80% lower despite its recent rally as can be seen in the following chart.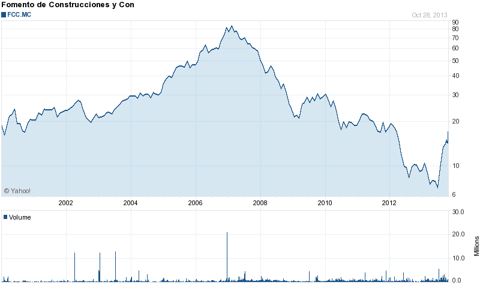 Click to enlarge
FCC has currently three major areas of activity: infrastructure, which works in the areas of construction and industrial activities; environmental services, such as waste management; and, energy which generates business in the field of renewable energy. Its business is dependent on the public sector to a large extent both in Spain and abroad. Therefore, the volume of activity and the payment period are dependent on the public sector and their budgets, which during an austerity period like the one Spain is currently facing is clearly a negative factor. In 2012, construction was responsible for more than half of the company's revenues, followed by environmental services with a 36% weight on revenues. Spain is still FCC's main market accounting for 44% of its revenues during the past year, with international markets representing the remaining 56% of its revenues.

Click to enlarge
FCC's revenues stood at about $15.4 billion in 2012, a decrease of 6.4% from the previous year. Construction was the main responsible for this weak performance, posting a revenue drop of 8% from the previous year. The company's profitability was also weak, negatively impacted by restructuring provisions and asset impairments of close to $1.6 billion. Its EBITDA collapsed by 40% to $1.04 billion, or by 23% without extraordinary effects. It reported a net loss for the full year of $1.4 billion, impacted by extraordinary effects but also from poor operating figures. These measures were taken by new management, which saw it as an opportunity to charge non-recurring losses in order to start 2013 with a cleaner balance sheet. During the first six months of 2013, FCC's financial results remained weak with revenues declining by 13% year-on-year and EBITDA down by 34%.
One of FCC's major issues is its huge debt pile, given that its net debt was about $9.2 billion at the end of the second quarter of 2013. This represents a net-debt-to-EBITDA ratio above 8x, which is outrageously high. Therefore, FCC needs to carry out a sizable level of deleveraging and manage carefully its debt maturities to avoid financial distress.
FCC has presented a new business plan a few months ago, which is focused on debt reduction and a return to higher profitability levels. The new strategy states three core businesses, construction, environmental services, and water treatment, in which the company will focus its efforts on to recover profitability and cash flow generation. FCC wants to reduce its workforce by about 1,000 employees mainly in the construction division. Regarding debt, FCC's objective is to reduce it mainly through asset disposals, with a debt reduction target of $3.8 billion by 2015. However, according to analysts' estimates its EBITDA in 2015 should be about $1.4 billion, meaning that its leverage ratio should remain about 5.8x which is still quite high. If the company fails to achieve its targeted asset disposals it could have difficulties in refinancing its debt maturities in the next two years, putting FCC on the brink of financial distress.
Regarding its valuation, FCC does not appear to be cheap based on its EV/EBITDA multiple of 10.4x and trading at 69x its 2014 estimated earnings. However, as FCC is a cyclical company it can benefit significantly from an economic recovery in Spain, which may lead to earnings upgrades over the next few quarters. As expected given its fundamental woes and very high balance sheet leverage, FCC does not currently pay dividends and is not expected to pay again until it reaches its debt reduction targets, which should not happen before 2015.
Conclusion
Although there are some signs that Spain is undergoing an economic recovery, the country is still healing from the housing bubble and construction, FCC's core business, should remain weak over the next few years due to a weak banking system. Moreover, FCC has a lot of problems that should not be offset by a stronger macroeconomic background, namely its huge debt pile and the need of deleveraging. Furthermore, FCC's valuation is not a bargain and the risk of financial distress is high. So, although Bill Gates has bought a significant stake and should have a high degree of confidence in FCC, it appears to be a risky bet that can pay off if Spain does indeed recover but has a lot of downside potential if it does not happen.
Disclosure: I have no positions in any stocks mentioned, and no plans to initiate any positions within the next 72 hours. I wrote this article myself, and it expresses my own opinions. I am not receiving compensation for it (other than from Seeking Alpha). I have no business relationship with any company whose stock is mentioned in this article.