I needed a stock for my more speculative Financial Tides/BarChart model portfolio VMSLO on Marketocracy so I used BarChart to screen for stocks hitting the most new highs trading under 100K shares per day. After doing some screening National Presto Industries (NYSE:NPK) came up as my pick.
National Presto Industries manufactures and distributes small electrical appliances and housewares, including comfort appliances, pressure cookers and canners, private label and premium sales products. Electrical appliances and housewares sold by the company include pressure cookers and canners; the Presto Control Master heat control single thermostatic control line of fry pans in several sizes, griddles and combination griddle/warmers and multi-purpose cookers; deep fryers of various sizes; can openers, slicer/shredders; electric heaters; corn poppers. I don't know about you but over the years I've acquired several of their gadgets.
On BarChart, NPK has had price appreciation in 14 of the last 20 trading sessions and more recently 5 of the last 5. It has enjoyed a 30.58% price appreciation in the last 65 days. BarChart's technical indicators have 13 of 13 buy signals for a 100% buy rating.
Only one Wall Street brokerage firm has a recommendation on the stock and they have a strong buy recommendation. They estimate a 11.3% increase in sales and a 6.4% increase in EPS. By the way 2 other analysts have raised their EPS estimates in the last 30 days.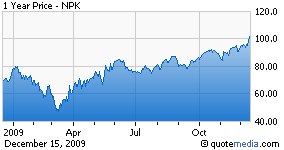 Both Wall Street Survivor and Motley Fool's members agree with my research. On Wall Street Survivor Mark's checklist has a Survivor rating of 5/5, a fundamental rating of 5.5, a technical rating of of 4/5 for an overall rating of 85%. Motley Fool members think the stock will out perform the market by a vote of 215 to 6 with the All Stars in agreement 81 to 3.
The stock meets my criteria:
Hitting new highs better than 50% of the recent trading sessions
If Wall Street brokerages are following it -- no trash talking
Confirmation of the BarChart ratings on other sites.
Recommendation: I'm adding National Presto Industries to my Financial Tides/BarChart model portfolio VMSLO around 98.37 with a protective stop loss no lower than 92.
Disclosure: No positions in NPK at the time of publication.