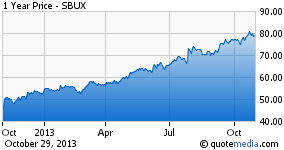 Starbucks (NASDAQ:SBUX), reports their fiscal Q4, 2013, financial results after the bell on Wednesday, October 30th, 2013. Analyst consensus is expecting $0.60 in earnings per share (EPS) on $3.8 billion in revenues, for expected year-over-year growth of 30% and 13% respectively.
The fiscal 3rd quarter, was thought to be a breakout quarter with 9% comp's, 150 bp's of margin expansion and 13% revenue growth. Quarterly comp's are expected in the 6% - 7% range, which is actually a tad lower than the monster 8% - 9% the iconic coffee purveyor has put up in the last 3 years.
SBUX is truly an amazing company and an amazing stock, but I wonder just for how long this growth can hold out. What is remarkable about SBUX is that the stock has been a leader in two different secular bull markets, and then again the bounce from March '03 to October '07:
1.) The 1990's: SBUX went public at a split-adjusted $0.90 per share and ended the decade near $7.75;
2.) From '03 to the peak in '07 SBUX rose another 300%;
3.) Since March '09 SBUX has risen another 700& from $11 - $12 to its current price near $80;
Readers might argue with calling the March '03 to October '07 rally a bull market, but you see the point. If there is one table we can put up for readers that "tells the story of Starbucks" this would have to be it:
Revenue growth y/y:
2015 (est) +11%
2014 (est) +11%
2013 (est) +12%
2012 +14%
2011 +9%
2010 +10%
2009 -6%
2008 +10%
2007 +21%
2006 +22%
2005 +20%
2004 +30%
2003 +24%
2002 +24%
2001 +22%
2000 +29%
1999 +28%
1998 +35%
Because of technical difficulties, we could not attach the respective EPS growth that went with the revenue growth, but you can see SBUX remarkable history of revenue growth, even in difficult slow-growth markets. The being said, investors can see how revenue growth has moderated after 2008 - 2009, which is typical of the SP 500 as a whole given the collapse of Europe and the slowing economy in China.
Peak revenue growth today would be (in our opinion) likely 15% - 16%, which wouldn't be too shabby given the current $80 billion market cap. In terms of valuation, SBUX is trading at 35(x) expected 2013 EPS of $2.23, and 30(x) 2014 expected EPS of $2.67 for expected growth of 25% this year and 20% next year.
At 16(x) 4-quarter trailing cash flow, we wouldn't add to the stock here, despite the attractive EPS multiple relative to the growth rate. Morningstar has an intrinsic value on SBUX of $78 per share.
There are a couple of key points to remember about SBUX:
1.) U.S. store growth has slowed markedly, with the majority of store growth coming from non-US markets. However the change in reporting to regional segments has hidden some of this dichotomy. Still, 75% of SBUX's operating income is from the America's segment, from which we can infer that the US and related markets are more mature. Europe and China markets are improving - that is a positive;
2.) Technically, SBUX stock consolidated from April, 2012 through April, 2013 so the stock does correct from time-to-time. During this time management did say they could lever the balance sheet, improve the dividend and add a potential 5% to EPS with a share buyback, if it was ever needed. SBUX is really valued as a growth stock and trades off the earnings multiple, but it is comforting to see their free-cash-flow (FCF) generation, currently over $2.1 billion in terms of 4-quarter trailing FCF.
3.) Long-term secular growth for the company is going to be helped by the Channel Development segment, which used to be called the Global Consumer Products Group. This is the K-Cups and single shot segment along with the retail store initiative. From a market perspective, the size of this market is about 5(x) the size of the traditional SBUX coffee market, although the revenue growth has slowed the last few quarters from the mid 25% range to just 7% - 8% the last two quarters. The Channel Group is a long-term driver of the overall company's growth, and we would like to see the revenue growth improve in the next few quarters;
We have a 2.5% - 3% in client accounts in SBUX at present, with the latest big addition to the stock coming in the mid $40's back in the 2nd half of 2012.
Howard Schulz and his management team have always delivered in all but the most adverse economic circumstances, (I'm thinking 2007, 2008, and 2009) so there is little reason the company won't deliver again on Wednesday night.
We won't add to the stock in front of results, but will wait for another pullback. We are expecting a strong calendar 4th quarter for SBUX around the holiday season.
Disclosure: I am long SBUX. I wrote this article myself, and it expresses my own opinions. I am not receiving compensation for it (other than from Seeking Alpha). I have no business relationship with any company whose stock is mentioned in this article.