Beyond IBM's Moat
I believe that IBM (NYSE:IBM) is a great company. For qualitative reasons, I believe that it will beat the market for many years. For example, I've previously summarized my thinking about IBM's Moat.
However, I haven't provided enough of a quantitative analysis of IBM for my readers. Therefore, the purpose of this article is to explain how I think about the cash that IBM generates and why this type of cash is meaningful to investors.
Before I dig into the analysis, I first need to explain the concept of Owner Earnings. Then, I need to explain Owner Earnings Yield. And finally, I need to explain Payback Years.
Once that foundation is in place, I will show you my analysis of IBM with respect to all three. Let's get started.
Warren Buffett on Owner Earnings
So, here's the story. About one year ago I was reading Buffett's 1986 letter Berkshire Hathaway shareholders. He explained how he and Charlie Munger thought about Owner Earnings:
"If we think through these questions, we can gain some insights about what may be called "owner earnings." These represent (NYSE:A) reported earnings plus (NYSE:B) depreciation, depletion, amortization, and certain other non-cash charges such as Company N's items (1) and (4) less ( c) the average annual amount of capitalized expenditures for plant and equipment, etc. that the business requires to fully maintain its long-term competitive position and its unit volume. (If the business requires additional working capital to maintain its competitive position and unit volume, the increment also should be included in ( c) . However, businesses following the LIFO inventory method usually do not require additional working capital if unit volume does not change.)"
I thought that this was a very rational explanation of Owner Earnings. The problem? How can you easily calculate this, and how can you easily look at it over several years.
Then, I found Jae Jun's article about Owner Earnings. He summarized Buffett's thinking very simply, like this:
Owner Earnings =

Reported Earnings (also known as Net Income)

+ Depreciation, Depletion, and Amortization

+ Other Non Cash Charges

- Maintenance Capital Expenditures

- Increase / (Decrease) in Working Capital
I agree with this simplification. It's rational and it works. Jae also captures this calculation (and much more) with his Old School Value "Stock Analyzer" program.
I promise that I'm going to show you how I use his stock analysis tool with IBM in just a minute or two. But, before I do that, allow me to next quickly explain Owner Earnings Yield and Payback Years.
Owner Earnings Yield
OK, so I'm going to assume you understand Buffett's Owner Earnings definition above. What I do to calculate the Owner Earnings Yield is pretty simple. It's just a few steps.
First, I grab the average Owner Earnings generated by the company over the last 3 years. Then, I divide the Owner Earnings by the number of shares outstanding. This provides me with the Owner Earnings per share. This is a beautiful thing because it tells me the actual dollar amount each share generates.
Second, I take the Owner Earnings and I divide that dollar amount by the price of a share in the business. This gives me one of my favorite metrics: Owner Earnings Yield.
Please note that how the cash is used by the company is not really addressed here. Owner Earnings Yield does not tell you anything exact about how the business has bought back shares, paid dividends or anything like that. You must do your own due diligence on how the cash is being utilized to know if management is being rational or not. That's beyond our scope in this article.
One huge advantage of Owner Earnings Yield is that you can very quickly compare companies in relation to the actual cash they are returning to you as a business partner. It's a fairly good equalizer, but again, it doesn't replace due diligence.
Next, let's look at Payback Years. This one is easy too.
Payback Years
Here's how it's calculated. I take the price that I paid for the stock and I divide that by Owner Earnings per share. This gives me "Years to Pay Back" or simply, Payback Years. Again, this tells me how quickly the Owner Earnings will pay me back for my hard cash investment.
When I invest in a business, I always think about how quickly my money will be paid back to me. I know that many people think about capital gains and share price appreciation, or maybe dividends, or other typical measurements. I look at that stuff too, but I love Payback Years because it's an indication of how quickly I will get my money back into my pocket.
Payback Years is also an excellent way for me to understand risk since the faster I get my money back through owner cash flows, the faster my risk is reduced. Loss of capital is a great fear for all investors. So, if the business is pumping out Owner Earnings and that's being well allocated to the business and owners, then I can sleep better at night.
Bringing The Core Ideas Together
So, I want to see strong Owner Earnings because I want to invest in a business that throws off a lot of actual cash. Again, this cash is "real cash" to me in that we're looking at a more realistic Net Income calculation in relation to how a business really operates. Note that if you don't agree with Buffett's definition, then you won't get too excited. But, I agree and therefore I am excited.
The first minor innovation I've added is that I look at what a company yields in terms of these owner earnings (Owner Earnings Yield). The second minor innovation is looking at how quickly these earnings will give me back everything I've invested (Payback Years).
I know that some people will argue that Owner Earnings Yield and Payback Years aren't "real" because you don't get to pocket actual cash with share buybacks, for example. And, when a company reinvests into growth, you cannot put that in your pocket either. I get that. However, if you've done your due diligence and the business is not destroying capital (and hopefully generating more than $1 per $1 redeployed or reinvested), then I would argue my two minor innovations give you a satisfying view into almost any company.
Now, let's look at IBM's Owner Earnings, Owner Earnings Yield and Payback Years.
Rubber Meets the Road: IBM Through the Eyes of an Owner
Two things before starting. First, I am a long term investor. So, I look at businesses over time. Second, I'm a fan of software and tools that make my life easier.
That said, I look at IBM's Owner Earnings over 10 years, 5 years, and 3 years. But, for my actual Owner Earnings calculation I will use the 3 year average. Here's how the numbers look according to Jae Jun's Stock Analyzer program over 10 years:

NOTE: You will want to look at the row called Owner Earnings FCF. That's the Buffett-style Owner Earnings calculation, year by year.
I then just average the 10 years, 5 years, and 3 years to get a feel for how Owner Earnings are improving (or not) over time.
For your convenience, here are the 10 year, 5 year and 3 year averages:
$13,287 million (10 year)
$16,959 million (5 year)
$18,522 million (3 year)
So, I take the 3-year average and divide by the number of shares outstanding (1.09 billion according to Yahoo). That gives me an Owner Earnings per share value of about $17 per share.
Next, with today's price of about $177 we're looking at an Owner Earnings Yield of about 9.6%.
And, lastly, we flip things around and divide the $177 by $17 per share and we get about 10.4 Payback Years.
Wrap Up and Implications
I'm sure that you're excited about these numbers. They offer a unique view into IBM because they are based on the amount of money that IBM is actually throwing off for owners.
In a sense, with an Owner Earnings Yield of 9.6% you're getting a 9.6% return on your money. The number is actually substantially higher if you believe that IBM creates more money when they reinvest in growth. But, from earnings alone, we can still be pretty satisfied with the 9.6% yield.
Furthermore, we know that with a $3.80 dividend that IBM has plenty of coverage considering their Owner Earnings of $17 per share. About 20-25% of Owner Earnings are going to dividends. This gives me a warm and fuzzy feeling about dividend coverage but also potential dividend growth. I love the fact that IBM is currently the #6 Super Dividend Contender.
I'm also fond of the data suggesting that IBM will pay me back for my initial investment with Owner Earnings in just over 10 years. The Payback Years is a source of comfort and satisfaction.
I'll sum everything up by saying that these metrics are important to me because they indicate that IBM is generating substantial amounts of real "owner" cash. They are also a wonderful starting point for deeper analysis. How is IBM reinvesting cash? How is IBM returning cash to investors? Is IBM properly investing my Owner Earnings?
My final gift is a FASTgraph view of IBM. It seems that Mr. Market is not happy with IBM. That means it's potentially undervalued. It's also a big reason why I've picked up shares and it's why I'm long IBM. Please conduct your own due diligence.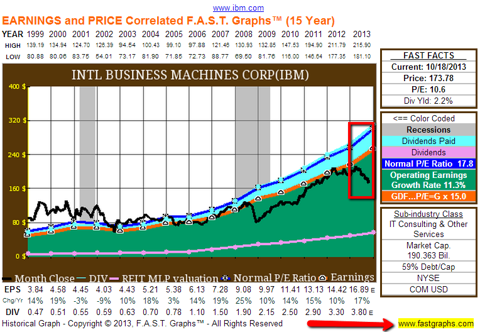 Disclosure: I am long IBM. I wrote this article myself, and it expresses my own opinions. I am not receiving compensation for it (other than from Seeking Alpha). I have no business relationship with any company whose stock is mentioned in this article.