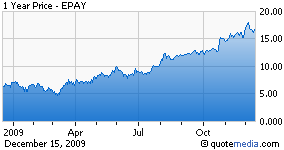 In a market starved for growth stocks, Bottomline Technologies (NASDAQ:EPAY) is an exciting tech-growth story which has just recently been discovered by the market. EPAY markets and provides electronic payment, invoice and document-automation solutions to corporations worldwide. The company's products help to streamline, automate and manage transactions involving global payments, invoice receipt and approval, collections, cash management and document management. In our view, EPAY reached an important inflection point with its most recent earnings report. More importantly, with a strong and clear plan for growth and a very positive outlook, we feel that the best is yet to come for both the company and its stock.
We must admit to being impressed by the confident tone of EPAY's management team on its latest conference call. While revenues were only up 8% in its most recent quarter, analysts are looking for revenues to grow 9.5% in Q210 and 14.5% in the third quarter. Undoubtedly the biggest reason for management's optimism stemmed from the impressive earnings and margin expansion EPAY has been able to achieve over the past few quarters. Some of the highlights from this past quarter, Q1, included:

Core net income of $6.8M more than doubled the $2.8M reported in Q109.
Q110 core EPS was $0.27 versus $0.12 in Q109 and $0.22 in Q409. It should be noted that earnings bested analyst estimates by 50%, the third consecutive earnings beat by EPAY.



Gross margins trended up sequentially from 55.9% in Q409 to 57.8% in Q110.
Commenting on EPAY's strong performance in the first quarter of FY2010, president and CEO, Robert Eberle, stated:

"We had a very strong first quarter across all financial metrics highlighted by the achievement of an important financial milestone. We recorded 20% core operating margin in the quarter, a major and significant increase from the 7% level recorded a year ago. Our strong core operating income and profitability metrics demonstrate the strength of our business, viability of our model and execution against our market opportunities. Strategically, we introduced several new products, built upon a strong pipeline and completed our acquisition of Bank of America's electronic settlement network known as Paymode. It was a great start to what I believe will be a strong fiscal year."
Looking ahead, EPAY raised its operating profit guidance to $1 a share for FY2010, from its previous outlook of $0.73-$0.75 cents a share. According to Barrington Research analyst, Derek Leckow, this level of profitability had not been expected until the end of 2011. Leckow also stated that EPAY is enjoying a strong secular-growth opportunity due to the transition from paper-based payments and invoicing to electronic-based processes.

As we look out to FY2011, analyst estimates were recently increased from $0.84 to $1.17 a share. Based on EPAY's current rate of growth, we feel these estimates are simply too low and will ultimately be raised to $1.30-$1.40 a share. Ultimately, higher forward estimates, coupled with an expanding multiple, should serve as important catalysts for the stock as we enter the first quarter of 2010.

We have been and remain patient buyers of EPAY at current levels, slowly averaging into the position over the past week. After surging from $13 to $18, we continue to believe that the current pullback in price to the $16-$17 range should act as a solid long-term entry. Assuming that the market stays bullish, we can see EPAY working into the low-to-mid $20s within the first half of 2010.

EPAY STOP LOSS: $14.95

Disclosure: Long EPAY