Readers of my prior articles know that I am a long-term bull on internet banking. Consumers are spending a greater portion of their financial lives on the internet, and widespread disillusion with bankers has loosened the traditionally sticky relationship between community banks and their customers. If their business plans are executed well, internet banks promise to provide excess returns on capital because of their lower costs for labor and minimal need for expensive branches.
If any internet bank is poised for long-term success it is B of I Holdings (NASDAQ:BOFI), the holding company for Bank of Internet. Based in San Diego, BOFI has shown a consistent record of rapid growth, uncompromising insistence on credit quality and margins that are the envy of the industry. In every year since 2009, the company has achieved an efficiency ratio (non-interest expenses divided by the sum of net interest income and non-interest income) below 44%, placing the company ahead of nearly all of its peers.
All that said, internet banks in general and BOFI in particular have moved into growth valuation territory and investors have become too optimistic about shorter-term prospects. As a result, I believe that investors should sell BOFI before its November 5 earnings announcement. The key driver of my new pessimism is a sharp drop-off of mortgage banking fees as mortgage applications decline with heightened economic uncertainty and higher interest rates dampen refinancing. On September 24th, even before the government shutdown and default threat, the Mortgage Bankers Association (MBA) predicted that mortgage originations would total $1.6 trillion in 2013. This included $989 billion in refinancing and $616 billion in new purchases. Given that originations already totaled $976 billion in the first half of calendar year, the MBA was expecting a significant decline for the second half. Furthermore, originations are expected to drop further to $1.1 trillion in 2014, because refinancing is expected to fall off a cliff even as purchases continue to edge upwards.
This slowdown will affect each bank differently. The key factors will be 1) the extent to which profitability is tied to mortgage banking fees and 2) how well the bank executes in this tough environment. The case of First Internet Bank (NASDAQ:INBK) should serve as a warning. The company just announced a 57% sequential drop in non-interest income. The main driver was a 60% year-on-year decline in mortgage banking revenue for the quarter ending September 30, which resulted in a 56% decline in EPS during the same period. Even as the bank made progress on other metrics such as net interest income and loan quality, the company could not overcome the loss of new business. After an exciting run-up, investors paid a heavy toll if they were late to the party: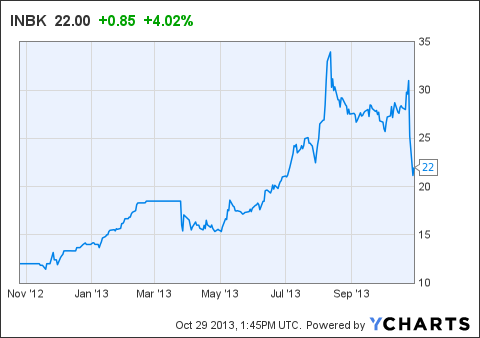 (Note: I recommended INBK as a buy in JUNE and investors that bought at that time would still be up over 15%. Whether the company is still a buy is an issue for another article, but it is clear that more recent investors have gotten hosed.)
What does all this mean for B of I Holdings? While BOFI will probably do a better job of weathering the storm because it is a superior operator, such outperformance is already priced in at current valuations. As I write, BOFI trades at nearly 3.5 times tangible book and over 23 times trailing earnings. This is a hefty premium for a company in a cyclical industry and suggests a high level of investor optimism about future growth prospects. But the problem in the medium term is that the company has become increasingly dependent upon origination fees for its growth (red box):

In fiscal 2013, which ended June 30, the company pocketed $22.9 million in mortgage banking fees, a nearly 500% increase since 2011. This goosed EPS growth, which increased by a more modest but still impressive 55% during the same period. Put another way, as mortgage banking income increased by $18.2 million in the last two years, income before taxes increased by $34 million. Clearly, mortgage banking has been an important part of the company's recent growth story. A 35% decline in total originations across the industry versus the first half of the year along with continued headwinds in 2014 will make it difficult for the company to repeat this performance.
This point becomes clearer when we examine the company's rising expenses:

Non-interest expenses (green) have been rising faster than net interest income, which would have undermined the company's margins without the growth of non-interest income. Yet just as this increased dependence on fees juiced growth in good times, the reverse occurs during bad times. Even when the economy is muddling through like today, fee income can be a lot more ephemeral than the traditional spread business.
Let us run some numbers to project how BOFI might fare in this adverse environment. The company's sleek, internet-based mortgage pipeline will likely continue to outperform its less agile peers like INBK as well as more traditional lending institutions. I therefore project that non-interest income declines sequentially by only 20% as BOFI gains market share in a shrinking market. Let us also say that the company would have continued executing at a typical 20% annualized growth rate without the hiccup in mortgage banking. Here's what we have:
Year ago EPS: $0.67
Expected EPS without slowdown: $0.80
Expected EPS with slowdown: $0.68
These estimates are necessarily approximations because the company is growing rapidly and must continuously issue additional equity to maintain capital adequacy. A better estimate would include an adjustment for the precise level of shareholder dilution in the last quarter, but that of course is unknown before the company reports earnings. Tweaking those assumptions a bit will shift the needle a few cents up or down, but the key point remains: a relatively modest decline in mortgage banking income causes BOFI's growth to evaporate.
It could be that most investors in BOFI are in it for the long term and will ignore such bumps in the road. That is the approach I usually like to take. But there are several reasons to believe that the stock is vulnerable if earnings disappoint. First, Yahoo Finance lists the stock as having three analysts whose estimates for the current quarter range from $0.83 to $0.87. So the consensus appears to be that the company will continue its explosive growth and remaining skeptics are few in number. Second, the company has already had a spectacular run in the last year, and twitchy investors may be looking to lock in gains. I did. Third, and most importantly, the company's valuation implies that only sunny days are ahead. Even one quarter of minimal or no growth could cause many investors to rethink their purchase.
In conclusion, I believe BOFI should be avoided before its upcoming earnings announcement. Market participants are extremely optimistic about the company yet there is a good chance that it will disappoint. If growth starts leveling off, the stock will be much less likely to command its current lofty valuation. So while I think the company is excellent and will do well in the long run, right now I'm waiting for the stock to fall back to earth.
Disclosure: I have no positions in any stocks mentioned, and no plans to initiate any positions within the next 72 hours. I wrote this article myself, and it expresses my own opinions. I am not receiving compensation for it (other than from Seeking Alpha). I have no business relationship with any company whose stock is mentioned in this article.