The holiday season - when retailers obtain more than 40% of their annual revenue - is just around the corner.
While holiday shopping projections are as varied as the economic indicators that come out every month, the most recent predictions from the National Retail Federation (NRF) are optimistic. The NRF expects sales for November and December to be up 3.9% to $602.1 billion, as opposed to 2012's 3.5% increase. The 10-year growth average is 3.3%, so an increase just shy of 4% is a good indicator of the ever-improving economy.
This year, retailers, while remaining cautious and keeping one eye on what happens next in Washington, D.C., are gearing up for a positive couple of months. Part-time seasonal hiring has begun and rollouts of convenient online shopping alternatives are being implemented.
And for investors, there's one area within the consumer goods sector that looks particularly undervalued: toy makers.
Certain things are almost guaranteed to be on children's wish lists this time of year, such as dolls, action figures, and electronic games. So here are three companies that cater to the desires of kids around the world and could have significant value built in for the long term - whether it's through product innovation, a strong balance sheet, or effective management: Hasbro (NASDAQ:HAS), Mattel (NASDAQ:MAT), and LeapFrog (NYSE:LF).
(Click to enlarge. Sourced from Zacks Investment Research.)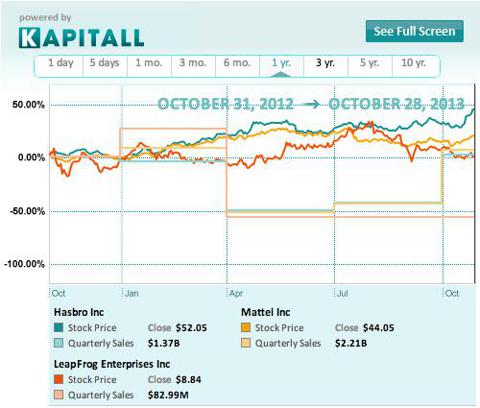 First up is the over $6 billion dollar Hasbro. This toy maker's stock has been upgraded twice by analysts to a buy rating - once in July and again in October. Hasbro's growth is currently being propelled by the company's girls segment - the last quarter saw revenue growth of 29%. The growth in My Little Pony and Nerf Rebelle is leading the way, while the 2014 re-launch of Littlest Pet Shop is highly anticipated. Analyst Jim Chartier forecasts $4 in earnings by 2015 and $5 by 2017, in his most recent report.
Hasbro's international sales were up 11%, which contributed heavily to Hasbro's recent earnings numbers. High gross margins - already over 58% gross - should continue to climb thanks to the company's programs aimed at cost efficiency - an expected $52 to $55 million will be saved in 2013. Adding to investors' confidence in the stock is the dividend of around 3%, which has doubled since 2010.
Mattel is another large toy maker worth considering. With a recent market cap of over $14.5 billion, Mattel recorded a 16% gain in profits, while year-over-year quarterly sales growth rose 6%, according to their most recent earnings report. Mattel's Barbie line was up 3%, coming off of a decline last quarter, but their Other Girls Brands line was the real story - up 28%, mostly due to the Monster High line. New Disney (NYSE:DIS) lines via the upcoming movie "Frozen" could further contribute to Mattel's future growth.
Like Hasbro, Mattel enjoys high gross margins of over 53%. The company also bought back 6.1 million shares in the last quarter - $259 million - and offers a dividend of around 3% that could provide investors with sufficient downside protection. However, Mattel looks like a better value than Hasbro, based on a recent P/E multiple of 17, as opposed to their competitor's recent P/E of 20.
The last toy maker in our search for value, LeapFrog Enterprises, is relatively small, with a recent market cap of just $609 million. But that small size could be an advantage if looked at as an opportunity for growth. LeapFrog's popular new LeapPad Ultra Tablet is one of the most wanted items this season, and has made the Toys "R" Us "Fabulous 15" list.
LeapFrog has a PEG ratio of only 0.39 and a recent P/E of just 6.79, which could be a signal to investors that it's undervalued. And LeapFrog's earnings for this year are expected to grow over 300%.
LeapFrog has no long-term debt and few current liabilities - $51.8 million. Compare this to their cash and cash equivalents value of $189 million, and a case for this being a defensive investment can be made, despite their lack of a dividend.
A risk to consider with LeapFrog would be the high short position of 27%, which could weigh heavily on any negative news and add volatility to the stock's performance. However, any positive news could potentially spark a short squeeze if the sellers can't cover their short positions in time.
This holiday season will be the short-term catalyst for Hasbro, Mattel, and LeapFrog. While a drop in retail expectations could hurt them over the next few months, long-term growth could still apply, as all three companies continue to invest in new toy models and their international sales heat up.
Disclosure: I have no positions in any stocks mentioned, and no plans to initiate any positions within the next 72 hours.
Business relationship disclosure: Kapitall is a team of analysts. This article was written by Daniel Cross, one of our writers. We did not receive compensation for this article (other than from Seeking Alpha), and we have no business relationship with any company whose stock is mentioned in this article.