Organovo Holdings' (ONVO) 3D bioprinting technique helps in developing a bio- fabricated tissue of human organs, like liver, that are used by the pharmaceutical companies for conducting clinical research. This bio-generated tissue works the same as an organ in the human body. The tests conducted on bio-fabricated tissue provide data that is more accurate than research conducted on animals or on a single cell. The company's innovative technology holds huge market potential, which has attracted strong collaborative agreements with companies like Pfizer (PFE) and L'Oreal (OTCPK:LRLCY) for research and development of new products. Organovo recently demonstrated the data on its 3D liver tissue that displayed its extended functionality. Also, the technology has potential to develop new organs intended for direct therapeutic use to augment or replace damaged organs.
3D bioprinting
The 3D bioprinting process is the creation and designing of key architectural and compositional elements of a target organ tissue that can be generated with the help of a bio-printer in the laboratory environment.
Process:
The bioprinting process involves taking patient cells from a specific organ, growing, and collecting them in a specially incubated atmosphere in order to form bio-ink. The bio-ink consists of cells and the building blocks to form a functional organ system in-vitro. This is the beginning stage of solid tissue formation.
The cell mixture is loaded into a cartridge, which is then placed into the printer. The bio-ink building blocks are then dispensed from a bioprinter, using a layer-by-layer approach to form a target organ tissue.
Usage:
The tissue can be used in a number of research applications, such as drug discovery or toxicology testing. 3D bioprinting helps researchers replicate human physiology for research, drug testing, and eventually as therapies. Organovo is working with several tissue types including liver tissue, blood vessels, cardiac muscle, and lung tissue.
Organovo's value proposition
For a new drug approval, pharmaceutical companies have to run several clinical trials, which makes the drug discovery and development process very expensive. In 2012, the average expenditure on a new drug development was about $1.2 billion, and the total research and development spending of the pharmaceutical industry was approximately $48.5 billion.
The FDA follows a strenuous scrutiny process for approval of new drugs that includes pre-approval human trials. Pharmaceutical companies have to be extra cautious on the safety of the patients, and they spend millions of dollars on these clinical trials. When a drug application is rejected, all these expenses become a sunk cost and are counted in losses. Organovo's 3D bioprinting technology helps generate similar living tissues that provide an alternative to check the efficacy of a drug before going for expensive human trials; therefore, it helps researchers minimize the losses made on unsuccessful trials.
The 3D bioprinting technology also has the potential to create tissues intended for direct therapeutic use to augment or replace damaged or degenerating organs. In the U.S. last year, about 5,000 transplants took place, and approximately 18 people die each day waiting for an organ. We expect Organovo's 3D- bioprinting technology holds huge promises in creating and developing new organ tissue that can replace the degraded organs. These 3D human tissues have huge potential to accelerate the drug discovery process, enabling treatments to be developed faster and at minimum cost.
Recent progress in 3D bio-printed liver tissues
At the 3rd Annual Cell Therapy Bioprocessing Conference on October 22, 2013, Organovo presented the data demonstrating the retention of key liver functions in bioprinted liver tissues for up to 40 days. Earlier, the tissue lived for five days or longer. The extended functionality will offer significant value to pharmaceutical researchers by enabling assessment of both biochemical and tissue responses. We should note that the demonstration of extended function of 3D liver tissues was achieved faster than the projected time line scheduled at the end of 2013. The demonstrated data gives us a positive outlook for the development of other types of tissues as well. We believe the demonstration of extended function in Organovo's 3D liver tissues will help the company expedite its launch in 2014.
Key Collaborations
Organovo chose the route of partnership and collaboration to produce tissues that can be used in a variety of applications in the pharma industry as well as cosmetics. The collaboration brings the expertise of pharmaceutical companies, and at the same time, pharmaceutical companies are looking at the potential of 3D bioprinting to minimize clinical trials expenditure. Organovo is currently helping pharmaceutical and academic partners develop 3D human tissues for research, drug discovery and development, and toxicity testing.
| | |
| --- | --- |
| L'Oreal | On October 7, 2013, Organovo signed an agreement with L'Oreal to explore the use of 3D skin for testing its skin care products. L'Oreal is the world's largest cosmetics producer with revenue of approximately, $24.7 billion. It has a market share of 15.8% in North America. It offers products in hair care, skincare, make-up, deodorants, and perfumes through its 27 brands. The terms of the agreements are not disclosed; however we expect the deal to bring a healthy cash flow for Organovo, as happened in earlier collaborations. |
| Pfizer | In December 2010, Organovo entered into a $600,000 collaborative research agreement with Pfizer to develop specific 3D tissue for two therapeutic areas utilizing the NovoGen MMX Bioprinter. In the fourth quarter 2012, Organovo has received all $600,000 under the agreement, as it delivered the tissue constructs to Pfizer. Pfizer is currently evaluating the constructs delivered by Organovo. Pfizer has not given any timeframe of when it will get back with results, but we expect positive developments in coming two to three months. A new deal is expected to be signed between the two companies that will bring an upfront payment for Organovo as well as some share of royalties for approved products developed using the technique. |
| ZenBio | On February 20, 2013, Organovo entered a partnership with ZenBio, a leading provider of human cells, which are key inputs for 3D bioprinting. The partnership with ZenBio will provide validated cellular inputs for NovoGen bioprinter that enable the generation of living tissue. |
| Knight Cancer Institute | In January 2013, Organovo entered a collaboration agreement with Knight Cancer Institute at Oregon Health & Science University, or OHSU, for the development of clinically predictive in vitro 3D cancer models for advance discovery of novel cancer therapeutics. |
| United Therapeutic | In October 2011, Organovo and United Therapeutics entered a $1,365,000 research agreement for a research program to discover treatments for pulmonary hypertension using the NovoGen MMX Bioprinter. The contract will bring certain milestone payments on successful completion and annual sales-based royalties to Organovo. |
Organovo is expanding its collaboration with big market players. Its collaboration with Pfizer has already started bringing in cash flow and additional positive developments with Pfizer are expected in the coming quarters. Through its recent collaboration with L'Oreal, the company is also taking steps to partner with non-pharma players, which show the scope of application of its innovative bioprinting technology. We expect the company's innovative technology has huge potential, and it will help Organovo attract more collaborative partners.
A glance at numbers
For a development stage company, its financial stability plays a very important role in defining its future. In the quarter ended in June 2013, Organovo reported $12.48 million in its cash and cash equivalent, its research and development expenses were $1.46 million, and selling general and administrative expenses are $2.37 million. We believe the company's currently available cash and cash equivalents give it a strong financial standing that will help its operation run smoothly.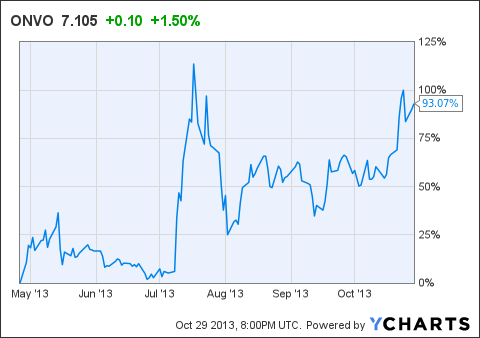 In the last six months, Organovo's stock has provided a return of 93%. The company's strong collaborative agreements and the positive data on its liver tissue's prolong functioning increases our confidence in the company as an investment.
Conclusion
Organovo's 3D bioprinting technology is certainly a breakthrough technology that can help pharmaceutical companies as well as non-pharma companies prepare products that have a strong efficacy profile before beginning a human trial. The technology provides a solid alternative to animal or single cell trials, with better research data to avoid the risk of failure to advance at trial phase. Given the strong applicability of bioprinting, Organovo built strong partnerships with companies like Pfizer and L'Oreal, which have already started to generate returns. We expect the company to build additional partnerships that will help it expand the scope of bioprinting, and at the same time, bring more grants and revenue for the company.
The technology holds enormous potential and can help to generate functional human organs in the future for transplant. Currently, the company isn't generating any profit, but with the launch of the 3D bioprinted liver tissues in 2014, the company will start generating positive cash flow. Given the potential of the innovative 3D bioprinting, we expect the company to outperform in the foreseeable future.
Disclosure: I have no positions in any stocks mentioned, and no plans to initiate any positions within the next 72 hours. I wrote this article myself, and it expresses my own opinions. I am not receiving compensation for it (other than from Seeking Alpha). I have no business relationship with any company whose stock is mentioned in this article.
Additional disclosure: Fusion Research is a team of equity analysts. This article was written by Satya Prakash, one of our research analysts. We did not receive compensation for this article (other than from Seeking Alpha), and we have no business relationship with any company whose stock is mentioned in this article.