Imagine you were a professional financier, focused on funding small, growth oriented companies. As such a financier, you might look for characteristics like rapid growth, a history of profitability, and low existing levels of financial leverage (debt). If a company came to you with financials that showed substantial negative net income for 6.5 out of the last 7.5 years, and had substantial debt and preferred outstanding relative to the size of trailing cash flows, how might you react?
Green Hunter Resources (NYSEMKT:GRH) is in such a situation. Green Hunter's cumulative net income could be enough to scare off potential financiers.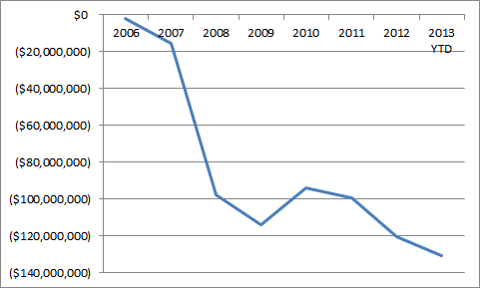 As shown on the above chart, Green Hunter has had negative net income every year, with the exception of 2010. And it has accumulated overall negative net income of almost $140 million, which is remarkable for a company with a market cap of ~$45 million and an enterprise value of ~$110 million.
Green Hunter had previously been financed by publicly traded preferred (GRH C), which pays a 10% dividend at par and currently trades at a substantial discount to par (considering low prevailing interest rates, the market may be implying that Green Hunter may not be likely to fully repay this). Magnum Hunter (MHR), which is also run by Green Hunter's Chairman Gary Evans, used similar securities to finance its growth. This structure is not uncommon amongst "growth" companies, and it has provided financing to companies accumulating nearly uninterrupted streams of losses. Sometimes these work out spectacularly poorly, such as in the cases of GMX Resources Preferred (OTCPK:GMXRQ) and ATP Oil Preferred (OTC:ATPAQ).
Green Hunter had a "shelf" filing which allowed it to issue a certain amount of preferred and common stock. This amount has now been fully utilized, which means the company may either need to "reload" the shelf, which takes a long time or may have to do an offering that involves unregistered securities. This means that, unlike the preferred Green Hunter had issued recently, the new contemplated financing might have to be on less favorable terms to Green Hunter, and there could be additional difficulty in completing such a financing in the absence of registered, trade-able securities.
One other issue Green Hunter may have to surmount is the poor returns generated to date by previous financings. Green Hunter has issued ~$154 million in equity and notes to date, net of dividends and commissions paid (based on its cash flow statements filed with the SEC). Its current market cap is ~$45 million, it has ~$12 million of senior debt and another $37.5 million of preferred at the recent market price (redemption value of $50 million). Thus the "market" value of Green Hunter's combined securities is ~$94.5 million, versus ~$154 million net having been raised by investors. In aggregate, this implies a ~39% mark to market loss to investors so far. Also, this does not capture preferred and equity issued to buy properties "in kind", which means there are likely millions of dollars of additional mark to market losses which are not reflected in this figure. Green Hunter is not alone in this situation; other companies in the same sub-sectors like Nuverra (NES) have also left investors with significant mark to market losses.
Combining this track record of losses to financing providers to date with the absence of available registered securities to offer with the track record of nearly uninterrupted losses over the history of Green Hunter, perhaps Green Hunter may have difficulty closing additional financing. Additional financing is necessary to fund growth (according to management) and may be necessary to cover negative working capital, interest and dividend payments, and potential operating losses.
Disclosure: I am short GRH. I wrote this article myself, and it expresses my own opinions. I am not receiving compensation for it (other than from Seeking Alpha). I have no business relationship with any company whose stock is mentioned in this article.
Additional disclosure: I am short GRH and may buy or sell any security mentioned at any time with no further notice