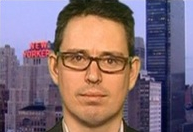 Felix Salmon has become one of the most popular financial bloggers on the web. His hailstorm of posts at Portfolio.com dropped his reporting and opinions center stage.
I recently caught up with Felix to get his opinions on where financial journalism is headed as we enter 2010 …
Damien Hoffman: Where do you see a place for long form journalism within the context of blogging?
Felix: I think blogs are a wonderful way of driving attention and traffic to long form journalism. Vanity Fair is doing a spectacularly good job of covering business and finance, and has been since before Portfolio closed. They actually poached Michael Lewis from Portfolio before it closed. They've had Bethany McLean. They've got Bryan Burrough, Todd Purdum, Bill Cohen, and a great roster of really good long form journalists there. They're batting a thousand with what they're doing.
Vanity Fair obviously has a nice budget. They have a good base of luxury advertisers which no other financial magazine has. Graydon Carter is perfectly happy to subsidize long wonky pieces about Fannie Mae (FNM) and Freddie Mac (FRE) with the kind of audience he gets from putting half naked starlets on the cover — and that's great. That's a brilliant business model. I'm in favor of it.
People don't come to blogs just to read the blog and stop. They come to blogs because blogs link to great stuff, and one of the foremost things that blogs link to is long form journalism. For instance, when Portfolio published that great Michael Lewis piece The End, it also appeared online and got literally millions and millions of page views. People would read it online or print it and read it on the train. A lot of that was driven by the blogs linking and saying, "Oh my God, you have to read this — it's really good."
My Wired story was read by lots of people online who never read the actual magazine. I think that a lot of that online traffic is coming from blogs.
Further, blogs don't have the same problem as print journalism generally has with having to be accessible to all of their readers. On a blog you can do an early blog entry about credit default swaps without having to spend five hundred words explaining the definition of a credit default swap. So, you can go into quite a lot of detail quickly.
Also, it's very bloggy to obsess about certain things for a few days or weeks. Each individual post might not be particularly long, but if you add it all up, the number of words that I write that year is a lot longer than any magazine journalist.
Damien: Speaking of output, there has to be a way to monetize all this so the business can work. Can you talk a bit about your perspective on pay-walls and how things are playing out?
Felix: Sure. A lot of this is a function of the decisions of a very small number of people — Rupert Murdoch (NASDAQ:NWS) being the most important, but also Arthur Sulzberger of New York Times (NYSE:NYT) and Marjorie Scardino at Pearson (NYSE:PSO) which runs the Financial Times. I'm generally averse to pay-walls. I think they're a silly idea — but I'm increasingly in the minority here.
I hate linking to stuff which is behind a pay-wall. My readers hate it and they should. So, I generally avoid doing so wherever possible. And the higher the pay-wall, the less likely I am to link to the article and the less likely it's going to become part of the conversation.
The people who invest right now in building great public web sites which are available to all are going to reap the benefit in the long term — if they can manage the cash flow situation in the short term.