The Permian Basin, a historic oil producing area in West Texas and New Mexico, first opened to production in 1933. Initial estimates were for a supply of some 50 years. Yet, the Permian produced through the 90s and the last decade, albeit at a declining rate. And thanks to advances in shale drilling, the Permian has actually been growing production since 2009. This area has been producing for much longer than anyone in the 30s would have dreamed.
So what kept the Permian going for so long? The short answer is enhanced oil recovery techniques, otherwise known as secondary and tertiary recovery. Secondary recovery is often referred to as water flooding. The producer will flood the oil reservoir with water from several points in order to force more oil out of the rock. When that technique has forced out its share, producers turn to tertiary recovery methods, or CO2 flooding. CO2 flooding involves injecting CO2 into the reservoir to force remaining oil up to the wellhead. Often times, but not always, water flooding and CO2 flooding can each respectively recover as much oil as can primary methods. And the Permian is an analogy for many other oil fields in the US today. Secondary and tertiary recovery methods have kept older oil fields such as those in Oklahoma, Kansas and the San Joaquin Valley in operation as well.
These days shale and deepwater drilling get all the headlines, but the economics for CO2 flooding are actually superior to either one. By its very nature, it requires far less finding and development costs. After all, it's much easier to "find" oil in a field where geology has long been mapped out than to do so underwater or in shale rock. Many unconventional wells these days cost between $7 and $9 million. Conventional basin drilling can go for as little as a third of that.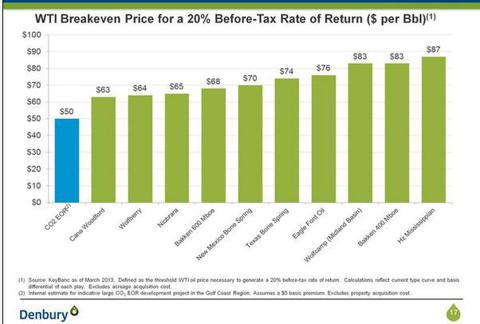 This chart above shows how economical CO2 flooding is compared to various unconventional shale plays across the country. Even the better Bakken wells need $68 oil to get a 20% rate of return. These conventional wells, reinvigorated by CO2 flooding, however, can operate at as low as $50 per barrel. When oil prices drop, the CO2 based producers really don't need to worry.
The CO2 Flood Masters

Denbury Resources (NYSE:DNR) is one name which concentrates entirely on CO2 flooding: This company's sole focus is to buy mature oilfields and bring them back to life with enhanced oil recovery methods. Denbury operates in two geographies, the Gulf Coast and the Rockies. Because the company can pick and choose which fields to buy, its production is 94% oil. Denbury produces about 7,400 BOE per day. This is a mid cap company with a market cap of just over $7 billion.
With mostly mature properties and an increasing amount of which will become cash flow positive through the next decade, there has been a push for Denbury to become an upstream Master Limited Partnership, or MLP. Becoming a partnership will mean bypassing corporate-level taxation and a very generous distribution yield will likely follow. Management is expressly evaluating this possibility and will make an announcement on its analyst day on November 11th. The prospect of Denbury as an MLP is an exciting one for a number of reasons. This article will focus on Denbury's growth strategy, financials, capital spending and will finally compare it to other upstream MLPs.
Unmatched Economics

This chart shows us the fruits of concentrating solely on CO2 recovery for mature fields. Denbury has the highest capital efficiency ratio among its peers by far. This number can be attained by dividing trailing twelve month EBITDA by finding and development costs (or F&D). Overall it is a fairly good measure of profitability for an energy company. In this metric Denbury is so far ahead largely because F&D costs are well below that of its peers. Management estimates that for every $1 spent, Denbury gets $4 back.
EVA Ratio
I believe that Economic Value Added, or the EVA ratio, is an important metric. It represents the company's return beyond the cost of capital, which it took out. It is a good representation of the real economic value a certain company brings to the table and is another good indicator of profitability. Here is how I would calculate Economic Value Added for Denbury:
[(EBITDA / Enterprise Value) - Weighted Average Cost of Debt] * 100
Let's see if Denbury's EVA Ratio tells the same story as the capital efficiency ratio. Denbury's trailing twelve month EBITDA is $1.36 billion, with a total market cap of $10.25 billion. This gives us an earnings yield of 13.26%. Taking a weighted average calculation of the yield to maturity on all this company's bonds gives us a weighted average cost of debt of 5.82%. This means Denbury creates 744 basis points, or 7.44% of economic value above its cost of debt. That is really a tremendous number which corroborates well with the company's capital efficiency ratio and its superior margins.
Growth Case
Despite the fact that Denbury operates only in mature fields, it will be able to grow production for the long term. As with primary recovery methods, it usually takes a couple years for an acquired field to reach its peak production with tertiary methods, too. Denbury's growth is coming from a flurry of acquisitions made over the last few years: The market has been flooded with mature oil fields and Denbury has been one of the better pickers.
Denbury's southern operations, most of which was acquired in the late 90s, are now cash flow positive. Its northern operations are the company's engine of growth, where it has made much of its recent acquisitions with some very big names. The biggest of Denbury's acquisitions involve a swap with Exxon Mobil (NYSE:XOM) where Denbury exchanged its Bakken assets for Exxon Mobil's Webster field in Texas, the Hartzog Draw field in Wyoming and CO2 reservoirs in Wyoming. Denbury has also acquired Conoco's Cedar Creek field in Montana, just between the Bakken and the Rockies, for $1 billion.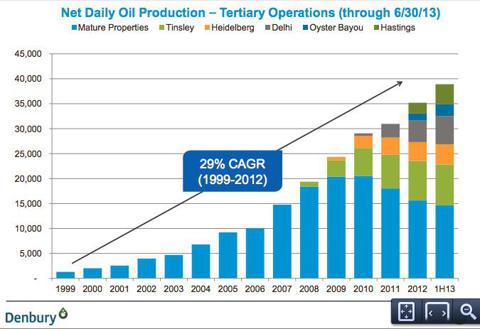 Above we can see Denbury's solid growth starting in the late 90s when it first began making CO2 based acquisitions. Management has a very long-term growth plan, expecting production to rise clear through to 2022 even with no further acquisitions. Contrast that with most other producers who don't plan past 3-5 years, and we see just how different Denbury is. And given how much mature property is out there for sale right now, I would find it very unlikely for Denbury not to make any further acquisitions. This means Denbury will probably grow production even past 2022 if market conditions allow.
Capital Response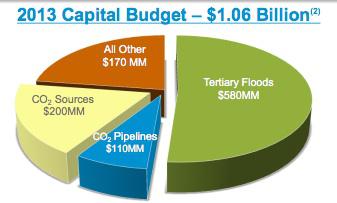 As a tertiary recovery pure play, Denbury can spend a little to get a lot. This year the company is spending a modest $1 billion in capital expense, over half of which is going to CO2 flood projects. Much of the remainder is going to either building CO2 pipelines or CO2 production infrastructure.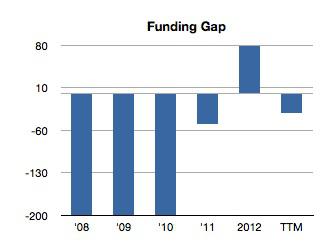 Data by Morningstar
Looking at this from another perspective, Denbury has substantially reduced its funding gap (where operational cash flow is exceeded by capital expenditure) as some of its Gulf Coast fields have matured and become cash flow positive. Management expects Denbury to become cash flow positive by 2017 and begin paying dividends at that time.
Financials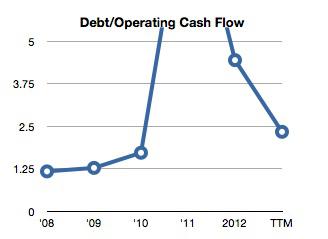 This above chart shows Denbury's debt to cash flow ratio. It's in pretty good financial shape at just under 2.5 times debt. Considering that the debt/EBITDA for most upstream MLPs is around 3 times, Denbury is probably in better shape than most. Granted, this is something of an apples-to-oranges comparison, but I do believe that if Denbury were converted to an upstream MLP, it would be in excellent financial shape relative to its peers.
In addition to a solid debt position, Denbury also has a lot of financial flexibility right now. Of its $1.6 billion revolving credit line, $1.3 is available for use.
Denbury as an MLP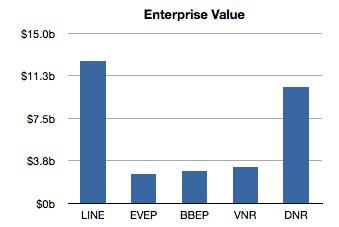 This would be how Denbury compares to the other upstream MLPs. Right now Linn Energy is easily the biggest name. Were Denbury to join this space, it would be comparable to Linn (LINE). Currently no other upstream MLP is big enough to digest the large-scale deals that Linn is able to, giving Linn a big advantage in the acquisitions market. Denbury's entrance would change that: Suddenly a $1-5 billion E&P company looking to become an upstream MLP would have another acquisition option. Things could get interesting.
While most upstream MLPs produce a combination of both oil and gas, Denbury is weighted heavily to just oil. There is one other upstream MLP which is similar to Denbury in this respect: Mid-Con Energy Partners (NASDAQ:MCEP). Like Denbury, Mid-Con also engages exclusively in enhanced oil recovery methods (Mid-Con is a water flooder). Also like Denbury, Mid-Con has superior margins but hedges for a shorter period of time than do most other upstream MLP names.
What would Denbury look like as an upstream MLP? Look at Mid-Con. As an oil-centered name Mid-Con has the highest margins in its group and also among the highest distribution coverage ratio at 1.26 times DCF for 2013. Mid-Con currently yields just under 8%. Were oil to remain stable we could expect something similar from Denbury as an MLP.
Valuation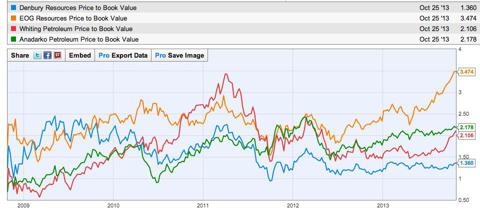 This chart illustrates the comparison between Denbury (in blue) versus some other US-drillers whom are also growing production. Denbury's book value is well below all of them. These other three names also happen to be big shale drillers. As a CO2 flooder, the market is not classing Denbury with these names despite its steady growth.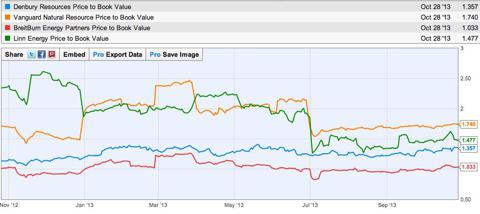 This chart is more like it. This shows Denbury's book value versus other upstream MLPs. We can see that the market is already valuing Denbury more closely with this asset class, because like an upstream MLP, Denbury concentrates on developing mature assets.
Conclusion
I think Denbury will eventually become an upstream MLP. By 2017 the company will be paying a substantial dividend or distribution. If Denbury makes the switch, it will a very compelling story, with high-quality assets, a history of deals with huge names, a solid balance sheet and an impressive, long-term growth trajectory. Denbury is reasonably valued right here, and this may well be an early chance to participate before this becomes a generous yielder.
Disclosure: I have no positions in any stocks mentioned, and no plans to initiate any positions within the next 72 hours. I wrote this article myself, and it expresses my own opinions. I am not receiving compensation for it (other than from Seeking Alpha). I have no business relationship with any company whose stock is mentioned in this article.