Clean Energy Fuels (NASDAQ:CLNE) stock price remains stagnant despite a number of positive factors making the company more fundamentally attractive. The company has been investing heavily to develop a network of LNG (liquified natural gas) fuel stations in the USA. However, there are not enough LNG vehicles in operation today to provide enough revenues and profits for the company. The company is dependent on Westport (NASDAQ:WPRT) to develop new gas engines for fleet operators. CLNE and Westport have been collaborating in a number of areas as each company depends on the success of the other. The company recently sold its CNG engine venture to WPRT and is also partnering in a marketing venture. While Clean Energy is not expected to generate profits before 2016, the valuation is not too high and the prospects are improving. The company successfully placed $220 million in convertible bonds which means that the company's capital position has become much better. Westport also introduced its 11.9 liter gas engine for the trucking market and UPS recently announced an order for 1000 LNG trucks. These are all positive factors for the company and I think that investor might want to start buying the CLNE stock in small tranches as the stock gains momentum.
Positive Catalysts
1. Improved Capital Position - A big risk for a small company is that it runs out of money before it completes its investment. Startups investing in new technologies and processes have to make large investments with long gestation periods. If the product/service does not sell in sufficient quantity, the cash flow becomes a problem and the company either has to heavily dilute its existing shareholders or go bankrupt. While Clean Energy Fuels runs a successful CNG fueling business, its future valuation is dependent on its LNG business which requires a big amount of upfront capital investment. Fortunately the company is well capitalized with $190 million in cash and recently bolstered its capital position with the successful placement of $220 million in convertible bonds. This means that the company can comfortably execute its business plan without worrying over the liquidity.
Clean Energy Fuels Corp. (NASDAQ: ) ("Clean Energy" or the "Company") today announced the pricing of its private offering of $220 million aggregate principal amount of convertible senior notes due 2018 (the "notes"). The size of the offering was increased from the previously announced $200 million aggregate principal amount. Clean Energy has also granted the initial purchasers of the notes a 30-day option to purchase up to $30 million aggregate principal amount of additional notes. The sale of the notes is expected to close on September 16, 2013, subject to customary closing conditions.

Source - Clean Energy Fuels
2. Introduction of the new Westport Engine - Westport and Clean Energy are joined at the hip, with the success of one heavily dependent on the other one. Westport needs an LNG fueling infrastructure in the USA for customers to buy its LNG truck engines, while Clean Energy needs LNG vehicles to buy fuel from its LNG stations. The companies have been collaborating on a number of fronts, with CLNE recently selling a CNG equipment subsidiary to WPRT. The long awaited 11.9 liter gas engine was recently introduced by the Westport and Cummins JV, which should give a boost to the LNG truck market. This engine is crucial for fleet operators to adopt LNG trucks. Note LNG has a ~40% cost advantage over diesel but the lack of engines and fueling stations have been major impediments. The two companies are tackling these two major hurdles separately at the same time. Some companies have started using these engines to deploy LNG trucks with CLNE benefiting from a multi-year deal to supply 1 million tons diesel equivalent LNG to Raven. I expect more such deals as more logistics providers start to buy these engines.
Clean Energy Fuels Corp. today announced a multi-year natural gas fuelingagreement to support 36 new natural gas trucks deployed by Raven Transport Inc. Clean Energy plans to support this effort by opening two of itsAmerica's Natural Gas Highway stations in Jacksonville, Fla., and Franklin, Ohio…Raven's tractors are powered by the new Cummins Westport 12-liter natural gas engine, the powertrain that is reshaping the heavy-duty natural gas trucking industry.

Source - Clean Energy Fuels
3. Strong Partnership in different aspects of the business - Clean Energy Fuels has got strong partners in different parts of the business. This is important for a small company, as it does not have the size to effectively scale up without large sums of money. The company is backed not only by General Electric (NYSE:GE) but also by Boone Pickens who recently agreed to purchase $100 million of convertible notes from Chesapeake Energy (NYSE:CHK). Clean Energy has also agreed to a marketing alliance with WPRT under which the company will promote the usage of NG for vehicles. The company is also in talks with two major OEMs to start a joint marketing program which should further help grow the company's sales.
4. High Crude Oil price rise helps CLNE - While most commodities have faced a bad 2013 with prices going down, crude oil has been relatively unaffected. This makes the economics of NG fuel attractive. In the USA, NG prices remain below the rest of the world because of the shale gas revolution. As crude oil prices remain at an elevated level, fleet owners will accelerate the move towards NG.
5. Climate Change Legislation could prove to be a big catalyst - President Obama has made some noises of introducing climate change legislation in the second term after miserably failing to do anything regarding global warming in the first term. CLNE will benefit immensely with cleaner fuel standards, as NG emits much lower emissions than gasoline. Any boost for increasing NG as a transportation fuel in the USA can make CLNE's stock surge.
Clean Energy Fuels Risks
Clean Energy Fuels operate in a capex heavy business of building fuel stations and is only half way through its plan of building 150 LNG fuel stations. The concept of LNG fuel vehicles is still new in the USA and it will take time for the new fuel to gain traction. The company is not expected to be profitable till 2015, when the network is fully built out and there are enough LNG vehicles using fuel from these stations. Small companies are sometimes forced to severely dilute their shareholders if they run into liquidity issues. The company is also dependent heavily on WPRT to introduce new and better LNG engines for trucks. If WPRT fails to deliver, then its LNG fuel stations will lie idle.
Stock Performance and Valuation
Clean Energy Fuels stock has remained more or less flat in the next year as investors have remained on the sidelines waiting for the company's ANGH stations to start showing improved profitability. The company has underperformed the general market which has moved up strongly in 2013.The stock price has remained stagnant at the ~$10-12 level, without going anywhere. The company is not expensive with a P/S ratio of ~3x and P/B ratio of ~2x, having a market capitalization of $1 billion. The valuation should improve as the company's revenues grow rapidly with the number of stations and LNG vehicles increasing.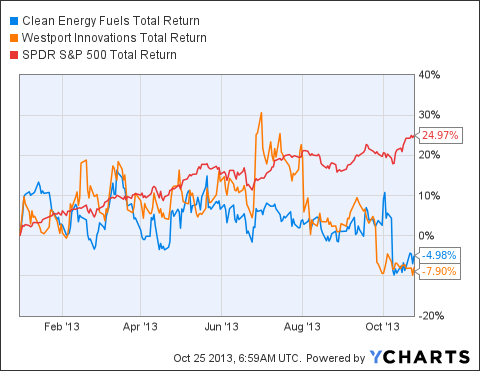 CLNE Total Return Price data by YCharts
Summary
Clean Energy Fuels has not been an easy stock to own for investors, given that the company requires a long period of heavy investments before it reaches the critical expansion point. Despite the stock prices remaining stagnant, the fundamentals of the company keep improving with every quarter. The new 11.9 liter engine from Westport and its deal with Raven are very good news for the company. The company's business case of selling ~40% cheaper fuel also remains strong and is more than half way through its investment in ANGH. The company's valuation is also not expensive, with the stock trading at less than half of its peak. CLNE reminds me of another stock, GT Advanced Technology (GTAT). The company was also facing the same low stock price and losses when I analyzed the stock. However, the company had a good technology and a good management team. The stock is now doing really well as its products start to get traction. It is difficult to call exactly when a stock will start to rise sharply. CLNE seems a good long term buy and investors might want to start building a position.
Disclosure: I have no positions in any stocks mentioned, and no plans to initiate any positions within the next 72 hours. I wrote this article myself, and it expresses my own opinions. I am not receiving compensation for it (other than from Seeking Alpha). I have no business relationship with any company whose stock is mentioned in this article.