We launched a new series of articles last month with the premise of building a dividend portfolio from scratch by leveraging the collective knowledge and opinions of the Seeking Alpha community. In parts 1 and 2, we highlighted the investment plan and strategy for the portfolio and parts 3-12 will highlight each sector in the S&P 500, including high-rated stocks within each sector to consider for the portfolio. Readers can either vote on the stocks we suggested for the portfolio or "write in" their own stocks to vote on. Majority will rule.
Below is a schedule of the entire series. Please make sure to "follow" us so that you will be notified when each new article is published.
As highlighted in Part 1, stocks in the portfolio will be initially selected based on the collective feedback from the Club. In addition, we will ask the Club to weigh in on the management of the portfolio over time as well.
Here are the high-level parameters that we are setting for the portfolio:
Portfolio Size: $250,000
Target # of Stocks: 20-30
Maximum Stock Concentration: 5.0% of portfolio
Maximum Sector Concentration: 20.0% of portfolio
Maximum High Yield Concentration: 20.0% of portfolio
Minimum Dividend Yield: 2.5%
As you can see, the investment plan is really simple. We are targeting a portfolio of 20-30 stocks with a minimum dividend yield of 2.5%. In addition, to ensure proper diversification we are setting portfolio concentration limits for individual stocks (5%), sectors (20%) and high-yield exposure (20%). Note that we consider any stock with a yield over 6% as "high-yield."
Portfolio Update
The purpose of this article is to provide readers with a portfolio update and highlight the stocks that we have purchased for the portfolio thus far. Please refer to Parts 3-6 for further details on each stock. Without further ado...below are the trades that we have made for the portfolio.

We have purchased 9 stocks for the portfolio utilizing ~20% of our total capital. All of these stocks have at least a 2.5% dividend yield and our weighted average dividend yield is around 4.0%. As you can see in the table above, some of the higher yielding stocks (like AmeriGas Partners (NYSE:APU), American Electric Power (NYSE:AEP), and Leggett & Platt (NYSE:LEG)) help to offset some of the lower yielding stocks (like Aqua America (NYSE:WTR), Coca-Cola (KO) and Baxter (NYSE:BAX)). Note that we are targeting a 4-5% blended portfolio yield when fully vested.
Despite the fact that stocks are hovering around new highs, it's clearly important to stick to your plan. While we were a little skittish buying into this market (as we feel that a near-term pullback is likely)...none of us have a crystal ball and stocks could always go higher. As shown in the table above, these 9 positions are up 5.9% (on average) from our initial purchase price (in one month!). Kimberly Clark (NYSE:KMB) and Clorox (NYSE:CLX) have led the way, rising 14.4% and 10.5%, respectively. Several of our utility names, like APU and AEP, are up over 5% each as well.
Had we not had a plan for investing in a rising market, we would probably still be sitting in all cash right now. As we highlighted in Part 2, our core investment strategy is centered around buying high-quality stocks at good prices.
Our buying strategy has three key components:
Establish a "Buy Zone" for each stock - Our ultimate goal is to buy quality stocks at good prices. Establishing a "Buy Zone" helps us stay disciplined.
Keep a "Watch List" close at hand - We maintain a master Buy Zone Watch List that we use to track all the stocks that we would like to own and at what price. In our opinion, this is the best way to stay on top of potential buying opportunities.
Buy in stages - We prefer to "leg" into our positions and we never buy a full position at once. Since we know we can't time the market, we always like to save some dry powder in case the stock drops further. Note that we typically start a position by buying 25%-50% of our target hold size.
This plan has served us well thus far and we'll be ready for a pullback if/when it happens. Below is a comprehensive Buy Zone Watch List of stocks that we have mentioned in previous articles. We encourage investors to create a list of their own and keep it close at hand. You never know when great buying opportunities will arise.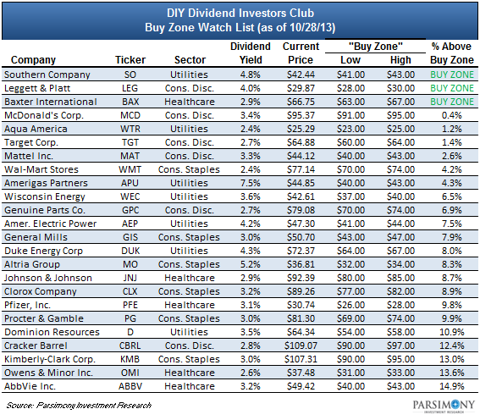 This list (and our portfolio) will continue to grow as we move through the other major sectors in this series. The various sectors ebb and flow just like the market and each sector will offer investors good value at different times. A diversified Watch List will certainly help you navigate this roller coaster ride and it will help you create a stable DIY Dividend Portfolio that will produce steady income for years to come.
Summary
Dividend investing is a marathon, not a sprint. Identifying good stocks is easy ... patiently waiting for the right price is the hard part.
We'll send around updates throughout the entire process so please follow along and participate as much as you can. The next sector on the agenda will be financials (including REITs). Please make sure to "follow" us so that you will be notified when each new article is published.
Disclosure: I am long BAX, KO, CLX. I wrote this article myself, and it expresses my own opinions. I am not receiving compensation for it (other than from Seeking Alpha). I have no business relationship with any company whose stock is mentioned in this article.