Editors' Note: This article discusses micro-cap stocks. Please be aware of the risks associated with these stocks.
On Monday, October 28th CF Industries (NYSE:CF) and the Mosaic Company (NYSE:MOS) announced a strategic partnership. First, CF Industries is selling its phosphate business to Mosaic for $1.4 billion. Second, CF Industries is agreeing to sell 600,000 - 800,000 tons of ammonia annually to Mosaic "at a price that insulates us [CF Industries] from movements in natural gas costs." Third, CF Industries will sell its ammonia production to Mosaic from its PLNL facility in Trinidad for use in phosphate production.
As an investor in these companies I was pleased to see shares in both companies rise. However the deal reveals to me that, despite the relative outperformance of CF Industries shares over the past few years, CF appears to be on the defensive here by selling its phosphate assets after a sizeable plummet in prices, and by hedging its ammonia production. Mosaic on the other hand, is coming from a very strong capital position, and while it, too, has suffered lately from lower fertilizer prices, it is buying quality assets at discounted prices.
A quick glance at the respective balance sheets of the two companies sheds light onto the logic of the deal from both companies' perspectives. Mosaic has $3.7 billion in cash and equivalents and $5.1 billion in working capital vs. just $1.1 billion in total debt. CF has $1.9 billion in cash and equivalents and $2.2 billion in working capital vs. $3.1 billion in debt.
Certainly CF is not in any immediate financial trouble. In fact, in the past 15 months or so its credit rating has improved as reported by both S&P and Moody's. However given CF Industries' high leverage to a falling nitrogen market, management likely felt that the company could use some de-risking and more focus on its nitrogen-based fertilizer business. Unfortunately this came at an inopportune time for the company. The following chart of diammonium phosphate (DAP) prices over the last five years illustrates this.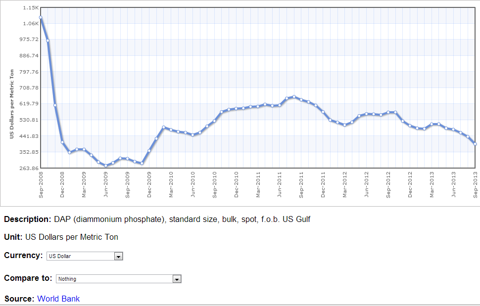 Since the August 2011 peak of $659.38 per metric tonne, the price has collapsed to just $398.13 per metric tonne in September, which is nearly a 40% drop.
Mosaic, which has played it safe throughout the 2+ year bear market in fertilizer prices, was more than prepared to take advantage.
Conclusion
Clearly the deal benefits both companies, but for very different reasons. CF Industries needed to de-risk, given its relatively high leverage, while Mosaic was able to purchase phosphate and ammonia on the cheap. As an investor in both companies I am tempted to take some profits in CF and purchase more Mosaic, which has underperformed yet is set to outperform as it deploys capital with fertilizer prices at depressed levels.
That isn't to say that CF Industries is a poor investment. In fact there are several things to like about the business:
While CEO Stephen Wilson is retiring next year, there is little doubt in my mind that CF Industries' management team is dedicated towards creating shareholder value. The stock is up over 1,000% since the company's 2005 IPO, far more than its competitors. This tells me that management is capable of creating value.
While the company sold its phosphate asset in a weak market, it no longer has to dedicate intellectual capital on this small part of its business, and it can focus on its nitrogen business.
While earnings have not been growing as of late the company trades at a very low multiple to earnings, which will allow it to return a sizeable amount of capital to shareholders through buy-backs and dividends.
For these reasons I am not eliminating CF Industries from my portfolio. However Mosaic is beginning to look far more appealing given, its strong capital position and its decision to invest in expanding its business in a weak fertilizer market. The longer term trends driving fertilizer prices higher (growing world population, growing consumption of proteins/meats, and a reduction in the amount of global arable land) remain intact. Larger players, such as Mosaic, who are willing to take advantage of cyclical weaknesses in fertilizer prices in spite of these trends are especially appealing from a long term investment standpoint.
Another thing that the CF/Mosaic deal tells me is that there might be potential acquisition targets in the fertilizer space, particularly in phosphates: Mosaic's management clearly believes that there are opportunities in phosphate operations and more generally in monoammonium and diammonium phosphate ingredients. More aggressive investors who think that Mosaic may go hunting in this depressed market might want to consider taking a position in a small exploration or development stage company. The price action today in Arianne Phosphate (OTCPK:DRRSF) today (up nearly 10%, and up nearly 20% at one point) tells me that I am not the only investor considering betting on such a deal. However those shares hit a 52-week high today, and I, like Mosaic's management, prefer to find value in weakness, and so I am looking at adding Stonegate Agricom (OTCPK:SNRCF), which has collapsed in price from nearly $0.90 per share in February to just $0.24 per share today.
Disclosure: I am long CF, MOS, OTCPK:SNRCF. I wrote this article myself, and it expresses my own opinions. I am not receiving compensation for it (other than from Seeking Alpha). I have no business relationship with any company whose stock is mentioned in this article.
Additional disclosure: I may sell some CF Industries to buy more Mosaic. I may also add to my Stonegate Agricom position.