Outerwall (NASDAQ:OUTR) recently changed its name from Coinstar, the company operates currency, DVD and cellphone exchange kiosks, under the name brands:
Coinstar bonds issued in March 2013 continue to trade at par. The company bought ecoATM in July 2013 for approximately the same amount as the new bond issue, $350M.
Take a look at how the Coinstar junk bonds compare to investment grade McDonald's (NYSE:MCD) bonds:
| | | | |
| --- | --- | --- | --- |
| | credit rating | price | yield |
| Coinstar Inc Sr Nt 6% 2019, Cont Call 03/15/16@103.00, Cond Call, Make Whole Call (cusip: 19259PAG7) | -/BB- | $100.00 | 5.99% |
| Mcdonalds Corp Med Term Nt Be Fr 3.7% 2042, Make Whole Call (cusip: 58013MEN0) | A2/A | $88.62 | 4.40% |
The Coinstar bonds have a minimum denomination of 2 bonds.
Coinstar acquired McDonald's remaining Redbox stake in 2009. There is, of course, a huge difference between the two sets of bonds. The Coinstar bonds mature in 2019 whereas the McDonald's bonds mature in 2042. McDonald's is well-rated and these particular bonds are about 11.4% under par.
Take a look at the Coinstar bonds call schedule:
| | | |
| --- | --- | --- |
| call date | call price | type |
| 03/15/2016 | 103.00 | premium |
| 03/15/2017 | 101.50 | premium |
| 03/15/2018 | 100.00 | par call |
Quite frankly, I would prefer an investment grade bond to a junk bond. Moody's rated the new Coinstar bonds Ba3, however, the bonds appear on the secondary market (on two separate brokerages) without Moody's rating, this may be due to a simple omission.
As far as junk bonds go the Coinstar bonds are interesting given Outerwall's current financial state. The company has $215M in cash, $700M in debt, and $422M EBITDA. The company has steadily grown net income over the past few years:
OUTR Net Income (Quarterly) data by YCharts
The company's most recent quarterly report showed:
| | | |
| --- | --- | --- |
| | 2013 | 2012 |
| revenue | $587.3M | $537M |
| operating income | $48.4M | $66.8M |
| net income | $82.6M | $36.7M |
| diluted EPS | 2.95 | 1.14 |
The quarterly report states:
Operating income decreased $18.5 million, or 27.6%, primarily due to:

Our Redbox segment where revenue growth was offset by increased expenses that reflect several factors including higher product costs as a result of a 19% increase in theatrical titles...

Our New Ventures segment revenue growth which was more than offset by increased expenses primarily due to increased sales volume, general and administrative expenses as a result of acquisition costs...
The quarterly report also states:
Net income increased $45.9 million, or 124.8%, primarily due to:

A gain of $68.4 million on the re-measurement of our previously held equity interest in ecoATM to its acquisition date fair value...

Increased interest expense primarily due to interest expense associated with the $350.0 million in Senior Notes we issued on March 12, 2013, lower interest income as a result of reduced cash and equivalent balances offset by lower non-cash interest expense as we retired or converted a portion of our convertible notes.
Take a look at the company's stock price: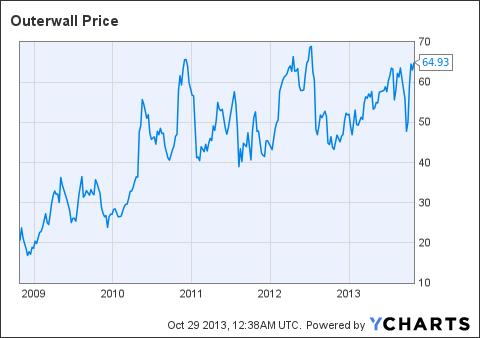 The stock went down to $46.29 on September 20, 2013 and has rebounded, dramatically, to $64.94 today.
The sharp drop coincided with the company lowering Q3 and FY 2013 guidance. The rebound coincided with news Jana Partners, an activist hedge fund managed by Barry Rosenstein, took a 13.5% stake in Outerwall. Jana Partners is a large $7B hedge fund, its assets went up about $1.1B from March to June 2013.
The activist investor has taken a 13.5% stake in the company formerly known as Coinstar and will seek to discuss with the board strategic changes, including a possible sale.
Given talk of a potential sale (though at this point it is just talk) let's look to Outerwall's SEC filings. The 8-K filed 3-12-2013 states:
Upon a change of control (as defined in the Indenture), the company will be required to make an offer to purchase the Notes or any portion thereof. That purchase price will equal 101% of the principal amount of the Notes on the date of purchase plus accrued and unpaid interest (and additional interest, if any). If the company makes certain asset sales and does not reinvest the proceeds or use such proceeds to repay certain debt, the company will be required to use the proceeds of such asset sales to make an offer to purchase the Notes at 100% of their principal amount...

The terms of the Notes restrict the company's ability and the ability of certain of its subsidiaries to, among other things: incur additional indebtedness; create liens; pay dividends or make distributions in respect of capital stock; purchase or redeem capital stock; make investments or certain other restricted payments; sell assets; enter into transactions with stockholders or affiliates; or effect a consolidation or merger. However, these and other limitations set forth in the Indenture will be subject to a number of important qualifications and exceptions.
Investors should realize, activist hedge funds are generally interested in profiting. Some are here one day and gone tomorrow, their strategies may work, and sometimes stockholders benefit; bondholders may or may not be so lucky.
The Company Spare Change Built
The Coinstar bonds may make a good addition to a well-balanced portfolio. Especially one that can handle the risks associated with junk bonds.
Whereas Safeway (NYSE:SWY) enacted a poison pill once Jana Partners bought in, Outerwall has enjoyed a recovery on the news. Outerwall faces competition from banks, newer coin changing companies, Netflix (NASDAQ:NFLX), Amazon (NASDAQ:AMZN) and smaller cell phone trade-in companies, and the likes of eBay (NASDAQ:EBAY). The company has built a surprisingly strong business on exchange kiosks and profited on Redbox as Blockbuster collapsed.
Since Outerwall stock has soared over the past month, investors could look to mutual funds for stock and bond exposure, rather than going in directly. One benefit to this would be the ability to reinvest dividends into such a stock or bond fund; whereas holding the individual bonds would generate cash and the company has no dividend.
Currently Outerwall's business seems strong, and finances seem decent for a company with a junk credit rating. For now the company's bonds will show up in searches for possible near term, high yield bonds. They may furthermore attract attention, because the company has been held in many prominent mutual funds and hedge funds; though be sure to check the current actions being made by those funds. Clearly some funds have not treated Outerwall as a "buy and hold" company, for the long-term; while a few others, like Stonerise Capital Management have built up larger stock positions.
The Outerwall bonds are attractive for their 6% yield, and 5 and a half year duration. One of the most important factors on investors' minds should be a buyout. Jana Partners holds a significant amount of the company now, and other prominent hedge funds have been reducing shares in Outerwall. So, it could be (or is likely) Jana's rule will be law within the company.
If you have any thoughts on Outerwall please leave a comment below.
Disclosure: I am long MCD. I wrote this article myself, and it expresses my own opinions. I am not receiving compensation for it (other than from Seeking Alpha). I have no business relationship with any company whose stock is mentioned in this article.
Additional disclosure: I am long Osterweis Strategic Income (MUTF:OSTIX) a major owner of Outerwall (formerly Coinstar) bonds. I am considering OUTR stock, and am not currently considering the Coinstar bonds individually. This article is not a recommendation to buy or sell. Please consult a financial adviser to determine proper allocations, if any, to junk bonds.