I recently analyzed the realized and unrealized gains for the 25 BDCs that I cover as a potential indicator of portfolio credit quality.
Net Realized Gain (Loss) - reflects the difference between the proceeds from an exit of an investment and the cost of the investment and periodic interest settlements and termination receipts or payments on derivatives, foreign currency transaction gains or losses and taxes on realized gains or losses.
Net Unrealized Appreciation (Depreciation) - is the net change in the estimated fair value of portfolio investments at the end of the period compared with their estimated fair values at the beginning of the period or their stated costs and taxes on unrealized gains or losses.
From here on I will simply refer to these measures as realized and unrealized gains (or losses). I believe this a more accurate measure portfolio credit quality than non-accruals because some BDCs may sell loans at a loss before going on non-accrual status and add to its realized losses. Unrealized losses are often an indication of loans that potentially might be going on non-accrual. Combined, these two measures as a percentage of the portfolio at cost will help to identify which BDCs are performing better than others. However this does not take into account the BDCs that have understated assets from previous write-downs or newer BDCs with less historical information or seasoned portfolios, so it is a rough measure of portfolio credit quality.
The table below shows the realized and unrealized gains (losses) for each BDC for the fiscal years 2011 and 2012 as well as 2013 year-to-date annualized. Both Prospect Capital (NASDAQ:PSEC) and Full Circle Capital (FULL) are June 30 fiscal year-end so I used the actual full year and Apollo Investment (NASDAQ:AINV) is the only March 31 fiscal year-end and I annualized the most recent quarter. The average portfolio at cost is a simple average for the year and not weighted by quarter.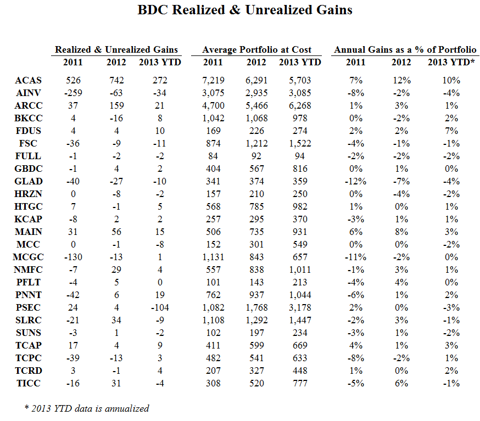 The following table shows the average gains (or losses) for the three periods as well as the current fair value of the portfolio as a percentage of the cost. This indicates the amount of prior write downs for the existing portfolio investments but does not take into account write downs of previous investments or the vintage of the current loans, some of which are newer and have had less history. BDCs with recent positive returns and higher fair values are most likely the ones with higher credit quality portfolios such as Main Street Capital (NYSE:MAIN), Fidus Investment (NASDAQ:FDUS), Triangle Capital (NYSE:TCAP), Ares Capital (NASDAQ:ARCC), New Mountain Finance (NYSE:NMFC), THL Credit (NASDAQ:TCRD) and Hercules Technology Growth Capital (NASDAQ:HTGC). All of these BDCs (except TCAP and TCRD) are the components of my suggested 'Total Return BDC Portfolio' due to higher amount of capital appreciation along with solid dividends.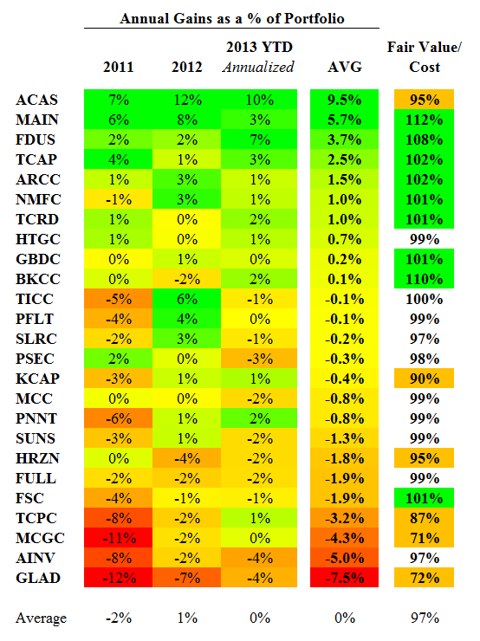 As usual, American Capital (NASDAQ:ACAS) is the outlier in the analysis. During the financial crisis its investments were severely written down and it is still recovering from the losses, accounting for most of the gains from the underappreciated assets. As discussed in "KCAP Financial: Will It Continue To Fall?" investments made during 2007 were some of the riskiest due to high portfolio company leverage multiples and covenant-lite loan issues due to increased competition. The table below shows ACAS, AINV, Gladstone Capital (NASDAQ:GLAD) and MCG Capital (NASDAQ:MCGC) all with much riskier vintages and all of which (except ACAS) were at the bottom of the previous table. This is not a coincidence.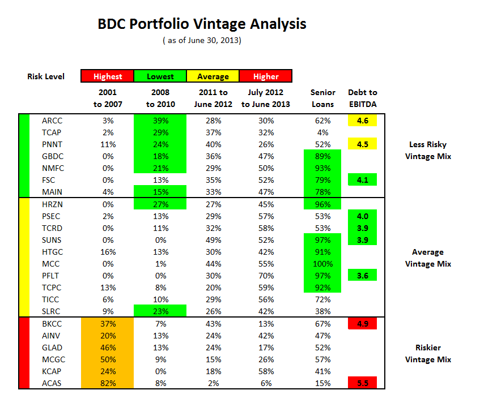 The table below shows the gains (and losses) for ACAS and MAIN over the last six years as a percentage of the portfolio at cost. Keep in mind that ACAS had more investments at the time but since this analysis is a relative measure as a percentage of the portfolio and both companies had investments from 2007 it is still applicable.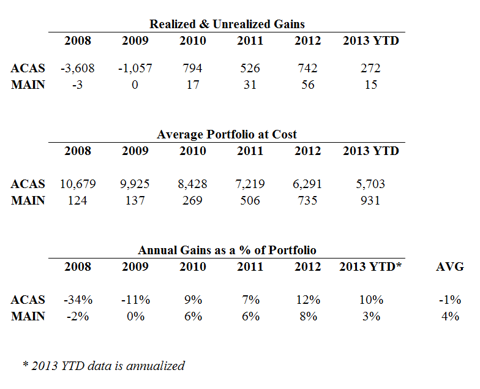 Clearly if you take a longer historical look ACAS is still digging its way out while MAIN has outperformed.
Summary
There are a few things I learned from this analysis including the importance of the vintage analysis which is why I believe KCAP Financial (NASDAQ:KCAP) and BlackRock Kelso Capital (NASDAQ:BKCC) could see portfolio quality issues in the coming years. TCP Capital (NASDAQ:TCPC), Fifth Street Finance (NYSE:FSC), PennantPark Investment (NASDAQ:PNNT), TICC Capital (NASDAQ:TICC), FDUS and MCGC seem to be improving portfolio quality through selling off bad loans or general write downs. The BDCs that have been trending down in gains as a percentage of the portfolio are PSEC, Horizon Technology Finance (NASDAQ:HRZN) and Medley Capital (NYSE:MCC), and as discussed in "Prospect Capital: Q1 2014 Expectations" I will be looking for further indications of declining portfolio credit quality.
Investors should only use this information as a starting point for due diligence. See the following for more information:
Disclosure: I am long MAIN, PSEC, ARCC, TCRD, TCPC, NMFC. I wrote this article myself, and it expresses my own opinions. I am not receiving compensation for it (other than from Seeking Alpha). I have no business relationship with any company whose stock is mentioned in this article.