The reasons for the rise of the ETF industry are numerous: intraday liquidity, (potentially) superior tax efficiency, and enhanced transparency relative to traditional actively-managed mutual funds have all contributed to the billions of dollars of inflows that these funds have seen in recent years. But the real attraction for most ETF investors is the reduced expenses these products offer, often only a fraction of the fees charged by mutual funds.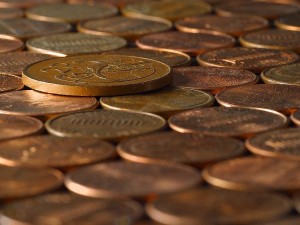 But between ETFs, expense ratios can vary significantly, ranging from 0.08% (for several Schwab ETFs) to a whopping 1.50% (for the DENT actively-managed ETF). For investors looking to minimize expenses and pursue an indexing strategy in favor of active management, investing in ETFs is only the first step. In order to assist cost-conscious investors, we've assembled the cheapest ETF options for almost every asset class and sub-asset class.
Each of the 900-plus ETFs currently included in the ETF Screener were allocated to a single "best fit" ETFdb Category (see a complete list of ETFdb Categories here). While ETFs in the same ETFdb Category generally share similar objectives and risk/return profiles, they aren't necessarily perfect substitutes for each other. So the cheapest ETF may not always be best for accomplishing a given objective. But the impact of selecting low-cost ETFs for client portfolios can be material, resulting in significant dollar savings (see Five Ways To Slash Your ETF Expenses for a look at how to add up to 20 basis points per year).
Below is a list of the cheapest ETF in more than 50 ETFdb Categories:
Market Cap Equity ETFs
Funds from these ETFdb Categories are often core components of investor portfolios, increasing the importance of selecting ETFs that offer the best value. Many of these funds are also among the largest ETFs available, allowing issuers to offer extremely competitive expense ratios that often dip into the single digits.
Mid Cap Growth: The Vanguard Mid Cap Growth ETF (VOT) charges 0.15%.
Mid Cap Value: Making the mid caps a clean sweep for Vanguard, the company's Mid Cap Value ETF (VOE) has an expense ratio of 0.15%.
Small Cap Growth: The Vanguard Small Cap Growth ETF (VBK) takes this one with fees of 0.15%.
Small Cap Value: With an expense ratio of 0.15%, the Vanguard Small Cap Value ETF (VBR) is the clear winner.
Sector Equity ETFs
For investors looking to tilt their portfolios towards (or away from) certain industries, sector ETFs are extremely popular. Given the more narrow focus of these ETFs, expense ratios are generally higher than broad-based market cap funds, but there are still plenty of bargains available. Sector ETFs are dominated by SPDR products from State Street, due in part to the competitive expense ratios charged:
Communications: The Vanguard Telecom ETF (VOX) has an expense ratio of only 0.25%.
Consumer Discretionary: The Consumer Discretionary Select Sector SPDR Fund (XLY) comes in at just 0.21%.
Consumer Staples: The Consumer Staples Select Sector SPDR Fund (XLP) also charges 0.21%.
Financials: Continuing the SPDR dominance, the Financials Select Sector SPDR Fund (XLF) comes in at 0.21%.
Transportation: With an expense ratio of 0.48%, the iShares Dow Jones Transportation Average Index Fund (IYT) claims this category.
Utilities: Finishing off the sector ETFs, the Utilities Select Sector SPDR Fund (XLU) comes at 0.21%.
International Equity ETFs
As more and more investors shift a larger portion of their assets away from domestic stocks and towards international equities, the dollar benefit of finding an international ETF with a low expense ratio has only increased. Due to the costs associated with purchasing foreign stocks, costs for international ETFs are generally higher than domestic funds. Moreover, the dispersion along the expenses spectrum increases significantly when moving into international ETFs.
Asia Pacific Equities: With an expense ratio lower than many domestic equity ETFs, the Vanguard Pacific ETF (VPL, 0.18%) is the cheapest in this ETFdb Category.
Emerging Market Equities: The Vanguard Emerging Markets ETF (VWO, 0.27%) might not be the most popular fund in this ETFdb Category, but it is by far the cheapest.
Europe Equities: With an expense ratio of 0.18%, the Vanguard European ETF (VGK) is the best way to get low cost exposure to Europe.
Foreign Small & Mid Cap Equities: At 0.40%,the iShares MSCI EAFE Small Cap Index Fund (SCZ) is the cheapest fund offering exposure to international small and mid cap companies.
Japan Equities: The WisdomTree Japan Total Dividend Fund (DXJ) charges just 0.48%, making it cheaper than many larger Japanese ETFs.
Latin America Equities: The iShares Latin America 40 Index Fund (ILF) offers exposure to the region at 0.50%.
Fixed Income ETFs
Fixed income investing is a critical component of any investor portfolio, and with relatively low expected returns on many ETFs, minimizing expenses is of the utmost importance. Expenses on fixed income ETFs can vary significantly, but there are a number of funds that offer excellent bargains.
California Munis: The SPDR Barclays California Municipal Bond ETF (CXA) charges 0.20%.
Emerging Market Bond: The PowerShares Emerging Markets Sovereign Debt Portfolio (PCY) has an expense ratio of just 0.50%.
High Yield: The SPDR Barclays Capital High Yield Bond ETF (JNK, 0.40%) is the cheapest way to gain junk bond exposure.
Inflation Protected Bonds: TIP may be the most popular, but the SPDR Barclays Capital TIPS ETF (IPE, 0.18%) is the cheapest in this category.
Intermediate Term Bonds: The Vanguard Intermediate Term Bond ETF (BIV) comes in at just 0.14%.
Long Term Bonds: The Vanguard Long-Term Bond ETF (BLV, 0.14%) narrowly edges out two competitors.
Mortgage-Backed Securities: The recently-launched Vanguard Mortgage-Backed Securities Index Fund (VMBS) has an expense ratio of 0.15%.
National Munis: The Market Vectors Short Municipal Index (SMB) charges 0.16%.
New York Munis: The SPDR Barclays New York Municipal Bond ETF (INY) comes in at 0.20%.
Short-Term Bonds: The Vanguard Short-Term Bond ETF (BSV) charges 0.14%.
Total Bond Market: The SPDR Barclays Aggregate Bond ETF (LAG, 0.13%) is the smallest in the category but also the cheapest.
Preferred Stock/Convertible Bonds: With an expense ratio of 0.40%, the SPDR Barclays Capital Convertible Bond ETF (CWB) is the most cost-efficient option here.
Commodity ETFs
The rise of the ETF industry has made the "fourth asset class" available to more investors than ever before. There are dozens of funds now available, including both resource-specific ETFs and diversified ETFs offering exposure to a basket of commodities.
Metals: The E-TRACS UBS Bloomberg CMCI Industrial Metals ETN (UBM) charges 0.65%.
Oil and Gas: With an expense ratio of 0.45%, the Unites States Oil Fund (USO) is the low cost option for oil exposure.
Real Estate and Currency ETFs
The cheapest real estate and currency ETF options include:
Real Estate: At just 0.15%, the Vanguard Real Estate ETF (VNQ) is the cheapest way to add real estate exposure to a portfolio.
Disclosure: Author holds long positions in IVV, VWO and JNK.