Continuing with the my earlier article on hardware picks, I now present my top software picks. Before coming to the list of recommended stocks, a brief note on the criteria used and the rationale behind using the criteria:
Rather than looking at recent quarterly growth, I emphasize the 3-year CAGR figure as I prefer companies which grow but also grow continually in this space.
More emphasis on organic growth rather than 'acquired' growth as this sector is prone to large acquisitions which generally destroy shareholder value.
If P/E is close to/lesser than prior growth rates, such stocks are preferred as expensive valuations

(not matched by topline growth) in these sectors which have no 'tangible' assets are dangerous. The 'entire' value in a company in this sector can reside in a 'technology/feature' advantage in a single product which is always a risk as this sector is highly prone to disruptive innovations.

Hence companies where 'intangible assets' have grown to a disproportionate size of their market value have also been ignored. The rationale behind this is that the assets acquired might have been expensive and though they have could have contributed to top-line in the last year or so, their contribution to bottom-lines will largely be negative. This also eliminates companies which have grown largely due to to acquisitions

(point 2).

Free cash flow is an important metric for software companies. Companies with a lower price to free cash flow ratio are attractive as their 'cash yield' will be attractive for conservative investors.
Cash flow from operations should have increased

(10% or more) in the last year indicating that even in tough times, these companies have managed to grow cash by better management.

TTM operating margins have also been used as an important screening criterion. Since most of the write-offs/one-time costs related to 'expensive' acquisitions/ headcount reductions have been taken in the last year or so, having a stringent GAAP operating margin (on a TTM basis) of at least 20% ensures that such companies

(which could have grown revenues inorganically) are filtered out. Companies which had such one-time costs but still generated margins of >20% are naturally included as this indicates a more robust business model which can absorb such one-time shocks.

Dividend yield is a welcome feature as such companies generate enough cash and investors can earn consistent returns irrespective of stock market conditions which impact stock prices.
Stocks which have run up more than 50% in the last year (until Sep09 quarter) have also been filtered out as upside potential in the medium term could be negligible in such cases. (Google (NASDAQ:GOOG) is one such stock eliminated in this filter.)
(Click to enlarge image)
Top Software Picks: Screening Criterion Used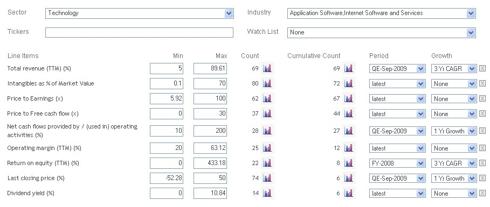 Click to enlarge
Source: Gridstone Research
I intentionally avoided using any qualitative criteria, as in this sector we generally get carried away with the 'hot' technologies of the day and can be biased. The quantitative criteria chosen above should largely capture the typical parameters on which such software/internet companies can be evaluated. If some 'attractive' stocks might have been eliminated by applying such stringent quantitative criterion, so be it.
So here's the final list of six preferred software/internet stocks:
Top Software Picks (in no particular order)
See graphic below for more details on each company and how they fared against the parameters chosen.
(Click to enlarge image)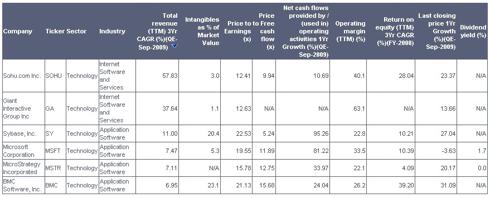 Click to enlarge
Source: Gridstone Research
Some qualitative comments on the top picks:
Microsoft

is probably the most contentious pick. In my 6-7 years working/following this industry, Microsoft's demise has been written and re-written again and again. But it has survived all such predictions, anti-trust cases, gives a solid dividend and more importantly passes the quantitative test!

Sohu.com and Giant Interactive are Chinese gaming stocks. Online gaming is again picking up pace in China and these are good bets, albeit risky ones. Sohu.com is attractively valued after the hammering it received post Q3 results (it fell ~18% on a single day). Sohu has both advertising and gaming revenues and can be a good exposure to China's booming internet economy. Giant Interactive has one the most popular MMORPG

(massive multiplayer online role-playing games) franchise, ZTOnline. Though usage has declined in recent quarters, it is expected to pick up is the next few quarters. I personally feel that gaming has huge potential and incumbents in emerging markets are attractive stories.

Sybase, Microstrategy and BMC Software

complete the list. While Sybase is growing its mobile content business rapidly, MSTR and BMC have managed to grow revenues despite their peers doing quite badly in the same periods. BMC has seen growth in both license and maintenance revenues on a TTM basis and seems less impacted by the downturn. MSTR has grown revenues, gross profits and operating profits in the Sep09 quarter and has also seen a significant increase in client count.

All three -Sybase, Microstrategy and BMC have nearly 50% of their revenues from outside the US which is another plus.
In summary, infrastructure software vendors (four of the six top picks) have done better in the downturn and will continue to do well as the economy improves. Online services, especially gaming, can grow exponentially over the next few years as penetration is still low and online gaming is an attractive 'entertainment alternative' to movies and other forms of consumer entertainment. The top six are therefore a mixture of flashy growth companies and proven business models and investors can benefit from this mix.
Disclosure: No Positions