Recently, PURE Bioscience, Inc. (NASDAQ:PURE) has undergone a comprehensive corporate governance change, resulting in the appointment of six new board members, and a new CEO and CFO, and the resignations of the prior management team and remaining board members.
In May, PURE appointed food industry leader Dave Pfanzelter as chairman of the board. Then in August and September, PURE appointed Peter C. Wulff as both its CFO and chief operating officer and Hank Lambert as its new Chief Executive Officer, respectively.
In addition to the overhaul of the management team, PURE also appointed 6 new members of its board of directors.
The new management team and board have rich experience in the food industry which is the current focus of the company. The new management is an experienced, disciplined and results--‐oriented executive team. The new board will play a key incremental role providing strategic insight to accelerate near term market penetration.
The Refocused Strategy
The management change is part of its previously announced reorganization establishing a new and experienced leadership focused on commercialization of SDC technology in the food industry as a unique and proprietary antimicrobial agent to protect consumer safety against various pathogens.
The company's near-term business focus is to drive customer adoption of its products in the food safety industry. The food industry has been under pressure to solve contamination problems. According to the CDC, food borne pathogens cause about 48 million (1 in 6 Americans) illnesses/year in the US alone. Each year, 128,000 are hospitalized and 3,000 die of food borne diseases.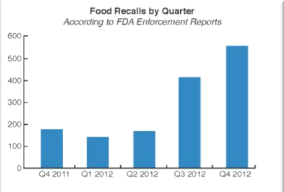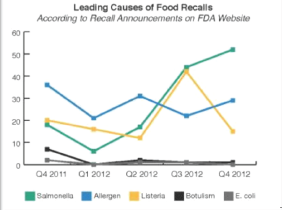 PURE's proprietary SDC-based products uniquely address food safety issues across the supply chain and help to prevent or mitigate food contamination and has the potential for food-borne illness. The company's target customers will be foodservice operators, food processors and food manufacturers.
As part of its new commercialization focus on food safety segment, PURE also strengthened its sales and marketing leadership team. In late August 2013, PURE appointed Cliff Wechsler as its new Executive Vice President of Sales, and Tom Myers assumed the position of Executive Vice President of Marketing and Product Development.
Mr. Wechsler brings over 30 years of experience, having previously served in a variety of high level sales management positions with Kraft Foods. During his tenure at Kraft Foods Mr. Wechsler shaped and developed the business strategy for their Quick Service Restaurant (QSR) market segment.
Mr. Myers will now lead the company's marketing and product development, having previously joined PURE in May 2011 as Executive Vice President of Sales and Marketing. Mr. Myers brings over 40 years of food industry experience, with an emphasis on both food science and food processing where he served in senior leadership positions in marketing, product development and technical operations.
With the new strategy and focus, PURE has reduced costs and personnel in all departments other than sales and marketing as the company continues the push toward meaningful revenues. The company has also established high-capacity outsourcing options for manufacturing to remain positioned to fill timely orders as necessary.
PURE has cut total wage expenditures by more than 30% through the elimination of manufacturing, research and development, administrative and executive positions. The company has also reduced G&A expenses related to professional services, including legal and consulting fees, public relations and investor relations. Furthermore, PURE's corporate officers and directors have elected to defer the majority of cash compensation, effective immediately.
In summary, with the change in governance, PURE Bioscience has implemented a new business strategy focused on:
Commercialization of its SDC-based products as a food safety solution, with a focus on foodservice and food processing;
Optimization of operations and termination of non-core activities;
Implementation of a lean organization with the relevant experience to drive commercialization and accelerate growth;
Active and experienced board members contributing incremental insight and guidance on business strategy and execution.
Balance Sheet Boosted by Recent Financing
As of July 31, 2013, PURE has cash and cash equivalents of $32,000. This is certainly not what management and investors would like to see. However, new management has been working diligently to strengthen PURE's balance sheet since they took office. Specific measures included raising new funds and reducing non-core operating activities.
On August 13, 2013, PURE raised $1.1 million in aggregate proceeds and on October 14, 2013 it raised an additional $1.76 million in aggregate proceeds through private equity placements to fund the change in its business strategy and near-term operations. Accrued liabilities have been reduced significantly as a result of implementing its new business strategy and securing new equity capital. By reducing its non-core operating activities, PURE should be able to reduce its burn rate significantly in the next few quarters.
By increasing its revenue and reducing costs, combined with further financing, the balance sheet should be further strengthened in the near future.
The process to restore PURE's financial condition will take several steps and we are pleased to see that the company has already made significant strides. We believe the fiscal year 2014 will be both challenging and rewarding as the company sharply focuses on commercializing its patented SDC-based products in the food industry.
Unique SDC-based Antimicrobial Platform Technology
PURE's key competitiveness relies on its proprietary high efficacy/low toxicity silver dihydrogen citrate (SDC)-based platform technology utilizing 14 organic acids other than citric acid.
SDC is a worldwide patented technology that provides a stabilized silver ion complex in which a single silver ion is weakly bound (stabilized) to a citrate ion. PURE manufactures silver dihydrogen citrate using 99.997% pure silver, food grade citric acid and DI water. The final product contains no measurable impurities or manufacturing byproducts.
SDC's chemical structure is 1,2,3‐propanetricarboxylic acid, 2‐hydroxy‐, silver(1+) salt, monohydrate; (AgC6H7O7).
Silver has been used for centuries for its antimicrobial properties. In order for silver to be effective in killing microorganisms, it must be in an ionic form. SDC is a complex of one silver ion weakly bound to one citrate counter ion, providing a stabilized form of ionic silver. The bioavailability of silver ions allows for SDC to be rapidly effective against a broad spectrum of bacteria, viruses and fungi.
Traditional silver-based disinfectants have very short shelf lives - from hours to days. SDC is a stabilized silver ion complex with a shelf life of several years. The unique bond of the silver ion in SDC allows the silver ion to remain in solution while at the same time making it more bio-available for antimicrobial action.
SDC kills microorganisms by dual modes of action:
Silver ions are highly attracted to sulfur-containing thiol groups found in metabolic and structural proteins bound to the microbial membrane surface. SDC targets these critical proteins and deactivates their structure. This disruption of the organisms membrane function and integrity lyses the membrane and leads to microbial death;
Unlike traditional antimicrobials, bacteria are attracted to SDC because they recognize citric acid as a food source. This "Trojan Horse" attack allows SDC to easily enter the microbe through membrane transport proteins. Once inside the organism, SDC binds to the DNA and intracellular proteins causing irreversible damage to the DNA and protein structure. Metabolic and reproductive functions halt, leading to its death.
This dual action makes SDC highly and quickly effective against a broad spectrum of microbes. The SDC-based antimicrobial technology represents innovative advances in the antimicrobial market and lead today's global trend toward industry and consumer use of "green" products while providing competitive advantages in efficacy and safety.
SDC Represents A Paradigm Shift For Antimicrobial Disinfectant/Sanitizer
Silver Dihydrogen Citrate represents a paradigm shift for antimicrobial disinfectant and sanitizer active ingredients.
Advantages of SDC include:
Powerful broad spectrum protection as a disinfectant, fungicide and virucide
Faster kill times (kills germs in 30 seconds)
Provides residual protection for 24 hours
Effective against resistant bacteria such as MRSA and VRE
Lowest toxicity rating available
Labeled for use in diverse environments including restaurants, homes, medical facilities, institutions, day care facilities and on children's toys and play areas
Does not induce bacterial resistance
Formulates well with other products
Stable in solution
Tasteless, odorless, and colorless
Non-corrosive, non-flammable
Doesn't stain or bleach fabric
The following tables summarize SDC's efficacy, toxicity, and spectrum of activity against pathogens.
Table 1: SDC-based Axen-30 has unparalleled efficacy and low toxicity
Unparalleled Efficacy

Category

PURE Hard Surface™

Leading Brands

Active Ingredient

Silver dihydrogen citrate

Ethanol/Ammonium Chloride

EPA Safety Category

IV

II

Standard Bacteria Kill Time

30 sec

10 min

Resistant Bacteria Kill Time

2 min

None

Fungal/Virus Kill Time

10 min

10 min

Residual Protection

24 hour

None

Rinse Required

No

Yes

Irritating Fumes

No

Yes

Skin Irritation

No

Yes

Flammable

No

Yes
Table 2: SDC's strong efficacy against microbes
| | | | | |
| --- | --- | --- | --- | --- |
| | | MIC of SDC | | MBC of SDC |
| Microorganism | | %SDC (ppm Ag+) | | %SDC (ppm Ag+) |
| | | | | |
| Corynebacterium xerosis ATCC 373 | | 0.12 (2.88 ppm) | | |
| Corynebacterium minutissimum ATCC 23348 | | 0.12 (2.88 ppm) | | 0.16 (3.84 ppm) |
| Propionibacterium acnes ATCC 6919 | | 0.25 (6.00 ppm) | | |
| Staphylococcus aureus ATCC 6538 | | 0.16 (3.84 ppm) | | 0.31 (7.44 ppm) |
| Escherichia coli ATCC 10536 | | 0.08 (1.92 ppm) | | 0.16 (3.84 ppm) |
| Pseudomonas aeruginosa ATCC 15442 | | 0.16 (3.84 ppm) | | 0.08 (1.92 ppm) |
| Candida albicans ATCC 10231 | | 0.12 (2.88 ppm) | | >1.25 (30 ppm) |
| Malassezia furfur DSM 6171 | | 0.25 (6.00 ppm) | | |
| Aspergillus niger ATCC 16404 | | 0.50 (12 ppm) | | >2.5 (60 ppm) |
| Trichophyton mentagrophytes ATCC 9533 | | 0.50 (12 ppm) | | 0.08 (1.92 ppm) |
| Klebsiella pneumonia ATCC 4352 | | | | 0.16 (3.84 ppm) |
| Epidermophyton floccosum DSM 10709 | | | | 0.63 (15.12 ppm) |
MIC: Minimal Inhibitory Concentrations; MBC: Minimal Bactericidal Concentrations
Table 3: SDC has broad spectrum activity with fast kill times
Axen 30® EPA Registered Disinfection Claims

Organism

Kill Time

Pseudomonas aeruginosa

30 seconds

Staphylococcus aureus

30 seconds

Salmonella choleraesuis

30 seconds

Listeria monocytogenes

30 seconds

Vancomycin resistant Enterococcus faecium

2 minutes

Methicillin resistant Staphylococcus aureus (MRSA)

2 minutes

Escherichia coli 0157:H7

2 minutes

Trichophyton mentagrophytes (Athlete's Foot Fungus)

10 minutes

HIV type 1- Strain HTLV IIIB

30 seconds

Herpes Simplex Type 1 VR-733 F(1) Strain

1 minute

Influenza A VR-544, Hong Kong strain

10 minutes

Rhinovirus R37 VR-1147, Strain 151-1

10 minutes

Human Coronavirus

3 minutes

Respiratory Syncytial Virus

3 minutes

Adenovirus Type 2

3 minutes

Murine Norovirus

10 minutes

Norovirus

10 minutes

Acinetobacter baumannii

2 minutes

Swine Influenza A (H1N1)

60 seconds

Influenza A (H1N1)

60 seconds

Rotavirus

3 minutes

Campylobacter jejuni

2 minutes

Community Associated Methicillin resistant Staphylococcus aureus (CA‐MRSA‐PVL)

2 minutes

Community Associated Methicillin resistant Staphylococcus aureus (CA‐MRSA)

2 minutes

Avian Influenza A

10 minutes

Polio Type 2, VR-1002, Lansing Strain

10 minutes
Valuation Very Attractive
We upgrade our rating on PURE from Neutral to Outperform. Our 12-month price target is $2.50 per share.
Our call is based on the recent management change and refocused strategy as well as the attractive valuation.
PURE is a technology-based bioscience company that provides solutions to numerous global health challenges. PURE's proprietary high efficacy/low toxicity SDC-based antimicrobials represent innovative advances in diverse markets and lead today's global trend toward industry and consumer use of "green" products. Patented SDC is an electrolytically generated source of stabilized ionic silver, which formulates well with other compounds. As a platform technology, SDC is distinguished from competitors in the marketplace because of its superior efficacy, reduced toxicity and the inability of bacteria to form a resistance to it.
PURE's SDC is the first new disinfectant registered with the EPA in over 30 years. SDC's competitive advantages in efficacy and safety make it outstanding among its competitors and represents a paradigm shift in the disinfectant/sanitizer market place.
Another key feature of SDC is that SDC-based products have broad applicability in diverse markets. The company's current focus is to expand distribution of currently approved disinfectant/sanitizer products to consumers in the food safety industry.
Recent corporate governance changes led to a new management, which is experienced, disciplined and results-oriented. The new board will play a key incremental role providing strategic insight to accelerate near term market penetration.
In terms of valuation, currently the company trades around $1.25 per share with a market cap of $29 million based on 23.4 million shares outstanding. We think this is a discount based on its fundamentals. According to our model, revenue will grow at 128% CAGR in the next fiscal 4 years. PURE will become profitable in fiscal 2017 with an EPS of 0.13 based on total revenue of $22.0 million. With this in mind, we think PURE shares should be traded at a P/E ratio of 30 x. Applying this P/E multiple with our estimated EPS of $0.13 per share in fiscal 2017, discounted at 20% for 3 years, we come up with a target price of $2.50. This values PURE at $58.5 million in market cap, which we think is conservative.
But keep in mind the risks. Although its lead product PURE Hard Surface is increasingly gaining recognition, sales may take a longer time to gain traction since PURE is still in its early stage of commercialization of its SDC technology. Sales so far have not been impressive. SDC technology is quite new to most customers in the disinfectant market, and the costs for SDC are also higher than those for most existing technologies. Therefore, rollout of the SDC platform will take time.
Cash burn is another concern. Current cash will only last for about one quarter and the company needs to tap the capital market immediately. Equity financing will dilute existing shareholder base. A financing deal with a strategic partner should be positive to the company's long term growth.
Disclosure: I have no positions in any stocks mentioned, and no plans to initiate any positions within the next 72 hours. I wrote this article myself, and it expresses my own opinions. I am not receiving compensation for it (other than from Seeking Alpha). I have no business relationship with any company whose stock is mentioned in this article.
Disclosure: I/we have no positions in any stocks mentioned, and no plans to initiate any positions within the next 72 hours.
Business relationship disclosure: I work as a Consultant Analyst for Zacks Investment Research. The article is written by me and is 100% my opinion. I receive compensation from Zacks for writing equity research reports and providing valuation analysis on this company's stock and expect to do so in the future. Zacks receives compensation from the company. Please see the Zacks Disclaimer for further information: http://scr.zacks.com/Disclaimer/default.aspx