American Capital Agency Corp. (NASDAQ:AGNC) is a mortgage REIT that invests primarily in fixed rate Agency RMBS. As many know both US Treasury bond yields and US mortgage rates went up dramatically (roughly 100 bps) during Q2 2013. This caused pandemonium in the Agency RMBS markets. The Agency RMBS fell dramatically in book value as new mortgage rates climbed far above the previous quarter's values. In June the Agency RMBS markets almost seemed to panic as many Agency RMBS investors had to sell some of their assets in order to maintain safe capital levels (safe leverage levels). Most Agency fixed rate mortgage REITs are highly leveraged to the tune of 7x-10x. In AGNC's case, it likes to maintain a leverage of 8x-9x. It ended Q2 2013 with 8.5x leverage including its TBA positions or 7.0x leverage excluding its TBA positions. In Q3 2013, this decreased still further to 7.2x (7.9x if you exclude AGNC's net short TBA mortgage positions as of September 30, 2013). The average "at risk" leverage for Q3 was 7.8x.
The most important point for Q3 2013 was that AGNC had a 2.2% economic gain on common equity in Q3. This was comprised of a $0.80 dividend per common share and a book value loss of -$0.24 per common share. If you simply state this as an effective dividend of +$0.56 (after subtracting the book value loss), AGNC investors realized an 8.7% annualized return on their common equity for Q3 2013. Most investors would consider this a reasonable return. Unfortunately, even if you add back the dollar roll losses of -$0.03 per share and the unexpected extra premium amortization due to changes in the projected CPR (constant prepayment rate) of -$0.03 per share, you still only have net spread income of $0.64 per common share. This will not long support an $0.80 per share dividend.
The net interest rate spread also increased from 1.24% as of June 30, 2013 to 1.37% as of September 30, 2013. Unfortunately when you include the dollar roll income/loss for Q3 2013, the annualized net interest rate spread was only 1.14% in Q3 2013. Further the net interest rate spread plus the effects of the dollar roll income in Q2 2013 was 1.59%. This was higher than the 1.37% net interest rate only of Q3 2013. It was much higher than the combined net interest rate spread and dollar roll effects of 1.14%.
There was a huge change from the net benefit of the dollar roll investments in Q2 2013 of +$0.49 per share to a net loss of -$0.03 per share of dollar roll income in Q3 2013. Since the leverage decreased in Q3 2013, the net interest spread income (exclusive of dollar roll income and unexpected premium amortization) was slightly lower at +$0.64 per share in Q3 2013 versus +$0.66 per share in Q2 2013. AGNC can at any time stop participating in the dollar roll market. Then it will retain all of the net interest rate spread income. Therefore net interest rate spread without dollar roll income is usually thought to be more important for the longer term health and performance of a mortgage REIT company, especially one investing primarily in Agency RMBS.
AGNC reported $0.45 per common share in Comprehensive income. This was comprised of a -$1.80 net loss per common share and a $2.25 other comprehensive income (OCI) gain per common share. Essentially the hedging saved the day; but this should in no way be looked upon as a negative. Hedging in the Agency RMBS investment area is one of the most important actions in the investment process. Companies cannot afford to have 7x - 10x leverage without having good hedging in place. If they did that they might lose huge portions of investors' monies in just one bad quarter. For example, you could turn 5% RMBS losses for a quarter into a 50% equity loss with 10x leverage, if you did not hedge. Often it is the companies that hedge the best that perform the best. Hedging is an integral part of the management function in the mortgage REIT sector. There is nothing cheap or wrong about it.
With many things going right for the mortgage REIT industry such as net interest rate spreads widening and interest rates stabilizing, why are so many pundits so negative on the industry. My opinion is that they do not want to take the time to understand it. The following table and charts show AGNC's holdings as of September 30, 2013.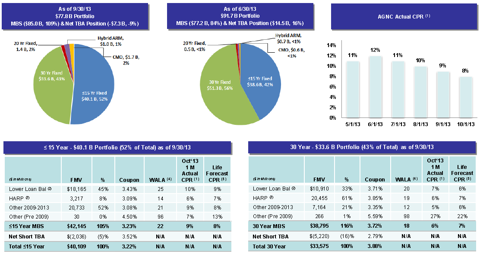 Investors can see that AGNC significantly changed its percentage investment from 56% 30 year fixed rate Agency RMBS and 42% 15 year fixed rate Agency RMBS as of June 30, 2013 to 43% 30 year fixed rate Agency RMBS and 52% 15 year (or less) fixed rate Agency RMBS as of September 30, 2013. One effect this has is to lessen the net interest rate spread. The average coupon rate for the 15 year fixed rate Agency RMBS is only 3.23% versus the average coupon rate of 3.72% for 30 year fixed rate Agency RMBS.
The motivation for these changes is many fold. First the extension risk goes up with rising interest rates more rapidly for the longer dated Agency RMBS. Second the hedging cost for the 30 year fixed rate Agency RMBS goes up faster than on 15 year fixed rate Agency RMBS; and it is already higher. Further the premium above par for 30 year fixed rate Agency RMBS is higher than that of 15 year fixed rate Agency RMBS. This means the 15 year fixed rate Agency RMBS usually lose value less quickly as interest rates rise (especially early on). Hence it makes sense to safeguard the portfolio more by going to lower duration fixed rate Agency RMBS, if you are expecting interest rates to rise eventually. AGNC's management is showing conservative management in doing this (and I believe good management).
The following chart shows the movement in the 30 year fixed rate FNMA 3.5% RMBS over the last year.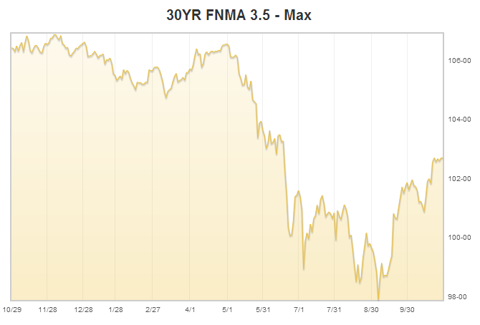 The following chart shows the movement in the 15 year fixed rate FNMA 3.5% RMBS over the last year.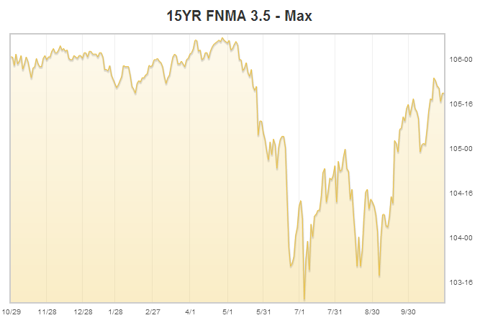 In the latest downturn, the 30 year fixed rate FNMA 3.5% RMBS went from a beginning of May 2013 high of 106+ to an early September low of about 98 (roughly an 8% loss from peak to valley). The 15 year fixed rate FNMA 3.5% RMBS went from a beginning of May 2013 high of 106+ to an early July low of about 102.5 (roughly an 3.5% loss from peak to valley). It is easy to see which type of security is more stable in a rising rate environment. This illustrates the main reason for AGNC management's strategy.
Some might ask how AGNC had such high capital losses in Q3 2013? The value of the RMBS moved down, but it moved back up by quarter end. This requires a complex explanation.
Some RMBSs were sold in order to lessen leverage. Other RMBSs were sold to re-distribute the portfolio more toward 15 year fixed rate Agency RMBS. The results of these actions were capital losses. In contrast, most of the hedges were not sold or rolled over. Therefore there were few capital gains or losses on them. This explains the dichotomy between the net loss of -$1.80 per common share for Q3 2013 and the +$2.25 per common share other comprehensive income, which largely consists of unrealized gains on investments (mostly derivatives).
All of the capital losses realized on the RMBSs sold did not have to come in Q3 2013. Rather they were a total figure from the time the RMBS were bought until the time they were sold. Further AGNC may have incurred some of the losses by doing a lot of this selling when the prices of the RMBS were lower (in the first two months of Q3 2013). AGNC's management probably distributed the selling throughout Q3. This would have caused much higher losses than selling more selectively at the end of Q3 2013 when interest rates and mortgage rates were lower (and RMBS book values were higher).
Looking forward, AGNC should be able to do much better in the dollar roll markets in Q4 2013 than it did in Q3. The mortgage rates and interest rates have been flat to trending lower so far in Q4. This trend seems likely to remain in place for Q4 2013 (and very possibly in Q1 or even in all of 1H 2014). Eventually interest rates will rise again. However, for now many think that the Fed will put off tapering its bond buying until at least March 2014 (possibly June 2014). Some think that the Fed may even increase its bond buying.
The US economy was hurt by the federal government shutdown and the near federal government default. S&P estimates that these events shaved $24B off the US GDP (or -0.6% off the Q4 GDP growth). The US economic growth will be hurt further by the increased expense of Obamacare. This will decrease monies available for discretionary spending for the average US citizen. I don't see rampant inflation in the near-term forecast. This tepid to slowing growth should keep interest rates flat (or trending slowly downward), especially if the Fed continues to act aggressively for that result.
The lower net interest income due to the increased percentage of 15 year fixed rate Agency RMBS in AGNC's portfolio and the decrease in leverage should pressure net interest income. However, AGNC seems likely to be able to make an appreciable amount in the dollar roll markets while the current interest rate stabilization and/or fade persists. This amount is likely to be less than the +$0.49 per common share seen in Q2 2013; but perhaps +$0.20 or more is achievable. The flat to downward trend of interest rates should lead to lower CPRs and lower premium amortization. The likely lower premium amortization will add to the overall net interest spread. Further with stable to lower interest and mortgage rates the Agency RMBS are likely to gain book value. This will make the economic return likely equal to or greater than the dividend of $0.80, which is 14.63% annually after the plunge in the stock on October 29, 2013. In addition to the dividend, investors may pick up another 2% to 5% in book value through the above.
With the stock price at $21.87 as of the close on October 29, 2013, the stock has to rise to $25.27 (about 13.5%) just to equal its book value as of September 30, 2013. If you tack on another 2% to 5% to that, you realize the stock plus dividend has a potential return of about 30% to 33% over the next six months. AGNC is a buy. You can always sell it in six months, if the situation changes dramatically. Plus you have the security of the hedges and the Agency backing on the securities. In troubled times, those items can be very comforting to investors.
The two-year chart of AGNC provides some technical direction for this trade.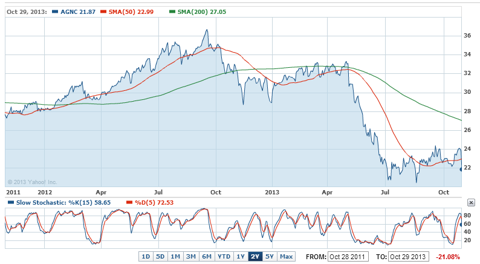 After the dramatic drop on October 29, 2013, the slow stochastic sub chart shows that AGNC is neither overbought nor oversold. The main chart shows that AGNC has likely bottomed. It should go up from here, especially given the current Fed expectations, the current US economic environment, and AGNC's book value as of September 30, 2013. In other words, AGNC should rise based on fundamentals. It may or may not see pressure on its dividend in Q4 and Q1. This is likely to be dependent on AGNC management's performance in the dollar roll market in those quarters. I believe the dollar roll markets are set up for AGNC to perform well in Q4 2013 and Q1 2014. Hence AGNC is a buy. Even factoring in a dividend cut, the dividend should remain above 11%; and the stock price to book value will still be in place.
AGNC is a buy. The average analysts' recommendation is 2.5 (the highest hold). The CAPS rating is four stars (a buy). Even if you only hold it for six months, it may turn out to be one of the better buys in this generally overbought and overpriced market. Often it pays to buy the downtrodden stocks when they are down. My analysis says this may be one of those times for AGNC. Some investors may wish to listen to the Fed announcement on October 30, 2013 before they make up their minds to buy. The Fed should give a good hint about its policy direction for the near term.
The Q3 performance of CYS Investments (NYSE:CYS) tends to support my analysis of AGNC. It lost only $0.10 per common share in book value in Q3. Follow the link to the article, "CYS Maintained Book Value. Provided a 15%+ Dividend For Q3; And Its Outlook Is Positive." This should help you have confidence in AGNC; and you may be interested in CYS.
NOTE: Some of the fundamental financial information above is from Yahoo Finance.
Good Luck Trading.
Disclosure: I have no positions in any stocks mentioned, but may initiate a long position in AGNC, CYS over the next 72 hours. I wrote this article myself, and it expresses my own opinions. I am not receiving compensation for it (other than from Seeking Alpha). I have no business relationship with any company whose stock is mentioned in this article.