The E-commerce industry is flooded with many players with different service offerings. The preference of the industry has shifted from discounts and offers to daily deals and finally towards the mobile platform. Groupon (GRPN), which is the leader in the U.S. daily deal business, is also shifting to the mobile platform. Although its share price declined in the recent months due to the forecast of low gross billings, the company has been streamlining its operation and coming up with new service offering specifically aimed at the mobile platform. The big question is, can this company offset its decline in gross billing with growth in mobile transactions?
Speed up your purchase
After building a strong mobile platform and change in strategy from a push to pull model, the company is hoping increased consumer spending through new innovations. In order to ease the purchasing process on mobile, Groupon introduced a feature that will allow users to save their credit card information through a mobile device's built-in camera. Users can now scan their credit cards with Groupon's mobile app, and it will identify and save their credit card information. This app would also save other information, such as billing and shipping address, saving users' time retyping such information. We believe that this new feature will enhance users' comfort and experience, thus making mobile devices more popular among Groupon users. The latest offerings are designed to suit the changing behavior of users towards mobile, and the growth in mobile-related transactions will contribute to company's bottom-line.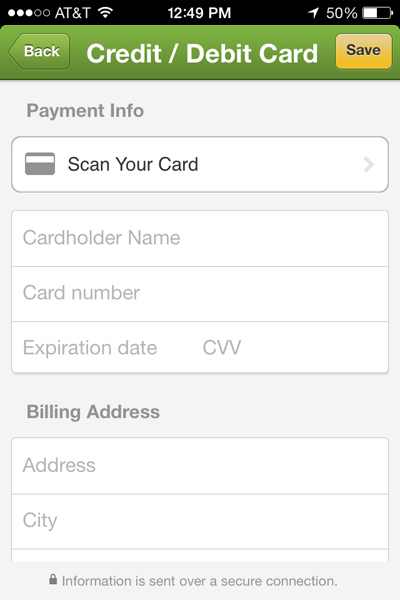 (Source: mobilecommercial)
The growing emphasis on the mobile segment is due to the rise in the number of Groupon mobile transactions and decline in transactions through e-mails. Groupon has more than 50 million downloads of its app worldwide to date, and around half of the deal purchases happen through mobile devices. Groupon deals are updated almost every hour and generally are valid for a limited time, thus mobile plays an essential role in booking last minute deals. Groupon claims that it has the largest percentage of transactions occurring on mobile devices as compared to any other major e-commerce company. We believe the company's focus towards mobile commerce, will help it to tackle the decline in the daily deal business. Mobile users spend on average 50% more than desktop users, and the company has the ability to monetize this and maintain its revenue growth in the coming years.
Marketing expense of Groupon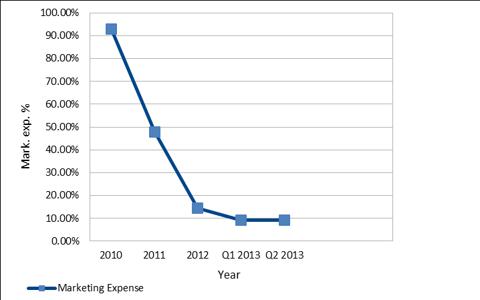 (Source: Company data)
Where on one hand Groupon is looking to boost its top-line, on the other, it is keeping an eye on its bottom-line through monitoring its expenses. Marketing expense as a percentage of sales has declined from a peak of 93% in 2010 to 9.12% in the second quarter of 2013. This is due to the result of pull based approach adopted by the company. The company has dramatically reduced its marketing expense, due to the transition from push to pull. Instead of focusing on advertising and marketing, Groupon wants users to be attracted towards its website as a result of its lucrative deals. This decline is marketing expenses is a good sign for the company and will help tackle the decline in gross billing in the coming quarter.
What are the big boys doing?
Recently ITG Investment Research estimated that gross billings will decline in the third quarter and will show 20% year-over-year growth as compared to 30% in the previous quarter. The biggest issue for Groupon is the rising competition in the social buying business. Since the entry barrier is low, many players have entered the market offering similar kinds of deals. The gap between various e-commerce companies is blurring fast, and leading players in the e-commerce industry, Amazon (AMZN) and eBay (EBAY), are emerging as competitors to Groupon. eBay entered the daily deal business last year with a new platform called Lifestyle deals, and Amazon has its presence with its daily deal site LivingSocial.
In the last few years, eBay has been innovating with new offerings, such as global shipping programs and varied payment methods to tackle increasing competition from other e-commerce players. Now eBay is focusing on smartphone transactions with the launch of a device called Beacon last month. This device will be installed in stores and will automatically connect with shoppers' smartphones. Money transfer through PayPal requires a GPRS connection or Wi-Fi, but this device will use Bluetooth technology, enhancing its off-line presence. The company expects to generate $20 billion from mobile commerce and payment volume in 2013. We believe this strategy will improve users' shopping experience and act as a growth driver in the rapid shift towards smartphones. eBay has rolled out many upgrades to its mobile app and has acquired 2.4 million users in the third quarter of 2013. Mobile-based services have a significant role in the mobile segment for eBay, and it will be a bigger focus for the company heading into the next year.
Amazon has a 29% stake in LivingSocial, which is viewed as a significant threat for Groupon in the daily deal business. Amazon's venture into the daily deal business has so far not been profitable. LivingSocial reported a loss of $25 million in the third quarter of 2013 and has total losses of $106 million in the first nine months of this year. LivingSocial is also diversifying away from daily deals to a large inventory of deals in order to boost its top-line. Earlier it was in the business of generating demand, i.e. they offered deals that users were not seeking.
Now they offer deals on products and service that are demanded by users. LivingSocial offers a wide variety of deals including vacation packages and travel deals.
We anticipate that the growing competition in e-commerce and saturation of the daily deal business have hurt companies like Groupon and LivingSocial, hence each has to diversify its business to take advantage of the growing e-commerce industry. Groupon has been successfully competing in this business by leveraging its mobile platform, and its future depends on its ability to monetize the mobile segment and drive purchases through its mobile app.
Bottom-line
Groupon has a leadership position in local commerce; it has a massive addressable market, but saturation of daily deals poses a strong challenge. The rising competition and saturation in demand may be a headwind for the company and could lead to decline in gross billing in the coming quarter. However, we believe the focus should be on the mobile segment, and the company's initiatives should be too. Groupon has delivered 100% YTD growth in its share price, but it lost around 16% of its value in the last one month due to the ITG investment report. Due to losses, Groupon has a negative EPS of 0.15 in trailing twelve months, but it is expected to show a positive EPS of 0.28 next year. Despite near-term headwinds, we are optimistic about company's future growth prospects and its mobile commerce potential. We recommend a buy on this stock.
Disclosure: I have no positions in any stocks mentioned, and no plans to initiate any positions within the next 72 hours. I wrote this article myself, and it expresses my own opinions. I am not receiving compensation for it (other than from Seeking Alpha). I have no business relationship with any company whose stock is mentioned in this article.
Additional disclosure: Fusion Research is a team of equity analysts. This article was written by Rohit Gupta, one of our research analysts. We did not receive compensation for this article (other than from Seeking Alpha), and we have no business relationship with any company whose stock is mentioned in this article.