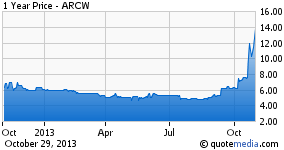 (Editors' Note: This article covers a micro-cap stock. Please be aware of the risks associated with these stocks.)
ARC Group Worldwide, Inc. (NASDAQ:ARCW) is a diversified, global manufacturing company, as well as the unequivocal world leader in Metal Injection Molding. ARC was founded in 1987 and has a long history as a technology innovator in the manufacturing business.
ARC has built technologically advanced, niche manufacturing businesses in the United States and abroad. ARC's thesis is that the global manufacturing supply chain is changing, and that the advent of automation, 3D printing, robotics, artificial intelligence and cheaper domestic energy prices will lead the manufacturing renaissance in the US, which is among a key area of focus for ARC. ARC will also continue to be a major player in the global manufacturing supply chain, so ARC can bring innovation and solutions to customers on a global basis.
ARC's core manufacturing businesses are in precision components, flanges, fittings and wireless technology. ARC focuses on building these units through growing and consolidating market share. ARC also brings significant expertise in lean manufacturing, which is core to the Company's strategy. Further, ARC utilizes cutting edge technology like robotics and 3D printing, to stay at the forefront of manufacturing efficiency.
The numbers are impressive. For the fiscal year ending June 30, 2013, ARCW total sales were $68.5 million, growth of 125.3%, or $38.1 million, over $30.4 million in fiscal year 2012. Sales for the fourth quarter ending June 30, 2013 amounted to $19.5 million compared to $7.7 million in the prior year fourth quarter an increase of 153.7% or $11.8 million. ARC also reported adjusted earnings per share (Adjusted EPS) of $0.30 for the fourth quarter 2013 and $0.85 for the fiscal year ending June 30, 2013. ARCW has maintained a strong cash position for the twelve months ended June 30, 2013; cash flow provided by our operating activities amounted to $7.4 million.
Growth in the precision components segment of the business has been driven by increased demand for components manufactured by the three metal injection molding ("MIM") businesses. These three companies, FloMet LLC, AFT, and AFT-H are the pioneers and recognized technological leaders in the industry. MIM is a cost effective method of producing high volume precision metal components and is gaining increasing adoption throughout industries such as medical devices, automotive, consumer durables, defense and firearms. The MIM businesses have had a positive impact on sales and ARCW anticipates sales to continue to increase as the market demand for components increases.
ARCW Chairman and CEO Jason Young commented, "We are very pleased to now run the world's leader in MIM and look forward to continued growth in that division," "While we continue to build our MIM division, we are trying to build similar market dominance in our other manufacturing divisions, through organic growth, as well as acquisitions both horizontally and vertically. We are also big believers in US manufacturing, as well as bringing technology and innovation to traditional manufacturing. We have brought significant technology to our various businesses, and view the continued adoption of robotics, automation and 3D printing as key drivers to growth in manufacturing, particularly in the US."
Additionally, ARCW has stated that acquisitions will be a part of its growth strategy in addition to organic growth. From their website it states, "Acquisitions play a key role at ARC. ARC makes acquisitions in three areas, which are: (i.) areas that are strategic to ARC's existing business units, (ii.) areas where Arc can vertically integrate in its existing units, and (iii.) new manufacturing niches that fit into ARC's broader objectives. ARC's team is highly experienced in mergers and acquisitions, having completed numerous transactions since 2000."
Risks include acquisition integration and general economic weakness. Adoption of new manufacturing technologies can take time. Management of small caps sometimes do not do a great job of getting their story out to the public. However, these seem to be mitigated by the numbers reported in the last earnings press release as well as the forward comments.
Similar to the 3d printing companies, ARCW is the leader in a unique manufacturing process that lowers costs. From their website it states, "For metal injection molded (MIM) and powder injection molded (PIM) components, delivered accurately and on time, look to the innovation and service provided by AFT. We have invested in the latest technology to provide cost-effective, efficient, and customized solutions to clients' tooling and quality metal injection component manufacturing needs. Our MIM process is an alternative to investment casting processes, offering a final product with finer detail and greater density, and usually a lower production cost."
The metal injection molded MIM and PIM markets are both forecasted for big growth, verifying the ARCW forecasted comments. Apple Inc. (NASDAQ:AAPL) also uses MIM for the iPhone 5 charger. Many online articles go into detail about the opportunities for these technologies.
3D Printing businesses 3D Systems Corp. (NYSE:DDD), Stratasys Ltd. (NASDAQ:SSYS), and Proto Labs, Inc. (NYSE:PRLB) are also in a fast growing manufacturing industry that is a unique niche. ARCW mentions that they utilize 3D printing on their website: "Further, ARC utilizes cutting edge technology like robotics and 3D printing, to stay at the forefront of manufacturing efficiency."
DDD has a P/E ratio of 45, SSYS has a P/E ratio of 45, and PRLB (perhaps the closest comparable to ARCW) has a P/E ratio of 50. These are all based on next fiscal year forecasts. ARCW reported $0.30 EPS last quarter and stated sales are anticipated to continue to increase. With a conservative extrapolation of the last quarter EPS we get a full year $1.20 EPS for 2014 (even though ARCW said it expected growth to continue). Applying the 3D printing P/E ratio average of 47, ARCW would be a $56.40 stock. If ARCW could produce moderate growth and record $1.50 EPS, then applying the 3D P/E ratio would make it a $70.50 stock. More importantly, ARCW has only 5.7 million shares outstanding, a public float of only 1 million shares, and a stock buyback in place.
ARCW has strong growth and a leadership position in a rapidly growing manufacturing process, similar to the leaders of 3D printing. This story is thus far unnoticed. Furthermore, it has yet to be understood that MIM and PIM are cutting edge and revolutionary manufacturing technologies like 3D printing is. Likewise ARCW utilizes 3D printing per the website yet has never been mentioned within the group of 3D printing stocks. In conclusion, I believe ARCW shares are undervalued.
Disclosure: I am long ARCW. I wrote this article myself, and it expresses my own opinions. I am not receiving compensation for it. I have no business relationship with any company whose stock is mentioned in this article.