Hasbro, Inc. (NASDAQ:HAS) is engaged in providing leisure time products with a portfolio of brands and entertainment properties ranging from Transformers to Monopoly and My Little Pony. On October 21, 2013, the company reported third quarter earnings of $1.31 per share which beat the consensus of analyst estimates by $0.02.
Since last writing about the stock back on July 21, the stock is up 14.7% excluding dividends (up 15.56% including dividends) and is beating the S&P 500 (NYSEARCA:SPY), which has gained 4% in the same time frame. I currently hold Hasbro in my dividend portfolio and with all this in mind I'd like to take a moment to evaluate the stock on a fundamental, financial, and technical basis to see if it's worth buying some more stock in the company right now.
Fundamentals
The company currently trades at a trailing 12-month P/E ratio of 21.24, which is fairly priced, but I mainly like to purchase a stock based on where the company is going in the future as opposed to what it has done in the past. On that note, the 1-year forward-looking P/E ratio of 16.24 is currently fairly priced for the future in terms of the right here, right now. The 1-year PEG ratio (1.82), which measures the ratio of the price you're currently paying for the trailing 12-month earnings on the stock while dividing it by the earnings growth of the company for a specified amount of time (I like looking at a 1-year horizon), tells me that the company is fairly priced based on a 1-year EPS growth rate of 11.67%. The company has great near-term future earnings growth potential with a projected EPS growth rate of 11.67%.
Financials
On a financial basis, the things I look for are the dividend payouts, return on assets, equity and investment. The company pays a dividend of 3.07% with a payout ratio of 65% of trailing 12-month earnings while sporting return on assets, equity and investment values of 7.6%, 21.8% and 13.9%, respectively, which are all respectable values but nothing to go writing home about. Because the market is at all-time highs here and would like a safety play, I believe the 3.07% yield of this company is good enough for me to take shelter in for the time being. The company has been increasing its dividends for the past ten years at a 5-year dividend growth rate of 18.1%.
Technicals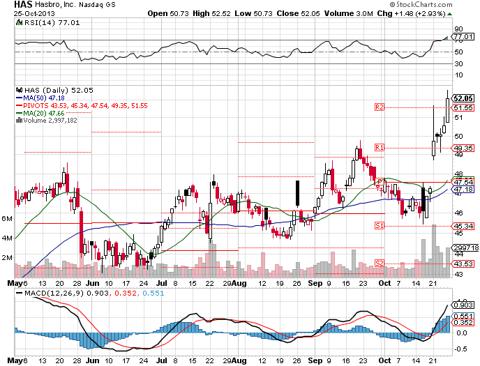 Looking first at the relative strength index chart [RSI] at the top, I see the stock in overbought territory with a value of 77.01. This high value is a result of the massive buying of the stock after it reported earnings and is too high for me. To confirm that, I will look at the moving average convergence-divergence [MACD] chart next and see that the black line is above the red line with the divergence bars increasing in height, indicating the stock has had some strong upward momentum. As for the stock price itself ($52.05), it is at all-time highs and I'm looking at $55 to act as resistance while $51.55 acts as support for a risk/reward ratio which plays out to be -0.96% to 5.66%.
Recent News
On October 21, the company reported earnings of $1.31 which beat estimates by $0.02 while pulling in revenue of $1.37 billion which beat expectations by $0.03 billion. This had the stock trading at +5.25% for the day and at points was up 8.4% during the middle of the day.
The company reported sales which increased by double digits in International and Entertainment and Licensing segments during the third quarter which helped offset a 5% decline in North America.
Citi (NYSE:C) raised its price target and rating citing new product lines from Hasbro will help sales with a new lineup of Star Wars movies providing for an opportunity shortly.
Conclusion
Though Hasbro reported a stellar third quarter it may be difficult to repeat the results in the fourth quarter even with Christmas right around the corner. The consumer has been strapped as of late; with the budget debacle kicked down the road to January 2014 you can almost guarantee the consumer is going to tighten their coffers once again. The distant future looks bright though with Hasbro signing a multitude of licensing agreements in the recent past. With that said, the company has had a huge run up after it reported and is fairly priced on all fronts. I believe the consumer will spend money on their kids for Christmas gifts, but I believe the stock has gone too high, too fast. I don't see much upside in the near-term future, but the long-term future has some surprises for us shareholders. I'm going to wait a bit before pulling the trigger on the stock, hoping it can come in a little bit.
Disclosure: I am long HAS. I wrote this article myself, and it expresses my own opinions. I am not receiving compensation for it (other than from Seeking Alpha). I have no business relationship with any company whose stock is mentioned in this article.