I've just finished listening to the InvenSense (NYSE:INVN) earnings call, and there were some significant, non-obvious takeaways. EPS beat by a penny, and the company reported record revenue of $70.9M, which also beat estimates. Shares are down below $16 after hours.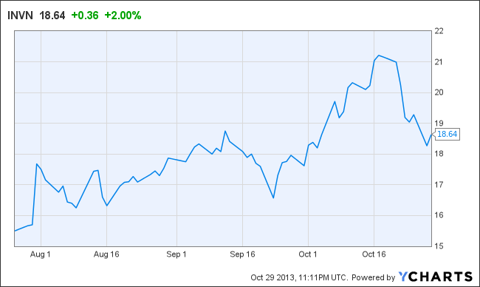 Click to enlarge
Some people may have been expecting the announcement of, or revenue from an upcoming Apple win. I've warned repeatedly that I thought this would not materialize just yet, that shares were overbought going before earnings, and that there might be a post-earnings dip. More importantly, the call provided two important projections which give insight into a transition at the company which began at the end of 2012, with the departure of Steven Nasiri, and will become more obvious in the year to come.
The first takeaway comes from some explanation on the acquisition of ADI's microphone unit. At first I didn't understand this purchase, as it seemed a bit tangential to the company's core business. Then I started seeing a slew of job postings from InvenSense, and I started to realize that the company is transitioning from a component and API supplier to a chip designer. In short, the microphones will be needed for incorporation in SoCs (system on chip) for always-on environmental processing that can respond to voice as well as motion and location. This is the future, with the first steps already being taken by Apple's M7 processor, and the Moto X. It also is a very useful step for protecting the company's intellectual property in emerging markets like China, where they are seeing growth.
In my view, the transition to chip designer very much highlights the value of InvenSense's fab-less model, and differentiates it from main competitor ST Micro (NYSE:STM), for whom such a transition simply isn't possible without overwhelming capital expenditure (or a complete change of strategy). InvenSense has said that the ADI purchase should be accretive to earnings in 2014. Expect to start seeing many new products of increasing complexity announced over the course of the next year, supporting the company's projections for improving margins.
Speaking of ST Micro and IP, management also gave updates on their ongoing legal battles. All is going well, but they are still in the "discovery" phase. Therefore, we should expect this issue to drag on for quite a while longer. I'd privately wondered, back when I wrote my first long-term thesis on what was then an extremely undervalued company, if INVN could be an acquisition target. I think the ongoing legal struggle may have been a deterrent to that. Never say never, but it doesn't seem like the timing works out for this in the near term.
Rather, I'd say that the second major takeaway from the earnings call is that ramp up of a new customer is finally getting closer. This is almost certainly Apple and management believes that everything is in place on their end to go forward. I have steadily railed against previous analyst reports suggesting that InvenSense had already achieved this milestone, but I do believe that 2014 will be the year it finally happens. There have been multiple reports of citing leaked iWatch designs, and I've always said that this will be the first product to include InvenSense components. Certainly Samsung's increased market share and introduction of the Galaxy Gear ups the pressure on Apple to bring such a product back.
In Summary:
Multiple misleading analyst reports lead to overbought situation going into earnings, but INVN has, for the moment, at least, sling-shotted back in the other direction and is once again a buy. Recovery from the post earnings sell-off should be greatly aided by over 30% of shares held short. Most importantly, in 2014 it will become clear that InvenSense is re-characterizing itself from a component supplier into a higher end chip designer, and the only single source solution for always-on environment awareness.
Disclosure: I am long INVN. I wrote this article myself, and it expresses my own opinions. I am not receiving compensation for it (other than from Seeking Alpha). I have no business relationship with any company whose stock is mentioned in this article.