A couple months ago, my mp3 player developed an unhealthy obsession with Journey's "Don't Stop Believing". It would turn on, regardless of the time of day or night, and play "Don't Stop Believing" on repeat until I was able to hit it a few times and stifle its cry for attention. With the promise of a $150 price tag for repair from tech support, I decided to rough it and go without. These days, I've found myself plugging my headphones into the free music jacks at the gym and using Pandora and MySpace at home for my music, and I'm not alone in this. Looking at the overall traffic growth of some of the internet's biggest streaming music sites shows an increasingly large amount of people tuning in online.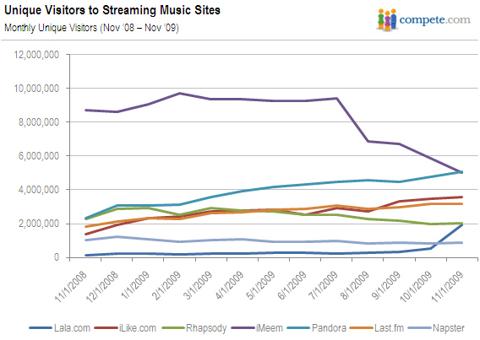 Lala is one of the many streaming music sites that have come about in the last several years, and it offers a unique take on the pay vs. free model. On Lala you can listen once to any song or album of your choice, for free; and after becoming a member, for just $.10, you can purchase a streaming, online-only copy. For $.89, members can purchase the mp3 for download (much like Amazon.com (NASDAQ:AMZN) digital music store and of course Apple's iTunes). Additionally, members can scan their personal libraries into Lala's database and stream their libraries to any computer connected to the internet.
Lala was a bit player in the streaming music scene until October this year, when Google launched Google Music—A service that connects searches for songs from Google.com to streaming content. Google's (NASDAQ:GOOG) courtship of Lala lead to a major traffic increase for Lala – nearly 2 million people visited the site in November, a 256% increase over the previous month's traffic and a whopping 1204% growth rate compared to November '08.
Apple's (NASDAQ:AAPL) December 6 acquisition of Lala should raising many questions as to what Apple's plans are and simultaneously drive increased consumer interest in the site. With this acquisition, Apple deftly opened its media content to be accessed through a simple Google search on a PC or Smartphone. It would seem that Apple may be preparing for a shift from its traditional model of strictly downloaded content to a more cloud-based, streaming system.
Whether or not the acquisition of Lala is going to be profitable for Apple remains to be seen, and Apple is making no public statements explaining its motivations, but at least I know that when I want to listen to Journey, it's just a Google search away.