ARMOUR Residential (NYSE:ARR) and American Capital Agency (NASDAQ:AGNC), two leading mREITS, presented Q3 results on October 28 which triggered a comprehensive sector meltdown and erased billions in shareholder wealth. American Capital Agency reported a net loss of $1.80 per common share, contracting taxable income per share (minus 72% q-o-q and minus 79% y-o-y) and a slightly lower book value per share. As a consequence, AGNC's shares lost a staggering 8.38%: A capital loss of more than half the yearly cash flow yield of 14% in a single day. I expect more capital depreciation, higher EPS volatility, lower book values, lower net spreads and lower profitability for AGNC in the future which is why I think this mREIT makes an outstanding Short.
Annaly (NYSE:NLY) lost 3.54% and held up quite well although I do expect negative momentum in the shares after Q3 results in November. American Capital Mortgage Corp. (NASDAQ:MTGE) lost 5.30% in single day, Hatteras Financial (NYSE:HTS) 3.01% and ARMOUR Residential 6.39%. The overall performance of major mREIT players over a one-, two- and five-year measurement period is shown in the table below:

It is interesting to note that ARMOUR Residential, after yesterday's massive loss, has the worst 1-year, worst 2-year and worst 5-year performance of all the companies in the peer group. The overall performance picture for the major players in the mREIT sector also is not looking very promising.
Sector meltdown
The mREIT sector meltdown started a few month ago when rates started to rise sharply. Rising rates reflect the market's expectation that the Federal Reserve will end its lose money policy and a new interest rate cycle is about to start. Rising interest rates are a threat to mREITs like ARMOUR Residential since they rely heavily on cheap short-term funding and utilize large amounts of debt (ARR's Q3 leverage ratio is 7:1). Higher rates translate to higher funding costs and a compressed net spread as well as lower profitability. The market has come to terms with the new reality that is facing mREITs like ARMOUR Residential, Annaly and AGNC and continues to re-price their offerings. After Q3 results AGNC closed with a nasty 9% gap in its stock chart indicating the force with which the market reacted to AGNC's bad news. ARMOUR Residential's shares lost 6.39% yesterday as a reaction to its Q3 results giving reason to believe that further capital depreciation is at hand.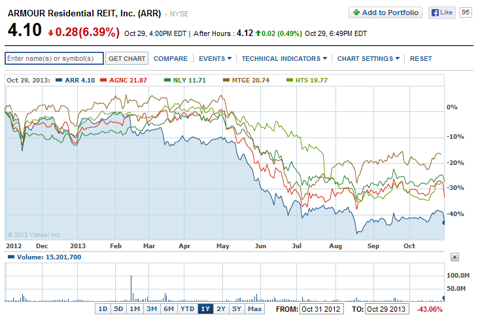 I think the overall market reaction to mREIT's Q3 results was overdue. I expect a rebound though, as AGNC and ARMOUR Residential in particular are oversold in the short-term. But what is more important than short-term price swings are the underlying fundamentals. AGNC's book value per share has now declined five quarters consecutively and this underlying trend reflecting sector profitability shouldn't be ignored. Bulls usually get to enjoy dividend yields in the 14-16% range which makes it easy to hold onto shares even though fundamentals suggest otherwise. Current dividends for major mREITs are:
ARMOUR Residential: 14.63%
AGNC: 14.63%
NLY: 11.96%
MTGE: 14.23%
HTS: 11.57%
Chimera (NYSE:CIM): 11.84%
Capstead Mortgage (NYSE:CMO): 10.64%
Representativeness- and regret aversion bias
In fact, bullish investors appear to exhibit regret aversion bias and representativeness bias. While I agree that Armour's dividend yield, on an isolated basis, is very attractive at nearly 15%, all bullish investors/shareholders really have to do to judge the profitability of their investment is to take a look at their portfolios: Investors who purchased either last year or two years ago lost 43% of their capital which is much higher than the cash flow yield received. Anybody who purchased either AGNC or ARMOUR Residential just last week already lost half the yearly dividend yield in a matter of a day. Holding on to losing stocks is a manifestation of regret aversion.
Receiving regular dividends (though declining in amount due to sector-leading dividend cuts of 58% in the case of ARR) causes investors to extrapolate those results into the future. After all, dividends keep rolling in quarter after quarter and year after year. Having enjoyed the comfort of regular cash flows sets the basis for the representativeness bias which basically implies that bullish investors extrapolate the dividend status quo. Sector-wide dividend cuts over the last two years, affecting all the mREIT companies in the peer group, suggest that a broader trend of profitability erosion is at work and further dividend cuts are likely.
ARMOUR Residential's Q3 results ain't pretty
Just like in the case of AGNC, ARMOUR Residential's Q3 result paint everything but a rosy picture. In the third quarter 2013 ARMOUR Residential achieved the following results:
Book value per share declined from $5.43 in Q2 2013 to $5.26 in the third quarter (a minus of 3.13% or an annualized loss of 12.5%).
Core income (net income excluding impairment losses, gains or losses on sales of securities and early termination of derivatives, unrealized gains or losses on derivatives) of $43.8 million in Q3 2013 compared to $69.9 million in Q2 2013 (down 37%).
Core income per common share declined from $0.18 in Q2 2013 to $0.11 in Q3 2013 (down 39%).
A quarterly GAAP net loss of $229.9 million vs. a $481.4 million gain in Q2 translating into a per share loss of $0.63 compared to a per share gain of $1.28 in the previous quarter.
Estimated taxable REIT income of $3.8 million compared to $91.4 million in Q2 2013 (a collapse of 96%).
The Q3 update of ARMOUR Residential's performance has to be seen as the continuation of an existing sector-wide trend of declining book values, earnings and profitability. The overall deterioration of the metrics outlined above suggests that the company will cut its dividend in the coming month.
Conclusion
Bullish investors fail to adequately incorporate new information into their long investment thesis. The results presented by ARMOUR Residential (as well as AGNC's results) suggest that the sector is facing tough challenges with regard to rising interest rates and falling mortgage portfolio values. Imploding estimated taxable REIT income, declining core income and book values as well as a dark-red quarterly net loss of $229.9 million indicate that the risk/reward ratio for the Short side of the trade is much more attractive. In order to overcome cognitive dissonance exhibited by bullish investors it should be carefully examined whether the cash flows received outweigh the capital loss they experienced over the last two years. The ongoing trend of profitability erosion, however, shouldn't be ignored. If sector heavyweight Annaly reports weak results on November 4, 2013 the mREIT sector could be in for another rough week. I also expect a new round of target price downward revisions from brokerage firms after Annaly reports next week.
Disclosure: I am short ARR, AGNC, NLY. I wrote this article myself, and it expresses my own opinions. I am not receiving compensation for it (other than from Seeking Alpha). I have no business relationship with any company whose stock is mentioned in this article.