I think that Sanford Bernstein's Dr. Stacy Rasgon is right on the money about Broadcom (BRCM) divesting itself of its cellular connectivity business. However, I would like to take this a step further and claim that Apple (NASDAQ:AAPL) should buy Broadcom. Now, what I would expect is more likely is that Apple simply buy the mobile & wireless division rather than the entire company, but I could even make a case for Apple buying the entire thing (and I will, right here in this very article). So, now that I've grabbed your attention, let me share with you my thoughts on why Apple ought to peel off a cool $20B or so to snap up Broadcom.
Apple Will Eventually Need To Integrate Connectivity Onto Its SoCs
It's no secret that the biggest trend in mobile silicon technology today is that of increased integration. While there are certainly reasons to favor discrete components to integrated ones, I don't think anybody would dare argue against this long-term trend as it has manifested itself repeatedly across many different segments of semiconductors, and this one is no different. Apple, which currently buys connectivity chips from Broadcom and cellular baseband + RF from Qualcomm (NASDAQ:QCOM).
First of all, Qualcomm - thanks to its dominant position in LTE baseband - gets to charge a nice premium of its captive cellular modem buyers. After all, Intel (NASDAQ:INTC) and Broadcom thus far have failed to provide meaningful competition to drive down prices, so why not? Of course, if you'll notice, the iPhone 5S uses Qualcomm's MDM9x15 chips, which are actually a generation behind at this point. Apple doesn't offer the latest cellular technology most likely because it's just plain expensive to do so, and its customers won't exactly ditch the iPhone 5S because an HTC something or other has LTE-Advanced.
Similar story with connectivity; Apple didn't move to an 802.11ac Wi-Fi solution this round because, while there competition in this space, it didn't want to pony up for the latest and greatest Wi-Fi. Its customers won't notice (and they'll praise the feature in the next gen iPhone), and Apple saves a buck or two on the BoM.
But what if Apple could simply integrate the connectivity (Wi-Fi, in particular) as well as a cellular baseband into its "A" series silicon? What if it could also provide its own RF front end and power management IC ("PMIC")? Apple's going to be on the hunt for ways to improve its gross margins and to enable lower price points, and vertical integration with the kind of scale that Apple has makes sense.
So, that brings me to Broadcom.
Broadcom Could Create Tremendous Shareholder Value By Selling Its Mobile & Wireless Business
Dr. Rasgon makes the case that Broadcom could be a stock with value approaching $40/share if it were to simply sell its mobile and wireless business and run the rest of the business for cash. Well, that's probably not a bad idea.
See, the thing is, the mobile and wireless business, despite the heavy investment in baseband (that has yet to really pay off), is still cash-flow positive (and quite so - YTD it's generated $333M in operating income). The counterargument to a sale of this business is that even at depressed operating margin levels, it's still nicely profitable, and there's some nice operating leverage built in that can be exploited as soon as the company's integrated baseband + apps processors (as well as standalone slim modems) are truly competitive.
The problem here, though, is that the high end connectivity market is quickly becoming saturated, and you're even seeing the likes of Apple choosing to pass on going with the absolute bleeding edge of Wi-Fi this time around. The volume growth is at the low end, and while I do think Broadcom could make a good play in those markets, it's still going to be a crowded market. The high end markets (assuming that discrete solutions in both cellular baseband and connectivity are still popular within 5-10 years) are probably safe for now, but eventually these functions could be absorbed into the applications processor (and Broadcom does NOT play in the high end phone/tablet apps processor game), so what's really going to be left of this business in that case? Qualcomm already throws in connectivity onto most of its SoCs!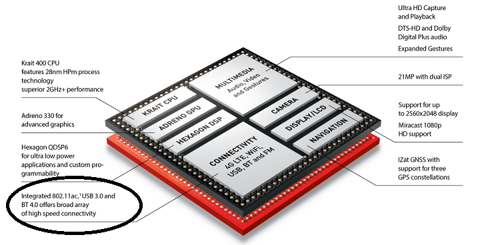 Click to enlarge
So, to solve this problem, why not sell this business to the company that needs it most - Apple? There's no way in hell Apple could put together a crack team of high end Wi-Fi engineers, as well as a sharp team of cellular baseband + RF folks, and produce a truly competitive solution in any reasonable timeframe. While I pointed out in a previous article that Apple IS hiring RF engineers, it's not going to be able to kick Broadcom or Qualcomm out of its phones without acquiring a lot of key patents, talent, and IP.
And really, where else could Apple buy this technology? Intel isn't selling its Mobile and Communications Group, many of the smaller/weaker players (Renesas Mobile, Icera, Infineon, Fujistu Wireless Semiconductor, etc.) have been acquired, so really, Broadcom's moble & wireless business would be the best way to get the technology that it needs to integrate onto its chips.
And, more importantly, Broadcom could make its shareholders a lot of money if it could fetch, say, $7B - $10B for this division. Coupled with the fact that Broadcom's other divisions could conceivably drive over $1B in annual operating income, it's not hard to see how at today's $16B market capitalization there's a LOT of value to be unlocked here: say the company trades for 13x potential operating income of about $1B, with $2B currently on the books in net cash and a potential $7-$10B infusion from Apple. This suggests a share price of $38 - $44, significantly higher than today's price, and Apple in return would have the world's best Wi-Fi, Bluetooth, and GPS, as well as a very solid modem + RF team. What's not to like here?
What About Apple Buying The Whole Company?
This one could still work. Again, Broadcom is dirt cheap, and if Apple wants to really get in bed with the carriers it could supply the silicon for their wireless infrastruture. In addition, if Apple really does have plans for an iTV or something to that effect, why not own the silicon that goes into the living room?
Again, this becomes a tougher acquisition to swallow, and it's far less likely to happen, but it's not entirely crazy. Broadcom generates a ton of free cash flow from these "non-mobile" businesses, so even if Apple were to let these other businesses run as usual while absorbing the mobile and wireless, this wouldn't really be a terrible thing. Heck, Apple could run Broadcom simply as a wholly owned subsidiary that also happens to help it build the best, most highly integrated silicon in the world.
It doesn't very much move the needle on the top and bottom lines for Apple, but the wireless technology alone would be worth it and I'm sure the company could find some very creative uses for the rest of Broadcom's technology (again network infrastructure and broadband communications silicon - this is NOT far removed from Apple's smartphone story and could help strengthen key relationships industry wide).
Conclusion
Do I think Apple will buy the entire Broadcom business? Probably not. But if the connectivity business starts to weaken and/or its cellular efforts don't work out, I'm betting Broadcom will want to scale back/cut this business loose. If Broadcom's current strategy succeeds then, hooray - Broadcom shareholders make a lot of money. If the cellular venture doesn't go so well over the next year, then it'll be time for Broadcom to start looking at some alternatives for this business. I think Apple would be a great buyer as it already does its own (very excellent) apps processor silicon in house and could very well use the connectivity/comms silicon to great advantage in future, highly integrated parts.
In either case though, it's good to own Broadcom.
Disclosure: I am long BRCM, INTC. I wrote this article myself, and it expresses my own opinions. I am not receiving compensation for it (other than from Seeking Alpha). I have no business relationship with any company whose stock is mentioned in this article.