Recently, two companies led the race in developing new drugs to treat Duchenne muscular dystrophy (DMD): eteplirsen from Sarepta Therapeutics (NASDAQ:SRPT), and drisapersen from Prosensa (NASDAQ:RNA) [partnered with GlaxoSmithKline (NYSE:GSK)]. These novel, late-stage drug candidates from both companies feature the same mechanism of action and target specific forms of DMD. Recently, and unfortunately for investors and patients, Prosensa / GSK's drisapersen failed to meet its primary endpoint (p = 0.41) and all secondary endpoints in its pivotal phase 3 clinical trial. The trial was double-blind, placebo controlled, and robust, enrolling 186 patients in 47 trial sites across 20 countries. Prosensa even possessed the coveted "Breakthrough Designation" from FDA, highlighting its preliminary efficacy and potential. In the accompanying conference call, management did not provide any additional analyses supporting efficacy, or offer any credible hypotheses for the lack of perceived clinical benefit. In short, it was a total failure.
However, Sarepta Therapeutics stock, reacted positively on the news, increasing almost 18% that day on heavy volume and later peaking near $56/share (although, the stock is now only up 14% since the announcement). One can only speculate, but the increase is presumably based on the notion that the major competitor has now been eliminated. But what does the Prosensa failure really mean for investors? We have done a thorough scientific analysis, which is described below.
Our objective analysis of drisapersen's failure and comparison with Sarepta's eteplirsen points to significantly increased clinical risk for Sarepta's proposed phase 3 confirmatory trials as well as plans for accelerated approval in 2014. We do not think the largely retail investor base, which is responsible for Sarepta's high valuation, has an understanding of these risks.
Duchenne muscular dystrophy is an insidious and severely debilitating childhood neuromuscular disease that affects approximately 1 in 3,500-5,000 live male births. This rare disease is caused by mutations (i.e. deletions, duplications, point mutations) in the dystrophin gene, ultimately resulting in the absence or defective versions of the critical dystrophin protein. Clinically, patients suffer from progressive loss of muscle strength, often rendering them wheelchair-bound before the age of 12. Respiratory and cardiac muscle can also be affected by the disease, and most patients ultimately die in early adulthood due to respiratory and cardiac failure. However, less severe forms of muscular dystrophy, including mild Becker muscular dystrophy result in semi functional dystrophin (e.g. truncated or slightly altered dystrophin) and less severe muscle loss. These patients generally have longer life expectancies and lose ambulation later in life.
Eteplirsen and Drisapersen Mechanism of Action - The dystrophin gene is the largest gene in the body, consisting of 79 exons. In DMD, the open-reading frame of certain key exons is disrupted, resulting in a non-functional dystrophin protein and the severe symptoms and forms of DMD. While the chemistry backbone underlying drisapersen and eteplirsen differ, (explored later in the article), the mechanism of action is similar. These drugs both seek to skip exons (in this case, exon 51) and thereby correct the reading frame to enable the production of a novel, functional dystrophin protein. This novel, truncated dystrophin is designed to be similar to that seen in the milder Becker muscular dystrophy patients.
Currently, to measure efficacy in DMD, both SRPT and RNA utilize the 6 minute walk test (6MWT). This clinical endpoint is exactly what it sounds like: how far can a patient walk in 6 minutes. The idea is simple, for patients who still are able to walk; this ability will diminish over time until patients become wheel chair bound. Thus, measuring the stabilization / lack of regression in walking ability via the 6MWT is clinically meaningful. There is little doubt that FDA is moving towards straightforward, all encompassing, and clinically meaningful endpoints such as this, but it also raises significant challenges. This endpoint is extremely variable, as we'll see below. As a result, this makes statistical analysis, powering, and interpretation of studies that much more difficult. Furthermore, this variability makes larger clinical trials a necessity. Before looking into the dystrophin hypothesis, a look at the 6MWT results provides insight into the challenges facing SRPT and other developers of novel drugs for DMD.
Prosensa's Clinical Trials - Drisapersen has been evaluated in multiple small trials and the previously mentioned, pivotal trial. The smaller trials are listed below:
Phase 1/2 study with 12 patients treated with 0.5, 2, 4, and 6 mg/kg for 5 weeks. These patients were then treated with 6 mg/kg for 141 more weeks.
Demand-2 study with 53 patients treated with either 1) 6 mg/kg weekly, 2) 6 mg/kg intermittently, or 3) placebo. Patients were dosed for 48 weeks.
Demand-5 study with 51 patients treated with either 3 mg/kg or 6 mg/kg weekly for 48 weeks.
In summary, the smaller phase 1/2 dose escalation study portion demonstrated stabilization in the long-term extension study where the patients received 6 mg/kg for 141 more weeks, stabilizing walking in 8 out of 10 patients, shown below: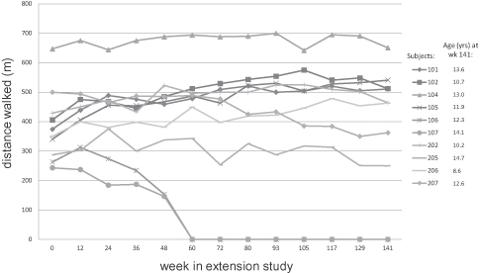 Click to enlarge
In addition, Demand 2 and Demand 5 also demonstrated stabilization / improvement in walking. In Demand 2, a placebo controlled trial (graph shown below), improvement was seen at 49 weeks in the 6 mg/kg continuous +11.2 m, 6 mg/kg intermittent +2.4, but a decrease in the placebo arm of -24.7 m. However, based on articles from thestreet.com, it appears that even though the trial was placebo controlled, patients and their families deduced if they were on the drug due to the painful nature of the injection. This may explain the "bump" seen initially with treatment and accounts for the improvement in walking relative to placebo. This hypothesis further underscores the variable nature of the 6MWT and the challenges associated with interpretation of data in these small trials.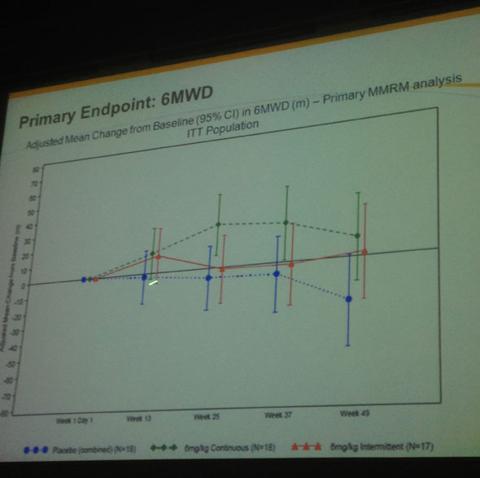 Click to enlarge
In Demand 5, improvement was seen again in the 6 mk/kg dose with a decrease in 3 mg/kg and placebo trials. Based on these promising results, a pivotal trial was conducted. As previously mentioned, 186 boys were treated 6 mg/kg weekly for 48 weeks vs. placebo. Overall, patients treated with drisapersen declined 42.3 m, vs. 52.7 m for placebo. The graph below shows the results of the multi-center pivotal phase 3 trial. (Source: Adam Feuerstein, TheStreet.com)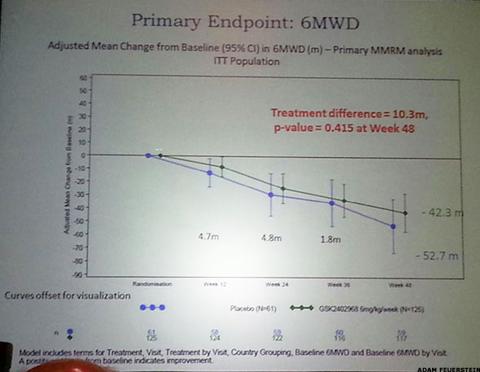 Click to enlarge
So what happened and what does this mean?
There are a number of potential factors at work. First, it demonstrates that walking stabilization over long time periods is indeed possible, and even likely in smaller, open-label trials with a highly variable clinical endpoint. More broadly, many factors may be at work that are not necessarily specific to DMD. For example, doctors may select only the most promising patients, and parents who are most motivated may enroll their children in these studies. The 6MWT is a highly variable endpoint. In addition, there is likely strong placebo effect, especially in open label trials. These factors can easily lead to a false signal of efficacy. This is undoubtedly the case for drisapersen, where the promising results in small numbers of patients did not translate to the results of a larger study.
Sarepta's eteplirsen - Taking a look now at SRPT's eteplirsen clinical trials results, a similar pattern emerges. While the trial designs are slightly different (ages varied slightly), many of the same characteristics are seen, facilitating the comparison. In particular, SRPT's primary efficacy trials, study 201 and its extension study 202, enrolled 12 patients, identical to the extension study by Prosensa which tested the phase 3 dose of 6 mg/kg. Eteplirsen was given in 30 mg/kg and 50 mg/kg doses, and compared with a placebo arm. After 24 weeks, the placebo arm was randomized and patients (2 each) were either given 30 mg/kg or 50 mg/kg. Therefore, after 24 weeks all patients are receiving drug, although at 2 different doses.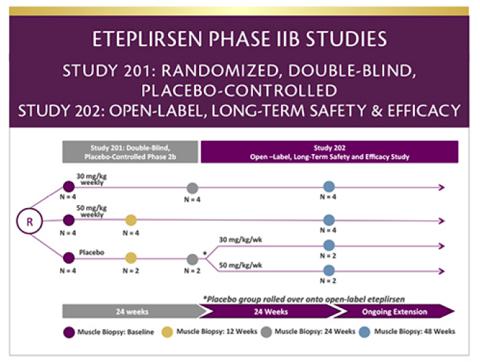 Click to enlarge
In these trials, eteplirsen demonstrated improvement in walking. SRPT removed two patients from the modified intent to treat analysis due to rapid loss of ambulation early on (two patients in Prosensa's trial also lost ambulation). It is easy to get bogged down in the statistical details and the validity of the various tests used, but this misses the bigger picture. Looking at the aggregated data below from a recent SRPT poster, stabilization of walking was seen. Overall, the graphs do not look far different than the ones above for Prosensa. In addition, SRPT's trial was conducted at a single center and the extension portion was open label. Hence, we have the same set-up for SRPT as we had for RNA.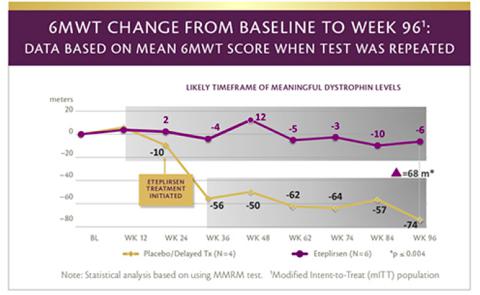 Click to enlarge
Dystrophin levels - In addition to the 6MWT, the clinical endpoint, dystrophin levels were also measured by muscle biopsy during these trials, primarily to validate the biological hypothesis and mechanism of action as well as to support regulatory approval. On the surface, the biological hypothesis is clean and logical; restoring semi-functional dystrophin production will restore, or at least, prevent further deterioration of muscle weakness. While Prosensa and Sarepta both measured dystrophin levels (they look at % of fibers expressing dystrophin as well as intensity per fiber), there are differences in methodology and timing of biopsies. SRPT calibrates their results to baseline biopsies, while Prosensa does not explicitly do so for all patients. However, results can still be compared on a qualitative basis. It is well documented by both Prosensa and SRPT that patients have "revertant" fibers that express some dystrophin, and any analysis must take this into account. Overall, it appears that SRPT's eteplirsen acts more slowly, given the 0.8% increase in dystrophin positive fibers at 12 weeks at the 50 mg/kg dose and 22.4% at 24 weeks at the 30 mg/kg dose vs. Prosensa's drisapersen which appears to work much more quickly; large increases in overall dystrophin positive fibers (57%-75% in 7 weeks and earlier compared to baseline levels of 7% and lower signal intensity). Therefore, it is unlikely that eteplirsen will succeed based on this dystrophin data.
In addition, in study 201, there was a discrepancy in dystrophin production and its correlation with the 6MWT. Dystrophin production was measured for the 50 mg/kg dose and demonstrated a 0.8% increase in dystrophin positive fibers at 12 weeks (not stat. significant), but demonstrated stat. significance for the 50 mg/kg dose on the 6MWT combined with the significant dystrophin production at the 30 mg/kg (22.5% at 24 weeks) but insignificant benefit on the 6MWT calls into question the biological hypothesis of dystrophin production and its associated clinical benefit. Also, the lack of a robust dose response in the 30 and 50 mg/kg arms calls for a larger study to confirm these results (the 30 mg/kg results in higher dystrophin positive fibers than the 50 mg/kg, and the opposite is true in the delayed treatment arm).
Key Publications: SRPT Annals of Neurology 2013, SRPT (AVI Biopharma) Lancet 2011, RNA NEJM 2011, RNA NEJM 2007.
FDA accelerated approval - As investors know, accelerated approval allows a drug to be approved based on a surrogate or an intermediate clinical endpoint. A surrogate endpoint used for accelerated approval is a marker - a laboratory measurement, radiographic image, physical sign, or other measure that is thought to predict clinical benefit, but is not itself a measure of clinical benefit. SRPT has held meetings with FDA to explore the potential for accelerated approval, and based on these meetings and conversations with FDA, SRPT believes and has disclosed that the agency is willing to consider approval of eteplirsen based on dystrophin levels as a surrogate endpoint. Accelerated approval allows the drug to enter the market sooner, providing the sponsor runs confirmatory trials to measure the ultimate clinical benefit. In this case, the idea is that SRPT will then presumably confirm that the increased dystrophin levels lead to improved clinical outcomes and significant stabilization / improvement of walking long term.
However, this raises two key questions for the FDA reviewers (and investors):
Is increased dystrophin predictive of clinical benefit?
How much dystrophin is required for a clinical benefit?
The previous analysis of Prosensa's dystrophin data and comparison with Sarepta's data (although not all of it is available, particularly for the 50 mg/kg dose) suggest that at the current levels, the answer so far to 1) is no, dystrophin levels are not predictive of clinical benefit. Would higher doses over much longer time frame make a difference? Potentially, but not based on the evidence so far. Based on the large amount of data that has been generated to date, which has not been thoroughly analyzed by investors, we think the default position should be that dystrophin levels are not predictive of clinical benefit.
A literature report characterizing different cohorts based on severity of disease provides clues to help answer question 2).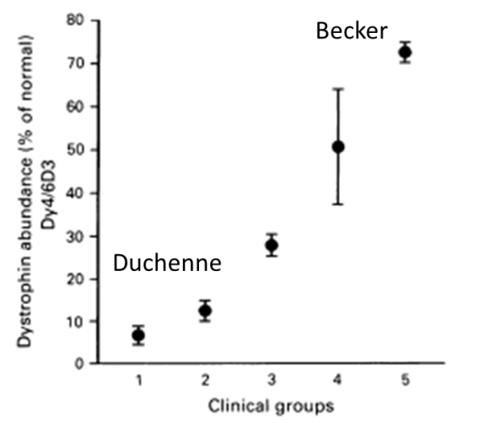 Click to enlarge
In rough agreement with Prosensa and Sarepta's publications, the most severe DMD patients have clearly very little functional dystrophin, ~5-7%. In addition, in the next clinical cohort, it appears 12-15% or so abundance of dystrophin affords a more mild form of the disease, and results in a less rapid disease progression. Given that the number of dystrophin positive fibers in SRPT's trials is lower than Prosensa's, it is unlikely that eteplirsen will succeed. However, for the sake of argument, a simple proxy may be used for total dystrophin levels. Multiplying % increased dystrophin fibers by the intensity per fiber can yield a crude estimation of total dystrophin production. From SRPT's recent poster, approximately ~50% of fibers were dystrophin positive at 48 weeks in the desired 30 mg/kg dose, and utilizing an aggressive assumption that says intensity increased by 15% (up to 2.5x better than the 4% change reported at 20 mg/kg), this implies that total dystrophin may be increased by 7.5% over the course of 1 year or less (remember, it appears to work slower). Keep in mind that this improved clinical cohort has had extra dystrophin production from birth, not just 1 year!
There is no question FDA is in a difficult position. The clinical course of DMD is well-known, and eteplirsen is a novel therapy with the promise to make a significant impact on patients' lives. It also looks like eteplirsen has a more benign and cleaner safety profile relative to drisapersen, bolstering the case for accelerated approval. However, the use of dystrophin as a surrogate endpoint and its correlation with the 6MWT is not based on robust evidence. Furthermore, there is no clear evidence that eteplirsen produces more functional dystrophin than drisapersen, and in light of the drisapersen failure, there is extremely limited evidence to support that increases in the levels of dystrophin seen by RNA and SRPT are indicative of clinical benefit. In addition, the lack of a strong dose response for eteplirsen and lack of strong correlation with a clinical outcome casts doubt over the trial results. As such, it is highly unlikely that FDA will grant accelerated approval to SRPT based on the small, single center trial. It is likely that FDA will require them to run a phase 3 trial prior to approval, which has a significant chance of failing to demonstrate efficacy, just as drisapersen did. We strongly believe, given the large amount of data now available, that the default assumption for investors should be that FDA will not grant accelerated approval and eteplisren will likely fail a large randomized study just as drisapersen did. We further believe that SRPT's proposed open label confirmatory trial with a "placebo" arm of patients with non-amenable mutations will be rejected by FDA.
Additional Considerations - Sarepta bulls point to several key factors that improve the chances of success for SPRT. These arguments are focused on two main points: patient age and dosage.
Age - The average age of eteplirsen patients in its phase 1/2 trial was approximately 9 years. In the early trials of drisapersen, the average age was 7-8 years. The argument here is that comparison is not valid, and trials enrolling patients of different health and ability cannot be compared. While exact disease progression by age is unknown, what is potentially true is that individual patient variability is likely the greatest source of variation in these small trials. If anything, it may be surmised that earlier intervention and younger patients may favor drisapersen.
Dosage - Based on recent calls by SRPT, if approved, the likely dosage of eteplirsen will be 30 mg/kg, approximately 5x higher than drisapersen's phase 3 trial dosage of 6 mg/kg. However, we have some clues to their PK and PD properties. Eteplirsen's half-life is approximately 1.6-3.6 hours, whereas drisapersen's mean terminal half-life is 29 days. On an area under the curve basis, this likely leads to far higher effective dosages of drisapersen relative to eteplirsen. Now, this is not the only factor to consider, as PK/PD properties are dependent on many elements including binding affinity, rate of degradation, etc. However, there is nothing to truly suggest convincingly that Sarepta will succeed where Prosensa has failed. Although, there is some evidence to suggest morpholinos (Sarepta's technology) are more selective and have less off-target effects than Prosensa's anti-sense compound.
Financials and Valuation - With the recent sell-off bringing the stock off its 52 week highs, SRPT's $42 share price combined with 33.5 M shares outstanding leads to a still staggering $1.4 B market capitalization. Clearly, with only 12 patients' worth of data, this lofty valuation factors in success not only for the current candidate, but also follow-on exon-skipping drugs targeting the additional DMD mutations. Given the challenges outlined facing SRPT, this valuation clearly overestimates the probability of clinical and regulatory success.
To management's credit, they have taken advantage of the meteoric stock price increase (and potentially overvalued stock) to raise a significant amount of equity capital. As of June 30, 2013, Sarepta had cash and cash equivalents of $164 M, but has raised nearly $38 M more with an at-the-market (ATM) equity financing (current as of August 7, 2013). SRPT will not need additional capital in the near term, although it is likely they will continue to tap the ATM for additional capital if the stock price remains high.
Conclusions - While new potential treatment options in DMD are a positive for patients, investor enthusiasm must objectively access asset value in light of the stock price and the discount associated with clinical and regulatory risk. Prosensa's failure should not have lead to an increase in Sarepta's share price, given the similarity in the underlying unproven technology and the misleading nature of small studies utilizing the 6MWT endpoint. This space lacks the success of a large, randomized controlled trial probably because these products are not effective. The dystrophin data and lack of correlating efficacy point to significant clinical and regulatory risk. As a result, it is unlikely that FDA will accept accelerated approval. Even more unlikely is that a large, randomized controlled clinical trial shows a statistically significant benefit. These risks should be reflected by a discounted valuation. Sarepta Therapeutics' $42 share price and $1.4 B market capitalization significantly overestimate the true value of the stock given the risks, and this fundamental mispricing is likely to be corrected within the next 12 months as events unfold.
Disclosure: I have no positions in any stocks mentioned, but may initiate a short position in SRPT over the next 72 hours. I wrote this article myself, and it expresses my own opinions. I am not receiving compensation for it. I have no business relationship with any company whose stock is mentioned in this article.