A gold explorers exchange traded fund struck gold Monday as B2Gold Corp. (NYSE: BTG) agreed to acquire Volta Resources Inc. (VTR.TO).
The Global X Gold Explorers ETF (NYSEARCA:GLDX) rose 7.7% Monday and is now testing its short term, 50-day moving average.
Meanwhile, Volta Resources, the second largest component holding in GLDX at 7.0%, jumped 97.6% after B2Gold announced the deal. B2Gold has agreed to acquire all of the outstanding common shares of Volta at the agreed exchange ratio of 0.15 B2Gold shares for each Volta share held, which represents a purchase price of approximately C$0.42 per Volta share and a total equity value for Volta of approximately $63 million, according to a statement.
B2Gold was interested in acquiring Volta's Kiaka gold projects in Burkina Faso, Africa, according to a press release. The Kiaka project is expected to generate an average annual production rate of about 340,000 ounces of gold over a 10-year mining span.
The gold explorer ETF's largest holding, Gold Canyon Resources (OTCPK:GDCRF), also jumped 5.3% Monday.
GLDX, unlike other gold stock ETFs, tracks gold exploration companies that focus on searching for new gold deposits.
MinEx Consulting estimates that the mining industry needs to find double the amount of gold deposits than it mines to maintain an uninterrupted supply of gold over the long term, according to Global X.
In comparison, gold miner ETFs, like the Market Vectors Gold Miners ETF (NYSEARCA:GDX) or Market Vectors Junior Gold Miners Fund (NYSEARCA:GDXJ), track companies that generate the majority of revenue from gold mining.
GDX was up 1.1% Monday while GDXJ dipped 0.2%.
The SPDR Gold Shares (NYSEARCA:GLD) was 0.2% higher Monday. COMEX gold futures were only slightly up at 0.1%, trading around $1,353.4 per ounce.
Global X Gold Explorers ETF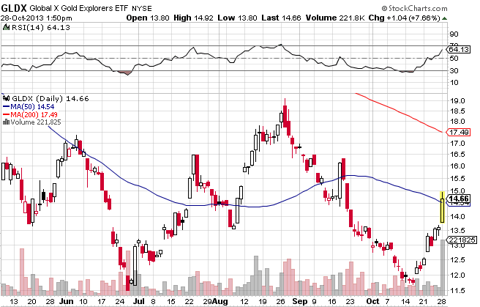 Max Chen contributed to this article.
Full disclosure: Tom Lydon's clients own GLD.
Disclosure: I am long GLD. I wrote this article myself, and it expresses my own opinions. I am not receiving compensation for it. I have no business relationship with any company whose stock is mentioned in this article.