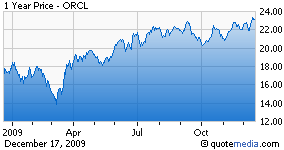 Oracle (NASDAQ:ORCL) is expected to report Q2 earnings after the market close on Thursday, December 17, with a conference call scheduled for 5:00 pm ET.
Guidance
The consensus estimate is 36c for EPS and $5.69B for revenue, according to First Call. The Q2 results should reflect continued difficulties for the corporate software giant amid the downturn. The little guidance we have is that Oracle has said it expects new software license sales for the period to be between flat and down 10%. Oracle's sales have been undercut by the recession, and the corresponding reluctance among customers to invest in new software. However, Oracle - like other peers in the business software market - has been able to rely on a steady stream of maintenance revenue. The company has a mixed miss/meet/beat recent history in the past four quarters. Oracle's outlook for business spending when it reported fiscal first-quarter results was disappointing. But the economy has improved a bit since then. Industry reports suggest companies seem slightly more willing to spend on technology now than they did three months ago.
KEY ISSUES: Look for comments on enterprise IT demand, as well as any progress on getting final EU approval on the Sun Microsystems (JAVA) deal. Oracle chief Lawrence Ellison may also use the earnings call to fire more shots at arch-rival IBM (NYSE:IBM), says TheStreet.com. During his opening keynote at Oracle's annual user conference in October, Ellison came out with 'guns blazing', says TheStreet, blasting IBM for allegedly claiming that Oracle would get rid of Sun's hardware business.
Analyst Views
STREET COMMENTS: Yun Kim, an analyst with Broadpoint.AmTech, wrote in a note to clients that Oracle's database business should rebound from its "weak performance" in the previous quarter, while the applications business should remain "steady but lackluster." Kim said technology companies are showing a "meaningful increase" in business that will benefit Oracle, because of the expected pickup in new projects in 2010 that will require companies to buy databases. "In the current environment, Oracle is considered one of the safest names in technology and will likely be considered one of the names to own when the tech sector rallies," Kim wrote. FBR Capital Markets analyst David Hilal said in a research note published Wednesday that Oracle could surprise Wall Street with its Q2 profit result, thanks to cost controls. Still, Hilal expects that Oracle's new software license sales fell 5% in the quarter. Consensus for Q3 is 36c on $5.71B in revenue.