With Brazil being the "B" in "BRIC" investing, few countries receive as much emerging market consideration. There's the Claymore BRIC Fund (NYSEARCA:EEB) for diversified exposure to emerging market kingpins. There's the long-standing iShares MSCI Brazil Fund (NYSEARCA:EWZ) for large company concentration. And then there's my personal "fave," Small Cap Brazil (NYSEARCA:BRF), with greater focus on the local consumer.
Beyond Brazil, there are plenty of other ways to invest in Latin America. One might look to iShares S&P Latin America 40 (NYSEARCA:ILF) for a bit more diversification in the region. However, while Mexico and Chile may get 22% and 10% respectively, ILF has nearly 63% in Brazil.
Now… some folks may be enamored with Chile (NYSEARCA:ECH) as a way to play copper. (You may wish to review "Chile ETF and Copper ETN.") Still others think Mexico (NYSEARCA:EWW) is a destination with "mucho gusto." Both hit 52-week highs in December.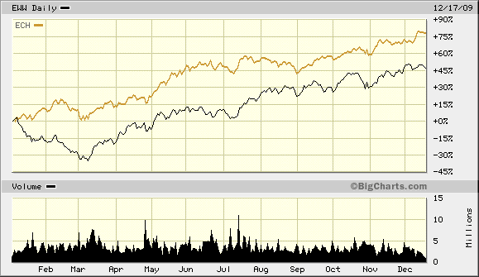 Nevertheless, ETF investors may (or may not) want to take a look at Peru. This resource-rich country recently received increases in its credit rating to investment grade. And that's coming at a time when there are fears about potential defaults in Greece, Ireland and the Middle East.
Consider this interesting factoid: Even after a recent Moody's upgrade on Peru debt, it costs as much for an investor to protect against the possibility of an Israeli default as it does to protect against a Peruvian default. Yet Israel is rated 4 notches higher in the investment grade debt universe. This would suggest that Peru is on the fast track for more upgrades to its bonds and, by extension, its perceived economic well-being.
Peru is currently the third largest exporter of copper, zinc and tin. OH… and for you silver fans… it is the world's largest exporter of the precious metal.
Can you invest in Peru on the U.S. exchanges? Yep. Not that long ago, iShares provided investors with the MSCI All Peru Capped Index (NYSEARCA:EPU). My concern? EPU doesn't deviate all that much from the more liquid iShares Global Materials Fund (NYSEARCA:MXI).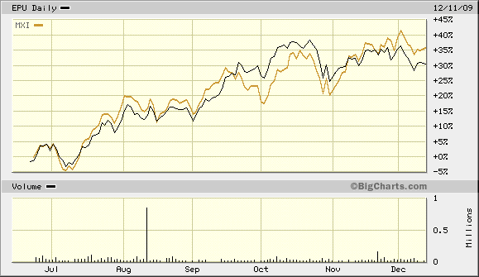 Disclosure Statement: Gary Gordon, MS, CFP is the president of Pacific Park Financial, Inc., a Registered Investment Adviser with the SEC. The company and/or its clients may hold positions in the ETFs, mutual funds and/or index funds mentioned above. The company does not receive compensation from any of the fund providers covered in this feature. Moreover, the commentary does not constitute individualized investment advice. The opinions offered herein are not personalized recommendations to buy, sell or hold securities.