From the view of risk-reward tradeoffs, the most attractive ETF, as market-makers see over 200 such candidates, currently is the Nasdaq 100 index tracker (NASDAQ:QQQ).
Many criteria are available for preferring any investment, but the basic tradeoff between risk and reward should always be part of the list, if not the most important. We use intelligent behavioral analysis to provide commonly-derived characteristics for over 200 widely-held and actively traded ETFs.
The way market-makers (MMs) hedge the positions they must take, as they put firm capital at risk, tells what they expect as possible ranges of price in coming days, weeks and months. Their implied forecasts are far superior to street analysts' target prices because they are updated daily from their self-protective actions, and give a sense of upside-to-downside prospects. Here is QQQ's trend of forecasts daily over the past six months.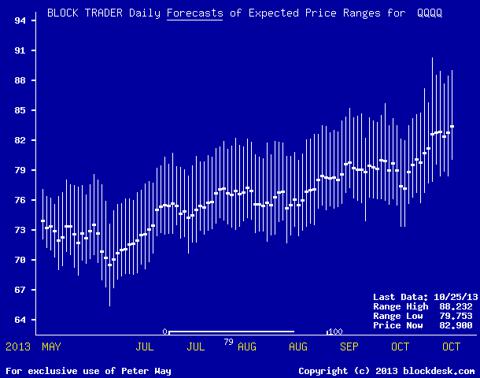 (used with permission)
Historic records of their live forecasts and subsequent market moves provide measures of how well the MMs have anticipated each ETF's future prices at varying stages of their upside-to-downside forecast balances. We are always interested most in what has happened after forecasts like those now being indicated.
In terms of the risk-reward tradeoff, we take the potential price increase between the current market and the forecast's top end as the prospective reward target. While its complement to the downside does indicate what the price drawdown exposure might be, we find it is usually more conservative to see what the actual largest drawdowns of the past have been in the 3 months following forecasts like those of today. They usually are more extreme, and a better indication of the emotional stress risks likely to be encountered. That's the point in time where investors are most likely to make mistakes.
In the current case of QQQ, the forecast reward target is +6.4% and the worst-case price drawdown average from 150 days of prior like forecasts in the last 5 years has been -4.1%. The ratio of reward to risk, the far fight column, is 1.6 to 1, the highest of some two dozen otherwise favorably positioned ETF buy candidates. Here is a table of their comparisons, along with additional useful criteria.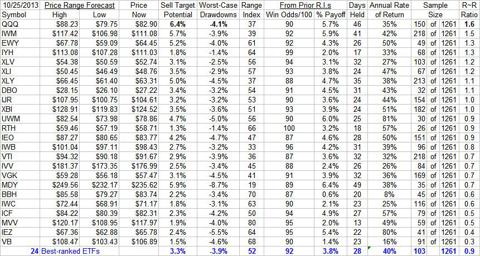 It is those other useful criteria that make liquid markets by giving investors the ability to display their individuality. For some, wealth-building (before junior and his sis are on college choice visits) puts an emphasis on most likely high annual rates of return. They may be found in combinations of great odds and large forecast upsides, despite some interim temporary disturbing price days.
For others with only the pressure to generate sufficient ongoing capital gains to replace former bond-interest spendable income, temporary disturbing-price days may mean very unwelcome periods to avoid. They will probably gladly sacrifice high annual rates for the assurance of great odds on past payoffs that averaged well above the current upside forecast, given present-day outlooks. Worst-case drawdowns at the lowest possible levels may be a starting point in their criteria tradeoffs.
And other combinations of interests and priorities will produce various emphasis rankings, when measures of those criteria are available on a common footing basis across a selection of alternatives for new or replacement capital commitments.
In an active management program likely to generate better results than the passive buy, hold and forget approach, there will be needs to reinvest capital liberated from investments that have reached their prior forecast sell targets. QQQ is one current choice available to be used. Investor priorities might urge consideration of the S&P Health Care Sector (NYSEARCA:XLV), for example as a lower-return, lower risk alternative.
Disclosure: I have no positions in any stocks mentioned, and no plans to initiate any positions within the next 72 hours. I wrote this article myself, and it expresses my own opinions. I am not receiving compensation for it (other than from Seeking Alpha). I have no business relationship with any company whose stock is mentioned in this article.