ETF Spotlight on the Market Vectors Israel ETF (NYSEARCA:ISRA), part of an ongoing series.
Assets: $25.3 million
Objective: The Market Vectors Israel fund tries to reflect the performance of the BlueStar Israel Global Index, which is comprised of the largest and most liquid publicly traded Israeli and Israeli-linked companies, along with some mid- and small-cap Israeli stocks.
Holdings: Top holdings include Teva Pharmaceuticals (NYSE:TEVA) 11.8%, Perrigo Co. (NASDAQ:PRGO) 8.6%, Check Point Software Technologies (NASDAQ:CHKP) 7.4%, Amdocs (NYSE:DOX) 5.0% and Bank Hapoalim (OTCPK:BKHYY) 4.2%.
What You Should Know:
Van Eck Global's Market Vectors sponsors the fund.
ISRA has a 0.59% expense ratio.
The fund has 89 components, and the top ten holdings make up 52.9% of the overall portfolio.
Sector allocations include information technology 31.6%, health care 26.1%, financials 19.8%, materials 5.9%, telecommunication services 4.2%, energy 4.0%, industrials 3.3%, consumer staples 2.3%, consumer discretionary 2.3% and utilities 0.6%.
Market capitalization include large-caps 22.4%, mid-caps 43.5%, small-caps 28.1% and micro-caps 6.1%.
ISRA's inception date was June 25, 2013.
The ETF is up 3.3% over the past month and up 4.8% in the last three months.
ISRA has gained 10.4% since its inception, outperforming the rival iShares MSCI Israel Capped ETF (NYSEARCA:EIS), which is up 8.3% since June 26.
The Latest News:
The Bank of Israel is leaving its benchmark lending rate unchanged at 1%, the lowest in four years, after reducing rates last month, reports Alisa Odenheimer for Bloomberg.
"The Bank of Israel prefers to wait and see the impact of the last rate cut, even though it is clearly worried by developments in the export sector," Ilan Artzi, chief investment officer at Halman-Aldubi Investment House, said in the article.
The central bank has reduced rates from 3.25% since 2011 to depreciate the shekel currency and bolster the export-oriented economy.
"For now, the rate will hold," Ori Greenfeld, economist at Psagot Investment House Ltd, said in the article. "The Bank of Israel understands the rate cuts' effect on the currency exchange rate is weakening. The bank will probably try other ways to influence the currency exchange rate, and maybe even do something with the Finance Ministry to try to weaken the shekel if necessary."
The Bank of Israel projects economic growth to slow to 3.4% in 2014 from 3.6% this year due to an appreciating shekel and a dip in exports.
Market Vectors Israel ETF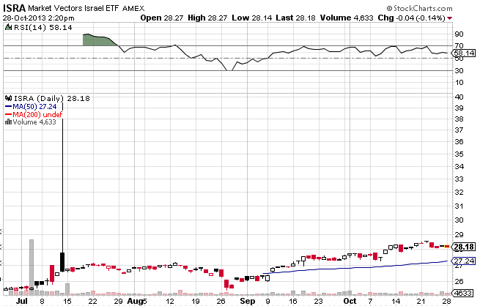 Max Chen contributed to this article.
Disclosure: I have no positions in any stocks mentioned, and no plans to initiate any positions within the next 72 hours. I wrote this article myself, and it expresses my own opinions. I am not receiving compensation for it. I have no business relationship with any company whose stock is mentioned in this article.