By Dee Gill
For investors, one of lululemon athletica's (NASDAQ:LULU) best features is its ability to sell a $100 pair of yoga pants for a $25 real profit. That incredible operating margin and the fast earnings growth it implies keeps lululemon's share price lofty even as the company wrestles with expensive problems on the ground. But it's time to consider, with a heavy dose of skepticism, whether lululemon can maintain the very best margins in retailing for much longer.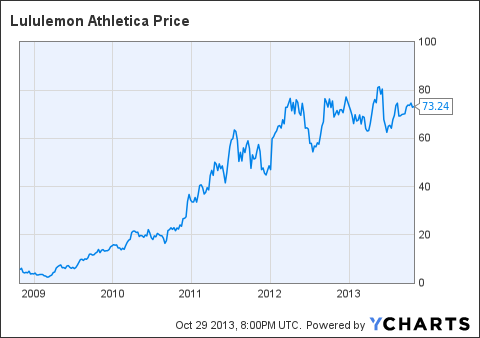 LULU data by YCharts
It's an important question because this singular data point - this 25% operating profit that management says it will sustain long-term -- is a key component in Wall Street's unusual love affair with lululemon. It fuels the high profit forecasts that let investors justify lululemon's enormous share price valuations, including PE ratio. It distracts from the company's unpleasant surprises of late, like a massive recall of see-through pants, the founder's resignation announcement, disappointing earnings guidance and inventory issues and supply chain issues. If assumptions about high-margin sustainability are wrong, a major part of the investment thesis for these shares crumbles.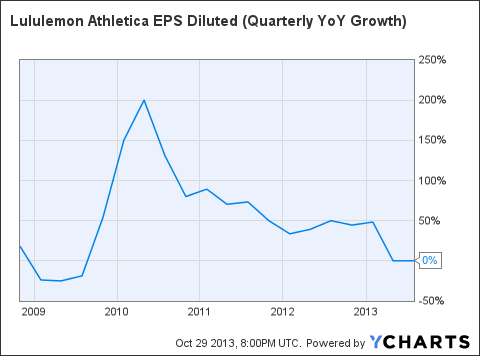 LULU EPS Diluted (Quarterly YoY Growth) data by YCharts
Lululemon has collected profits at about twice the rate of its closest competitors for nearly three years now. Nike (NYSE:NKE), Under Armour (NYSE:UA), Foot Locker (NYSE:FL)and The Gap (NYSE:GPS) report operating margins in the low-to-mid teens, which are about average for specialty retailers. In fact, the YCharts Stock Screener shows us that lululemon's last quarter operating margin was the highest of any specialty or apparel store with at least $1 billion in annual sales. Gross margins at 54% (projected at 55% long-term) also are higher than all but about a dozen retailers.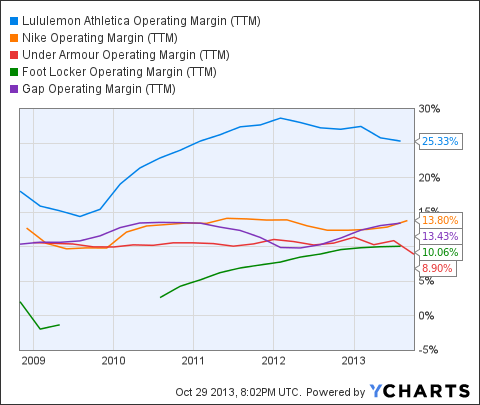 LULU Operating Margin (TTM) data by YCharts
Until recently, investors did very well by focusing solely on lululemon's gorgeous profits. lululemon shares rose more than 800% between October 2008 and October 2012, despite selling, then and now, at normalized price to earnings ratios well-above other retailers.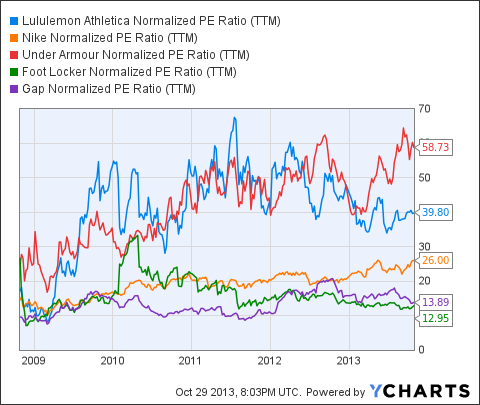 LULU Normalized PE Ratio (TTM) data by YCharts
But lululemon investors today are about where they were a year ago. And new competition makes the company's ability to maintain those very outsized margins that produced big investor returns in the past look less certain.
Unlike in years past, lululemon customers now can easily comparison shop its fashion. Nike, Under Armour, The Gap and L Brands' Victoria's Secret sell similar workout wear in their stores, as does Macy's (NYSE:M), Nordstrom's (NYSE:JWN) and Foot Locker. Those newcomers to yoga fashion see a great opportunity to grab market share, especially now that lululemon is focused on finding a new CEO and resolving inventory issues. lululemon will have to fight back eventually, with price cuts or other costly strategies, or see its growth restrained further.
Any such hit to profit growth would be a disappointment to shareholders; possibly a costly one. YCharts has noted the vulnerability of these shares on several occasions this year, mainly because its enormous share price valuations seemed overwrought. We compared lululemon unfavorably to Nike in March. By September, lululemon's sudden 24% share price drop made it a prime example of how outsized valuations can quickly become outsized losses.
The unnatural expectation that lululemon can continue to rake in extreme profits despite a sea change on the ground makes the investment even riskier. lululemon is not likely so special. Investors that rely on a profit margin number that assumes it is may find those shares were even more expensive than they thought.
Dee Gill, a senior contributing editor at YCharts, is a former foreign correspondent for AP-Dow Jones News in London, where she covered the U.K. equities market and economic indicators. She has written for The New York Times, The Wall Street Journal, The Economist and Time magazine.

Disclosure: I have no positions in any stocks mentioned, and no plans to initiate any positions within the next 72 hours. I wrote this article myself, and it expresses my own opinions. I am not receiving compensation for it. I have no business relationship with any company whose stock is mentioned in this article.