US stocks sold off Thursday on a triple whammy of Citigroup (NYSE:C) having to sell stock at a discount, uber banking analyst Meredith Whitney lowering of her earnings estimates on Goldman Sachs (NYSE:GS) and Morgan Stanley (NYSE:MS) on concern that clients are trading less and bellwether stock FedEx (NYSE:FDX) reporting numbers which trailed expectations. There was also the small matter of the weekly jobless claims, which unexpectedly rose and news that PIMCO (Pacific Investment Management Co) which runs the world's biggest bond fund, increased cash holdings the most since Lehman Brothers collapsed in September 2008 and EPFR Global reported money flowing into emerging market mutual funds slowed.
But there was some better news from two tech names: Research In Motion (RIMM) jumped 12% in late trading after the BlackBerry maker forecast sales and profit that topped analysts' projections, buoyed by demand for its Curve phone. Sales in the current quarter will be $4.2 billion to $4.4 billion, and earnings per share will be at least $1.23, RIMM said yesterday in a statement. Analysts had estimated revenue of $4.12 billion and profit excluding some items of $1.12 a share, according to a Bloomberg survey. And Oracle (NASDAQ:ORCL) also reported profit that beat analysts' estimates after customers renewed annual support contracts.
There was less joyful tidings from Palm Inc. (PALM), maker of the Pre mobile phone, dropped 9% yesterday in late trading after reporting a wider second-quarter loss than analysts predicted because of costs to market new phones. The shares, which have lost more than a third of their value since setting a 2009 high on Sept. 30. Palm reported a loss, excluding some items, of 37 cents a share, compared with the 33-cent loss estimated by analysts in a Bloomberg survey.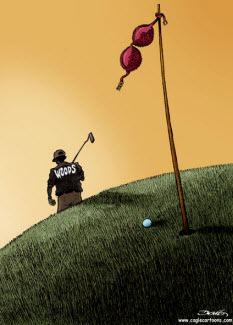 European stocks on the move today include Infineon (IFX) (up 3%) partly due to a Commerzbank recommendation, and BP (NYSE:BP) after Goldman Sachs rated them a "buy". Ryanair (NASDAQ:RYAAY) is up 6% on news that it has ended it talks with Boeing (NYSE:BA) to buy some 200 jets. Stateside Take-Two Interactive (NASDAQ:TTWO) (makers of Grand Theft Auto, etc) is bid on news that billionaire investor Carl Icahn has raised his stake and Nike (NYSE:NKE) is finding good support after posting results that beat the Street's estimates. Oil stocks such as BP, GG Group and Exxon (NYSE:XOM) are bid as crude oil heads for its biggest weekly gain since October.
Today's market Moving Stories
It's all about banking (re)regulation today. It's all a tad technical but very important going forward and worth familarizing yourself with. Bottom line for banks is that more costly (less profitable) and far more stringent regulations are coming and much sooner than expected.
Overnight, we've seen some marked weakness in banking stocks. Mizuho Financial Group (NYSE:MFG), Japan's third-largest bank by market value, led lenders lower in Tokyo after the Basel Committee on Banking Supervision said global banks should increase capital quality by the end of 2012. Mizuho slid as much as 4.3% to 177 yen and traded at 187 yen as of 10:19 a.m. in Tokyo. Sumitomo Mitsui Financial (OTC:SMFJY), Japan's second-largest bank, declined 3.7% and Mitsubishi UFJ (NYSE:MTU), the nation's biggest, dropped 1.3%.
British consumer confidence fell in December for a second consecutive month, the first time since July 2008 that confidence fell two months in a row, a survey by GfK NOP for the European Commission showed on Friday. The polling company said its consumer confidence index fell to -19 in December from -17 in November, after the index hit its highest level in nearly two years in October. The index slipped to its lowest level since August primarily because consumers on balance now expect the economy to worsen slightly over the next 12 months. Respondents' view of their personal financial outlook and their assessment of how the economy has fared over the past year also deteriorated. "After a dramatic increase in the index from August to October the index has now fallen back for two months in a row, and another month of falls could see all of the gains since August disappear," said Nick Moon, managing director of GfK NOP Social Research. The poll was carried out between Dec. 4 and Dec. 13 and sampled 2,004 individuals aged 16 or over. The sample period coincided with heavy media coverage of finance minister Alistair Darling's Dec. 9 pre-budget report, which sparked extensive debate about the hefty tax rises or spending cuts that will be needed to balance Britain's budget over coming years.
Britain's financial sector looks in much better shape than it did six months ago, the Bank of England said on Friday as it urged banks to take advantage of current funding conditions to shore up their balance sheets. In its twice-yearly Financial Stability Report, the BoE said banks had benefited from a remarkable rise in asset prices over the past nine months and were finding it easier to raise capital. But it cautioned that extraordinary policy stimulus could not last forever and said banks needed to do more to reduce the mismatch between long-term assets and short-term funding. UK banks need to refinance more than one trillion pounds of wholesale funding over the next five years, something the BoE said would be a challenge in the absence of stronger capital positions. "Banks need to reduce leverage further, extend the maturity of their funding and refinance substantial sums as official sector support is withdrawn," the BoE said. "While their profitability is relatively buoyant and market conditions are broadly favourable, banks should take the opportunity to do so."
Released this morning, the key German IFO business climate rose to 94.7, slightly higher than market expectations (94.5) and up from 93.9 in November. This is the highest level seen this year. Both the current conditions and business expectations components improved over the month. The current conditions rose by 1.4pts to 90.5 (consensus: 90) while the ifo expectations edged up by 0.2pts to 99.1 (consensus: 99). In the release, the IFO institute mentioned that export expectations have brightened further and that the likelihood of firms laying off staff has also declined. Continued improvement in the IFO index suggests that the German economy will grow at a robust rate over the coming quarters.
Chinese banks' capital strength is probably more "strained" than it appears as lenders use more off-balance sheet transactions to make room for loan growth, Fitch Ratings said. The increasing number growing amount of unreported transactions, including re-packaging loans into wealth management products to sell to investors, and the outright sale of loans to other financial institutions, represent a "growing pool of hidden credit risk," the rating company's annual review of Chinese banks. Lenders advanced a record 9.21 trillion yuan ($1.3 trillion)of new loans in the first 11 months to support a 4 trillion yuan government stimulus plan. Credit growth has slowed since July after the regulator told lenders to pace their lending to avoid possible asset bubbles.
The BOJ keeps interest rates at 0.1% as expected. However, the Board stated that it had decided to "further disseminate" its thinking on price stability, and made clear that it will not won't tolerate on-year falls in the consumer price index, adding: "The bank recognizes that it is a critical challenge for Japan's economy to overcome deflation and return to a sustainable growth path with price stability … [and it] will continue to consistently make contributions [to ensure this]". The Board did not elaborate on what actions it might take.
Fed Chairman Ben Bernanke's nomination to a second term has cleared a Senate panel, setting the stage for a Senate debate and vote in January. The Senate Banking Committee backed Bernanke on a 16-7 vote, with one Democrat joining six Republicans in opposition. Dallas Fed President Richard Fisher said: "I don't see anything yet that ruffles my hawkish feathers" and of the labor market, he noted: "Businesses are still reluctant to add to payrolls".
Discussions between Ryanair and Boeing have ended, and a 200 aircraft order will not now take place. Instead, the airline will focus on growth in CY 2010 (+48 aircraft), 2011 (+37) and 2012 (+27) that tapers over that period. As this takes place, cashflows will mushroom as the group's capex unwinds materially. That cash will be used to spin out special dividends for shareholders in the 2012-15 time frame. This decision means; (1) capacity growth will ease in each of the next three years, a trend which should allow for more stable if not positive yield performance and; (2) Ryanair's already strong balance sheet will be further bolstered by profits and cashflow that are increasingly unhindered by significant capital expenditure drainage.
High Treason: Credit Suisse Circumvents Iran Sanctions to Make Money - Just when you thought banks were trying to clean up their act, another mind-blowing scam hits center stage…
And Finally…
Disclosures: None