S&P 500: Supported by Earnings, But Upside Limited
Already this week, the S&P 500 has hit record levels just above 1770, with stocks supported by another round of relative earnings strength that surprised market expectations. As we cross the half-way point for the earnings season, this quarter is on track to be the best since last year in terms of actual performance versus analyst expectations. Thus far, roughly three-fourths of the companies listed on the S&P 500 have surpassed these estimates, slightly above the multi-year average. This has sent the SPDR S&P 500 Trust ETF (NYSEARCA:SPY) toward gains of nearly 27% year-to-date -- the strongest annual performance in 10 years. The S&P itself is trading at 15.9 times earnings (the highest valuation in four years), yet still below the valuations set during the 1999 and 2007 peaks.
Lowered Expectations Versus Reality
But since a significant portion of these gains have been fueled by government stimulus and downside corrections in recent weeks have been minimal, it makes sense to look at some of the reasons near-term upside in SPY could be limited. Most of the attention should be placed on the earnings numbers themselves, as positive surprises have reduced significance given the weaker expectations that have been in place. At the end of the second quarter, analysts were looking for third quarter growth in earnings-per-share to come in at 6%.
These estimates were later revised lower -- to less than 1%, and many of the earnings beats we have seen came as a result of one-time items or more favorable tax conditions. So, when we dig deeper into the details, corporate performance for the quarter starts to look less impressive. In addition to this, the corporate outlook for the fourth quarter is showing some weakness of its own, with a wide majority of the earnings outlooks for S&P coming in negative (forecasts weaker than the consensus expectations).
Revenues
As external markets (emerging markets and the Eurozone, for example) continue to be characterized by high volatility levels, we are likely to see increases in capital expenditure into the beginning of next year. Going forward, a greater level of focus will likely be placed on revenues, given that fewer companies in the S&P have shown strength in these areas. We have seen some positive examples from companies like Google (NASDAQ:GOOG), Ford (NYSE:F), Amazon (NASDAQ:AMZN), and Boeing (NYSE:BA). But, on the whole, the number of companies surpassing revenue expectations remains well below multi-year averages so it will be important to note results in these areas in order to get a more accurate gauge on corporate performance.
Near term, the outcome of this week's FOMC meeting will be the key determinant of whether or not we see another record close for the week, and recent weakness in several macroeconomic indicators suggests that the Fed will produce a dovish statement at the conclusion of this week's meeting. But from a longer-term perspective, it is important to note the reasons this quarter's corporate earnings results are not as strong as they might appear at first glance as this could start to slow potential gains in SPY.
SPY Chart Perspective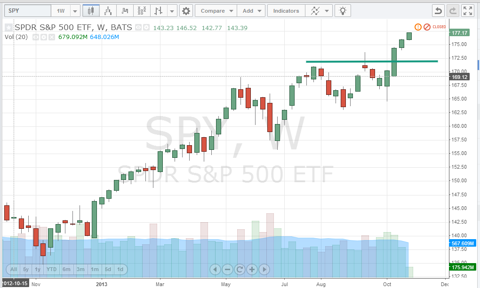 SPY is displaying a clearly defined uptrend channel, supported by a very consistent series of higher highs and higher lows. But momentum readings on the shorter-term time frames have started to roll over and with prices trading near channel resistance, something in the way of a downside correction should be expected. With prices trading near all-time highs, historical resistance levels become more difficult to identify so it makes more sense to wait for dips before getting long again. First support comes in at 171.90.
Disclosure: I have no positions in any stocks mentioned, and no plans to initiate any positions within the next 72 hours. I wrote this article myself, and it expresses my own opinions. I am not receiving compensation for it (other than from Seeking Alpha). I have no business relationship with any company whose stock is mentioned in this article.