Why are health insurers' stocks off their recent highs?
Charts for AET, CI, CVH, HS, HUM, UNH, WLP, XLV, IYH and VHT (click here to enlarge):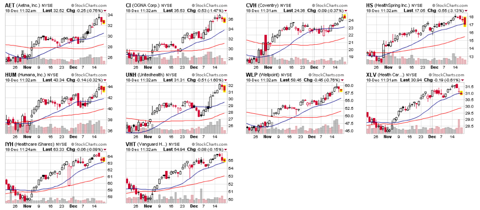 It could be profit taking. Speculators may be worried that ObamaCare (HR 3950) will require insurers to sell insurance people with pre-existing conditions without imposing tough, costly fines on free riders who don't buy insurance. If people are allowed to buy insurance only after they become ill, they will. And premiums will soar for those who do buy insurance. Either way, insurers' small 2% to 5% profit margins would shrink.
Some speculators may be thinking that if ObamaCare fails, which is a good possibility, insurers won't get the government's help in enrolling the some 15 million free-riders as new customers. As noted above, why would anyone smart enough to game the system now not game the system under ObamaCare? Still, the bill probably would bring some new, mostly unprofitable customers to the insurers.
ObamaCare would allow insurers to sell across state lines under certain, very restrictive conditions. Maybe speculators are thinking that this would make insurers less profitable. Since insurers make only 2% to 5% profits on their premiums, their profits would shrink if they had to compete across state lines and sell much more affordable, high deductible catastrophic health insurance—real insurance.
Under ObamaCare, however, people buying affordable health savings accounts with high deductible, catastrophic insurance would be forced to buy "Cadillac" plans burdened with mandates imposed by Congress. This would send premiums soaring, putting new pressures on insurers and making them more vulnerable to bullying by politicians. In Colorado, mandates add 50% to health insurance premiums, and that's pretty common in most states. Congress would be in the business of imposing mandates. See the women's health mandate that's in ObamaCare.
Disclosure: I don't own these stocks but reserve the right to trade them at any time without notice.