Schlumberger (SLB) has been constantly innovating to increase the productivity of oilfields in North America. With the increase in unconventional drilling processes in North American markets, the company has been stepping up its spending in its research and development to enhance drilling process capabilities. Schlumberger's spending in research and development up to the end of the third quarter of this year is around $874 million, while last year it spent around $1.16 billion. This huge spending budget resulted in the development of innovative solutions for increasing the efficiency of hydraulic fracturing, or fracking. Here we are discussing two such innovative services, which are aimed to increase efficiency and productivity of the fracking process.
Creating HiWAY for more revenues
During the third quarter ending in September of this year, Schlumberger recorded an increase in its revenue by 7% quarter over quarter to $3.6 billion from its North American business. One of the reasons for this growth in the company's revenue is the increased need for fracking services for extracting oil and natural gas from various formations. One such service is Schlumberger's HiWAY service, which enables oil and natural gas operators to increase productivity from hydraulic fracturing. HiWAY incorporates techniques that increase the productivity of the wells by creating pathways within the proppant, thereby making it easier for oil and natural gas to travel among the proppants. Proppants are chemicals that are used in fracking wells; they settle down in the fractures created during the fracking process. According to Schlumberger, the HiWAY service reduces the use of proppant by 40% and the use of water by 60%.
Additionally, the HiWAY service is successful in increasing the productivity of different formation characteristics like carbonates, sandstones, shale/carbonate mixture and shale/sandstone mixture formations. These are types of formations from which hydrocarbon deposits could be extracted. HiWAY service is used for fracking in more than 10,000 stages in the U.S. In the fracking process, stage is a fracturing zone inside a horizontal well from which extraction of oil and natural gas take place. A typical horizontal well may have around 10-20 stages. Among the 10,000, around 6,304 stages are located across Texas. One of the major growth areas for fracking is the Eagle Ford shale formation. According to the Railroad Commission of Texas the number of well permits in the Eagle Ford shale formation is around 5,225 for this year as of October 1, 2013. The other growth area in Texas is the Permian Basin. As per RRC, the number of well permits in this area is around 6,325 for this year. Well increase in Texas is expected to provide a significant growth opportunity to Schlumberger's HiWAY service.
View inside the well got better
In September this year, Schlumberger announced the launch of its Microscope HD service, which will provide logging while drilling, or LWD, service. LWD is a procedure to gather geologic information inside the well during the drilling process. Microscope HD is a LWD service that has the ability to provide high definition images of the structure of formations inside the well. The images from this service help create better models of the structure of formations inside wells. Geologists model the rock formations to identify the extent of hydrocarbon deposits within the fracking zone. According to Schlumberger, this service has been tested successfully in more than 45 drilling jobs across a number of areas in the Middle East, Europe, Africa and North America.
We expect that this service will increase productivity of wells containing tight oil in the U.S. Tight oil reservoirs are challenging because they have heterogeneous structure of the rock formation. Microscope HD images from inside the well would help operators better identify these structural differences in the formations. This would optimize the production of hydrocarbons by enabling operators to create fractures more efficiently. In the U.S., tight oil production is done from Eagle Ford, Bakken, Woodford, Nibrara-Codell and others. The oil and natural gas production are expected to increase from this region. A study from EIA yields the following results about the growth in tight oil production from various regions in the U.S.: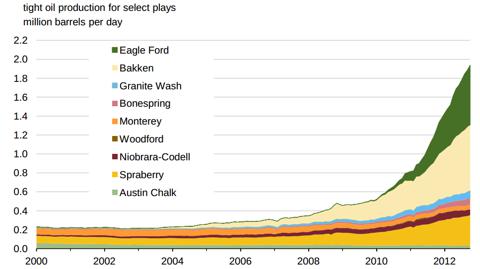 Source: EIA
According to the EIA, it is estimated that production from the tight oil plays will reach a high of around 2.8 million barrels per day, or mbpd, by 2020 from production of around 2.3 mbpd this year. This imaging technique developed by Schlumberger will help increase the productivity of tight oil wells, leading to production that is more efficient.
A major competitor in oilfield services, Baker Hughes Incorporated (BHI), reported revenue growth of around 4% year over year to around $2.9 billion from North America during the third quarter ending in September this year. Baker Hughes is continuously focusing on reducing the cost of its North American operations to increase profitability. In the DJ Basin formation, the company shifted to the use of pressure pumps that run on natural gas or a blend of natural gas and diesel. These pumps are known as Rhino Bifuel pumps. This reduced diesel use by around 70% in the pumps operating in that region. These bifuel pumps have the ability to deliver similar hydraulic horsepower as the diesel only pumps. The cost savings associated with switch to natural gas could be around 30% compared to diesel only pumps.
Halliburton (HAL), another competitor in oilfield services, reported its third quarter ending in September this year with revenue of around $3.9 billion from North America and operating margins improving by 3%, reaching 17% year over year. The company has been improving its operational efficiency through the execution of its "Frac of the Future" program. This program includes the deployment of Q10 pumps and Sandcastle vertical storage systems in various well drilling locations. The Q10 pumps are designed to provide very high pressures of around 20,000 psi to the fracking fluids and require less downtime for maintenance. The company plans to install these pumps by the end of this year. The Sandcastle storage system increases the space utilization by reducing the area required for storing proppants. The space requirement is reduced by storing the proppants in vertical tanks rather than horizontal tanks.
Riding high on innovative solutions
Schlumberger is creating enough room for its growth by investing in research and development of innovative solutions for well drilling. By providing these solutions, the company will gain more traction in North American markets. Schlumberger's current P/E ratio is around 19.87 and its forward P/E is 15.87. So, at current prices the company's valuation seems attractive. We believe the company can derive significant growth from its HiGHWAY and Microscope HD services in the coming quarters. As operators turn to more efficient and productive fracking, Schlumberger, with its innovative services, will be able to monetize these opportunities. Looking at the growth prospects from its services, we expect an increase in its earnings in the coming quarters. This stock is a buy.
Disclosure: I have no positions in any stocks mentioned, and no plans to initiate any positions within the next 72 hours. I wrote this article myself, and it expresses my own opinions. I am not receiving compensation for it (other than from Seeking Alpha). I have no business relationship with any company whose stock is mentioned in this article.
Additional disclosure: Fusion Research is a team of equity analysts. This article was written by Madhu Dube, one of our research analysts. We did not receive compensation for this article (other than from Seeking Alpha), and we have no business relationship with any company whose stock is mentioned in this article.