CREE (NASDAQ:CREE) is among other things a supplier of LED light bulbs, primarily through a deal with Home Depot (NYSE:HD). The company has been a stock market darling, more or less doubling this year but not without some volatility.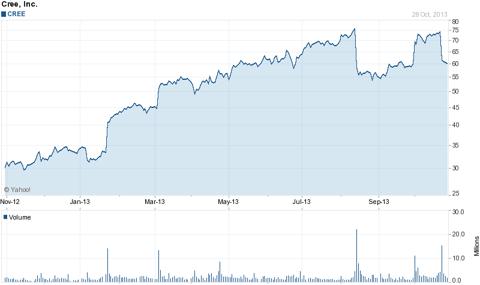 LED lighting is interesting because it consumes substantially less electricity than incandescent lighting and because advances in manufacturing efficiencies that come with volume have enabled suppliers like CREE to bring the price of the bulbs down to an economic level.
A CREE 60-watt bulb replacement (which uses only 9 watts of electricity) is available at Home Depot for $14.98, for example.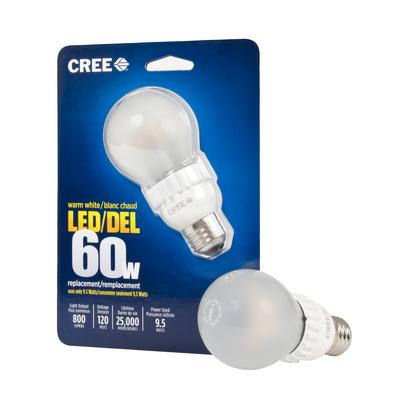 Incandescent residential lighting consumes about 27% of total lighting usage of electricity according to a 2002 study by Navigant or about 208 Terawatt hours per year. While a bit dated, this study has a good deal of relevant information and is worth the read.
The United States Energy administration estimates that combined residential and commercial lighting consumed about 486 Terawatt hours of electricity in 2011.
Coal remains the top fuel for electric power generation, providing about 1,500 Terawatt hours of United States demand, down from about 2,000 Terawatt hours over the past decade, with much of the decline in coal caused by growth in supply of nuclear and natural gas fired power plants.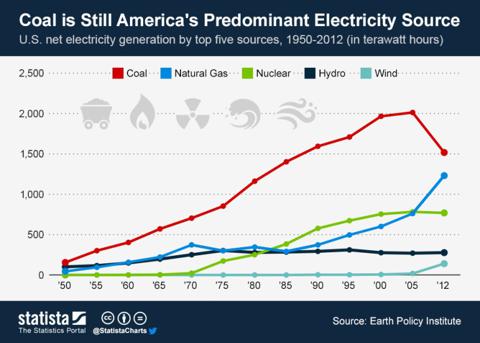 LED lighting is an industry in its infancy. Homeowners and businessmen are finding that the cost of changing out incandescent lamps for LED lamps pays off in a few years, and the LED lamps are expected to have lives as long as 10 or 20 years. The economics favor investment in LED.
General Electric (NYSE:GE) has seen the light and made major advances in LED lighting. GE has about an 18% share of the $66 billion global lighting market and foresees LED lamps taking 70% of what will be a $100 billion market by 2020. Along the way, demand for electric power will drop in tandem with the rise in LED lamp sales.
The reduction in energy use from a switch to LED from incandescent is likely in excess of 75% for comparable lumens of light delivered. A 75% drop in residential and commercial lighting consumption of electricity is about a 360 Terawatt hour drop in electricity demand. In my view, most of that drop will be felt by the coal industry.
The change will likely take 5 or 10 years to run its course. Fast payback investments in things, like more efficient lamps, tend to move quickly as corporations move to pick the "low hanging fruit" of a virtually certain cost reduction. At an average retail price for electricity in excess of 10 to 12 cents a kilowatt hour, the move from a 60-watt incandescent bulb in use 3,000 hours a year (about 40% of the time) to a 9 watt alternative provides a saving of close to $20.00 in power costs annually, more than repaying the cost of the lamp replacement in the first year. With a life of over 10 years, the payoff is substantial.
Of course, the economy will grow over the next decade and that will increase demand for power. But I am betting that growth in natural gas fired and nuclear power generating plants will provide for that growth and the coal will find itself in the cross hairs of this disruptive technology.
Accordingly, you won't find any coal stocks in my portfolio and I will look for opportunities to short this trend by taking a short position in Peabody Energy (BTU).
Disclosure: I have no positions in any stocks mentioned, and no plans to initiate any positions within the next 72 hours. I wrote this article myself, and it expresses my own opinions. I am not receiving compensation for it (other than from Seeking Alpha). I have no business relationship with any company whose stock is mentioned in this article.