Next Earnings: October 30, 2013 after close
Allstate's (NYSE:ALL) earnings announcement is coming. While the exact results are uncertain, based on adjectives used in the last 4 quarters, it should report it had a solid or strong quarter, show continued success in its consumer or customer-focused strategy, and continue to proactively manage its investments. What Allstate most likely won't say is how much market share it has, when and if it could make money with Esurance or Encompass and how it can grow.
Market Share: Auto - Still number 2 but Geico is gaining; Homeowners: Number 2
Allstate never mentions market share in its quarterly releases, quarterly investor supplements or quarterly SEC filings. However, based on annual information from AM Best and NAIC, in auto, which represented 67% of premiums earned for 2Q 2013 and 2012, it has stayed at number 2 in 2012, 2011 and 2010 with Geico close at their heel. In homeowners, representing 24% of last quarter's premiums earned, it's running in second place. Unless Allstate made an amazing change from the last two quarters, it is probably in the same place.
Auto Insurance Companies' Percentage of Market Based on Premiums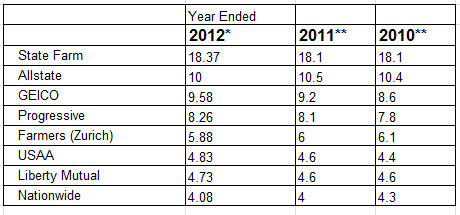 Market Share: Homeowners Percentage of Market Based on Premiums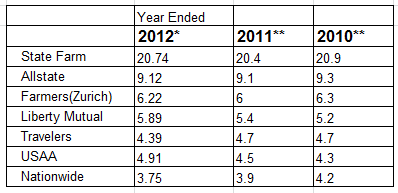 Esurance/Encompass: Minimal Impact on Growth, Negative Impact on Earnings
Allstate and its cheerleaders have been touting Allstate's bold move into online sales first with Encompass and then Esurance. However, its share remains at less than 10% of the total Allstate pie as shown in the charts below. Premiums continue to be dominated by the traditional Allstate agency channel.
Source: Data from 2Q, 2013 Allstate Investor Supplement.
After purchasing Encompass Insurance assets in 1999; Allstate purchased Esurance in 2011 reportedly to serve what they perceived as four customer segments: "Allstate agencies serve personal touch loyalists who prefer local personal advice and are brand-sensitive. Esurance provides the business platform to serve the self-directed, brand-sensitive market segment. Answer Financial strengthens our offering to self-directed consumers who want a choice between insurance carriers. Customers who utilize independent agents and are brand-neutral are served by our Encompass operation."
While the growth as a percent of the total is minimal, profit from these units is non-existent. Both the mature Encompass and the younger Esurance have had combined ratios over 100 for at least the last 5 quarters. Below shows the year on year comparisons:

Yes, loss ratios are subject to many things beyond its control but Allstate is still managing to usually make a profit in the traditional agency segment and keep the more controllable expense ratio much lower than for both Encompass and Esurance. The impact on net income is shown below.

Policy Growth:
Real growth has been elusive. While last quarter showed a revenue increase year on year, policies in force were relatively stagnant with the Esurance and Encompass increases offset by decreases in the larger Allstate brand. Increases subject to premium rises are difficult to maintain and subject to state limits and intense competition. For the property/liability segments:

With so few public companies in the property/liability area, it's difficult to judge Allstate's combined ratios, revenue, and policies in force. However, in the auto sector from which Allstate gets the bulk of its revenues and income, there is Progressive Insurance (NYSE:PGR), which uses independent agents and online tools. The chart below compares some key metrics from last quarter for the two.

Progressive, using direct sales and independent agents, shows a significantly lower expense ratio than Allstate. Allstate has been trying to decrease expenses. In their 2012 annual report, it was stated: "In 2013, a portion of base commission will become variable compensation, focused on agency success factors and customer experience. Other elements of exclusive agency compensation and support include start-up agency bonuses, marketing support payments, technology and data allowances, regional promotions and recognition trips based on achievement." Additionally, they noted that they would be adjusting some benefits: "The Company provides certain life insurance benefits for eligible employees hired before January 1, 2003 when they retire. In July 2013, the Company decided to eliminate this benefit effective January 1, 2014 for all current employees and effective January 1, 2016 for all retirees who retired after 1989. In connection with the amendment, the postretirement benefit obligations will be remeasured." The monetary effects of the changes were estimated at: "Unrecognized pension and other postretirement benefit cost is expected to decrease in the range of approximately $650 million to $780 million, after-tax," For the first two quarters of 2013, however, the expense ratios for auto have increased.
In terms of growth, both companies have achieved premium increases but little growth in new policies, indicating that despite burgeoning US auto sales, policy owners have stayed about the same for these two companies. 2009 census data showed a decrease in the number of cars per household while a 2008 U-M Transportation Research Institute study, updated in 2010 showed a decline in auto licenses in the 17-19 year olds segment from 1983 and then from 2010. In that study, "In 1983, about 87 percent of 19-year-olds, 80 percent of 18-year-olds and 69 percent of 17-year-olds owned a driver's license. Twenty-five years later in 2008, the percentages were 75, 65 and 50, respectively."
In the 2010 update: "New data presented by Sivak and Schoettle shows that in 2010, those numbers have plummeted even more: about 70 percent of 19-year-olds, 61 percent of 18-year-olds and 46 percent of 17-year-olds had a driver's license."
(This may be partially offset as some states have been allowing illegal immigrants to obtain licenses, and federal legislation allowing some US born illegal immigrants to eventually qualify for driving licenses.) Overall domestic auto policy demand may actually be flat or declining in the future forcing companies to look elsewhere for growth or grab from each other. Allstate does earn premiums in Canada, but this is a small percentage of the whole, with marginal growth since last year. Allstate doesn't specify what type of policies these are.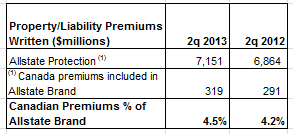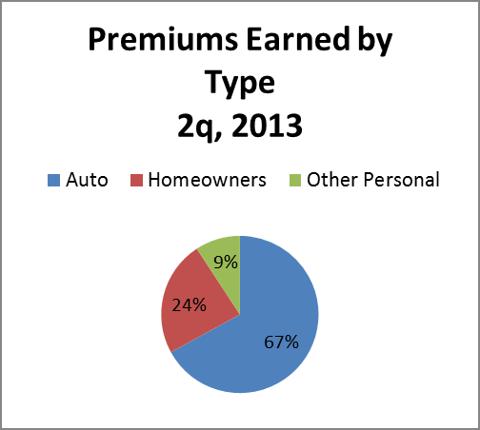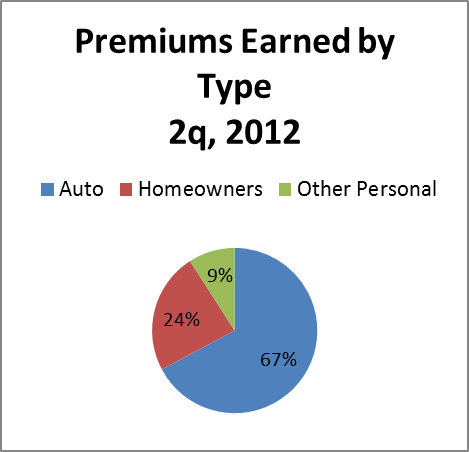 The critical components of the Homeowners Segment are shown below. Esurance is excluded since Allstate shows no numbers for it in this segment. Although revenues have increased year on year, policies in force show it's due to premium increases not policies. Once again, expense ratios for Encompass are higher than the Allstate brand resulting in a higher and increasing combined ratio negatively hitting net underwriting income. This segment is more volatile than autos and more erratic with the combined ratio ranging from a low of 73.9 to a high of 104.4 in the 5 quarters ending in June 2013. In the same period the combined ratio for autos ranged from a low of 94.1 to a high of 102.9, with the 102.9 occurring when the bulk of Hurricane Sandy claims hit. Although homeownership may have yet to fully recover from the recession, the pool of desirable owners has declined as major insurers such as Allstate have retreated from covering homes in the earthquake, hurricane and flooding prone states of California, Florida, and New York. As the impact of wildfires becomes more acute, more losses and or retreats could occur. The bottom line is demand is stagnant to shrinking, competition is fierce, and catastrophes are unpredictable and state regulations limit allowable increases.
| | | | |
| --- | --- | --- | --- |
| Homeowners | | | |
| | 2q 2013 | 2q 2012 | % change |
| Premiums Earned* | | | |
| Allstate Brand | 1,525 | 1,487 | 2.56% |
| Encompass | 105 | 93 | 12.90% |
| Total Revenue | 1,630 | 1,580 | 3.16% |
| Loss ratio | | | |
| Allstate Brand | 71.1 | 104.9 | -32.24% |
| Encompass | 65.7 | 96.8 | -32.10% |
| Allstate Protection | 70.7 | 81.0 | -12.69% |
| Expense Ratios | | | |
| Allstate Brand | 24.1 | 23.0 | 4.92% |
| Encompass | 31.4 | 30.1 | 4.39% |
| Allstate Protection | 24.6 | 23.4 | 5.05% |
| Combined Ratios | | | |
| Allstate Brand | 95.2 | 104.9 | -9.24% |
| Encompass | 97.1 | 96.8 | 0.38% |
| Allstate Protection | 95.3 | 104.4 | -8.71% |
| Underwriting Inc./(Loss) | | | |
| Allstate Brand | 73 | (73) | -200.00% |
| Encompass | 3 | 3 | 0.00% |
| Policies In Force** | | | |
| Allstate Brand | 5,852 | 6,042 | -3.14% |
| Encompass | 341 | 314 | 8.60% |
| Total Homeowners | 6,193 | 6,356 | -2.56% |
*$ millions, **thousands.
Allstate has recognized the limits of its growth. The 2011 $1.01 billion acquisition of White Mountains, Inc. and Answer Financial Inc. was an attempt to halt it. As shown in prior data, significant growth in policies has not occurred and losses related to this acquisition continue.
Retreat from Fixed Annuities and Life Insurance
Allstate has also attempted to diversify to increase earnings and decrease volatility. In 2006, in an American Banker article entitled, "Allstate Arm Leapfrogs AIG in Fixed Annuities," it was stated "The Allstate Corp. unit, which uses the marketing name Allstate Financial, posted $1.16 billion of second-quarter bank sales of the annuities, enough to bump American International Group Inc. from the top slot, according to the research firm Kehrer-Limra."
"Kevin Slawin, who became the president of distribution at Allstate Financial last year, said it is reaping the rewards of programs begun about two years ago."

"We're focused like a laser on distributing fixed annuities in the bank channel," he said.
Fast forward to 2013. Per the company's 7/17/2013 press release, "Allstate Financial will discontinue issuing fixed annuities at year-end 2013 and utilize third party annuity companies to ensure Allstate agencies and exclusive financial specialists continue offering a broad suite of protection and retirement products." Basically Allstate is admitting defeat in a segment it had originally charged into.
Sale of Lincoln Benefit Life
Finally, Allstate is also retreating from life insurance through its sale of Lincoln Benefit Life ("LBL"):
"Allstate has entered into a definitive agreement to sell LBL to Resolution Life for $600 million, generating cash proceeds, inclusive of tax benefits, of approximately $785 million. The transaction is expected to close by the end of the year, subject to customary regulatory approvals. The sale of LBL is estimated to result in a GAAP loss on sale in the range of $475 million to $525 million, after-tax, and a reduction in GAAP equity, including the impact to unrealized capital gains and losses, in the range of $575 million to $675 million. This transaction will result in a statutory gain of $350 million to $400 million, increase Allstate's deployable capital by approximately $1 billion and reduce Allstate life and annuity reserves by $13 billion."
The good news is Allstate will reduce capital needs and reserves; the bad news is it will be almost entirely reliant on homeowner and auto insurance and the investment income those segments achieve from these assets for its revenues. Promises of growth have slipped through its fingers. Their biggest plays to improve net income will remain share buybacks, which have decreased outstanding shares by 4% since 2012 June quarter.
Disclosure: I have no positions in any stocks mentioned, and no plans to initiate any positions within the next 72 hours. I wrote this article myself, and it expresses my own opinions. I am not receiving compensation for it. I have no business relationship with any company whose stock is mentioned in this article.